Socialist Party Stunt : 'Ana Key' – '11 Votes' Ellen Kenyon Peers – is expelled from Labour Party.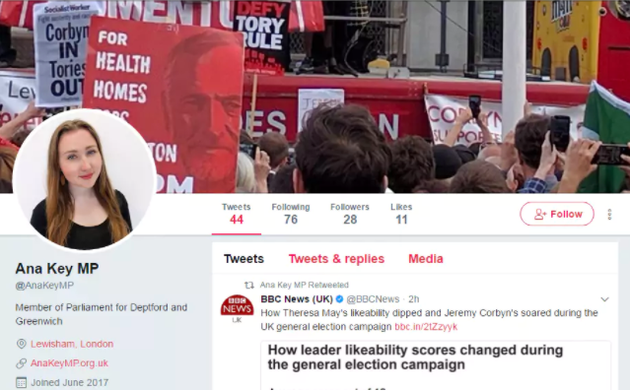 The Socialist Party, formerly the Militant, today condemned Labour MP Vicky Foxcroft for reporting a local student to the police – over an art project which proposes socialist policies.
The party – which has stood candidates against the Labour Party – continued in its  official paper,
Socialist Party member Ellen Kenyon Peers, the art student in question, has now been expelled from the Labour Party over the project.

Ana Key 'represents' the currently non-existent south London constituency of Deptford and Greenwich for the Socialist Party and the Trade Unionist and Socialist Coalition (TUSC). Her website includes proposals for building new council homes, capping private rents and making roads safer for cyclists.
Anybody wishing to continue reading can learn that,
The Socialist Party's forerunner, the Militant Tendency, had three MPs who were known for their active backing for local and national campaigning.

Dave Nellist, Terry Fields and Pat Wall only took the average wage of a skilled worker in their constituency, and donated the rest of their salaries to workers' struggles. They also used their parliamentary positions as platforms to build these campaigns.

Although Ana Key is a personal art project, not solicited by the Socialist Party or TUSC, the attention it has drawn to socialist politics is welcome.
It is clear that the Labour Member saw her creation as a member of a rival party, called the Socialist Party.
Ana Key:
First Socialist Party MP
Elected to Westminster
You voted for change on June 8th!
Huffington Post takes up the tale,
Student Ellen Kenyon Peers Who Posed As Fake Socialist MP 'Ana Key' Expelled From Labour Party

A university student who was reported to the police for posing as a fake socialist MP as part of an art project has been kicked out of the Labour Party.
Goldsmiths University student Ellen Kenyon Peers sparked uproar on Tuesday after it was revealed she had passed herself off as the newly elected MP for Deptford and Greenwich – a constituency which is set to be created in the next election.

The 24-year-old – who called herself Ana Key – was accused of running a fake Twitter account where she offered help to constituents, using House of Commons headed paper for correspondence and creating a website to list fake constituency surgeries.

Foxcroft told the Telegraph: "As an MP I deal with thousands of constituents with emergency cases, some of them about very serious issues on housing or immigration.
"In 2014, the student stood for the Trade Unionist and Socialist Coalition (TUSC) in the Blackwall and Cubitt Town ward election, winning 11 votes."
Yet,
But in 2015 Peers went on to join the Labour Party, signing up after Jeremy Corbyn became leader. She now claims she has been expelled from the party.
She told the Evening Standard she has received a "standard legal letter" from Labour HQ cancelling her membership on the grounds she had written for the Socialist Party and stood for election on a "hard-Left ticket".

Peers, who says she comes from a "traditional Labour-supporting family", said: "My mum and dad were quite upset that I have been expelled from Labour."

However, she claims that she has not been contacted by the police or Parliament over her stunt.

A Labour spokesperson confirmed that Peers is no longer a member of the party.
The student at the posh London University has yet to comment further.
But Socialist Party member Nancy Taaffe,  tweeted: "The reason we have to #DefendAnaKey is because this imaginary character makes a better MP than the local one, Vicky Pollard or something…"
This  looks decidedly unfunny,
A previous art project of the Socialist Party drew national attention.
A Socialist candidate who was left red-faced after getting NO VOTES at last week's local elections is demanding a re-count – after saying he "definitely" voted for himself.

Paul Dennis, who stood for the Trade Union and Socialist Coalition (TUSC) in Rainham North ward in the Medway Council elections in Kent, was left "baffled" at the count when the announcer revealed he had not got any votes at all.
The Socialist Party is best known on the left for its fanatical support for Brexit and for ending the free movement of labour,
Why the Socialist Party opposed the EU.

What 'free movement' exists in the EU is used to allow big business to exploit a cheap supply of labour in a 'race to the bottom' in terms of low pay, zero-hour contacts and poor employment conditions.
Any EU citizen with problems about the end of free movement would be well advised to steer clear of such an 'MP'.
Written by Andrew Coates
August 2, 2017 at 4:26 pm
2 Responses
Subscribe to comments with RSS.