Hundreds of Tributes paid to heroic Luke Rutter, 22, killed while fighting ISIS in Syria.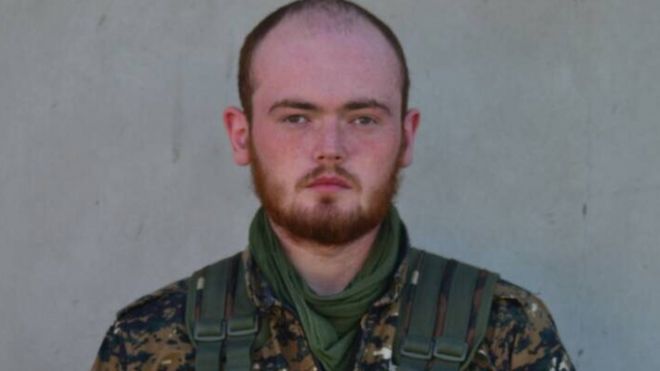 Hundreds pay tribute to "heroic" Birkenhead man killed while fighting ISIS in Syria.
The Liverpool Echo (more here)  reports,
Luke Rutter joined Kurdish forces last March.
Hundreds have paid tribute to a Birkenhead man who was killed while fighting against the so-called Islamic State in Syria.

Luke Rutter, 22, was fighting with the Kurdish People's Protection Units (YPG) when he is reported to have died on Wednesday, July 5.

The group called him a "martyr" in a statement announcing his death and that of an American Occupy Wall Street activist on their website.

After we reported the tragic news yesterday, ECHO readers posted their tributes on Facebook to the "heroic" young man.

Dave Hinds said: "RIP. No doubt had his own reasons for going. Fought with a great crew who will not forget him. Prayers and blessings to family and friends."

Peter Levis added: "Only knew Luke for a bit but from what i seen he was a very strong man and knew what he had to do.

"Rest in peace Luke gone but never forgotten. A hero in my eyes for what he done."

Luke reportedly travelled to Syria last March without telling his family, according to The Guardian.

The YPG said he had been killed while he was patrolling an area in the Syrian town of Raqqa, where the Islamic State has a strong presence.

He is believed to be the fourth British fighter killed in Syria fighting against the group.

Posts on the YPG Facebook page called Luke a "brave soldier" and a "great and humble" man.

Clarissa Castrello said: "Rest in peace in our hearts and in our souls our beloved British YPG Luke Rutter, Comrade, Hero and Angel.

Brave soldier, proud warrior and valiant fighter. God bless you and all Martyrs. My prayers are for you and all Martyrs. Her biji Kurdistan."

Michael Michaelssen added: "One of the greatest and most humble guys I've ever met! Thanks for the lessons."

Erik Scurfield from Barnsley, Dean Evans from Warminster and Ryan Lock from Chichester have also been killed while fighting alongside the YPG.
YPG's British Martyr Luke Rutter (Soro Zinar)'s final message and photos.
Comrade Soro travelled to Rojava in March and joined the YPG to fight the fascist and reactionary Daesh (ISIS) gangs in Raqqa. He was martyred on 5 July 2017 after battling bravely in the terrorist group's so-called capital. The people of Rojava will not forget his sacrifice.
Sehid Namirin! Martyr's don't die!
2 Responses