French Socialists fragment further as Benoît Hamon quits Party to found left 'Mouvement du 1er juillet.'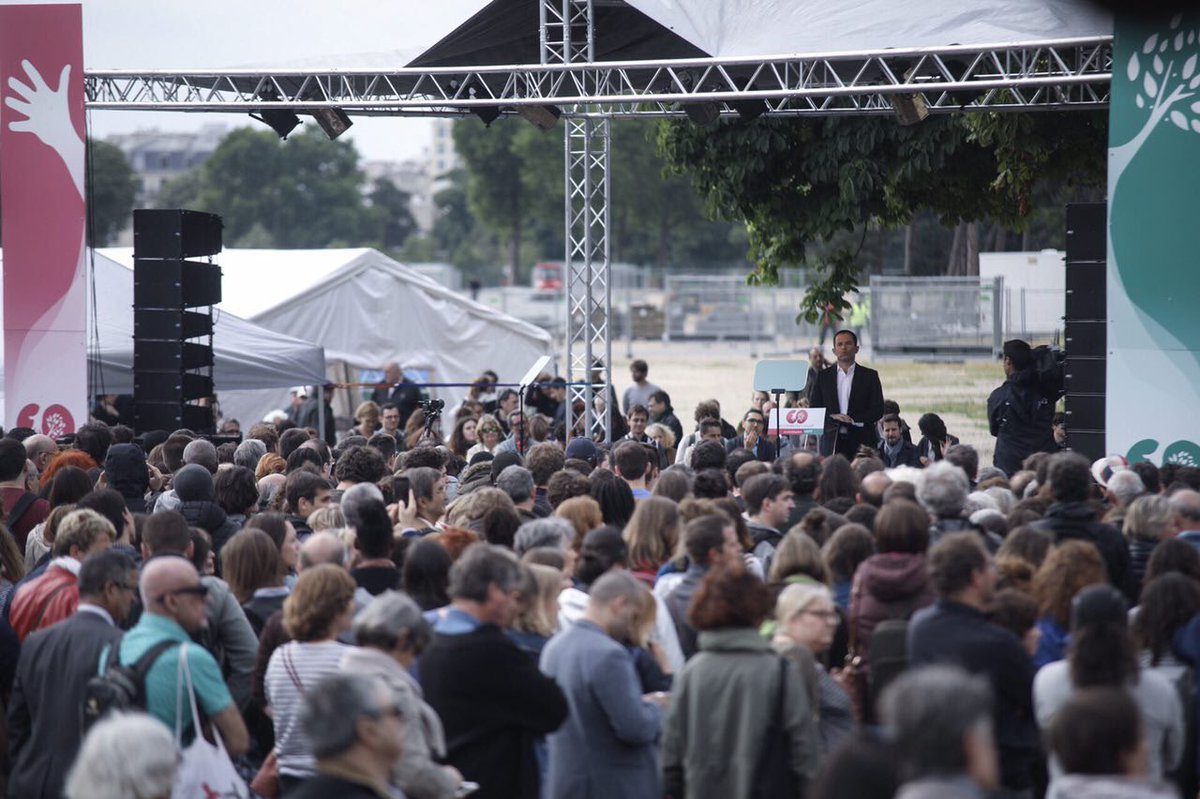 Hamon: I'm Leaving the Socialist Party, not Socialism. 
Alors qu'il lançait son Mouvement du 1er juillet, le vainqueur de la primaire a annoncé qu'il abandonnait le PS.   (Libération)
Benoît Hamon, this year's  presidential candidate of the French Parti Socialiste (during which he scored a humiliating 6,36%), has  announced his departure from the Party on Saturday afternoon at the first meeting of his Movement 1 st  July, Reuilly in Paris. "I spent thirty long and beautiful years in the Socialist Party. I loved this party, I loved it passionately. Today, I am leaving the party but I do not leave Socialism and the Socialists, " he said. They were nearly 10,000 present at the rally, according to the organisers.  The former MP  continued "I have not changed my beliefs,  but it is time for me to turn the page."  He added,  I'm not saying farewell to the Socialist Party activists." 
Hamon, with a background of  many  years of work in the PS, as a party spokesperson (2008 – 2012)  including serving as a Minister (2012 – 2014) he played a leading role amongst its left-wing tendencies, including amongst the 'frondeurs' who criticised the drift, fiscal orthodoxy,  and market friendly politicies of President François Hollande and his governments,  considers that he and his new association will be part of the foundations with which the French left will be able to build a new "common Home", ( 'la maison commune de la gauche').
For the recent Presidential contest Hamon was selected as the candidate of the Parti Socialiste through the publicly open "primary" of the Belle Alliance populaire (BAP) launched by the PS and its close allies.
In the second round he won with 58,69% of the votes (1,181,872 ballots). His rival, former Prime Minister Manuel Valls, lost with 31,48% (831,871).
Despite signing an agreement to respect the result Valls (and it is alleged many others close to President Hollande)  lost no opportunity to sabotage Hamon's campaign. Amongst those who blamed the left-wing 'frondeurs' for the collapse of the French left vote, Valls was at the forefront of those who backed  Emmanuel Macron. The right-winger left the PS a few days ago to more clearly show his support for the 'centrist' new President. Valls now sits as an MP as part of Macron's La République en marche (Manuel Valls quitte le Parti socialiste et rejoint le groupe LRM à l'Assemblée).
Hamon accuses Macron of representing a social minority. His counter objective to bring together that social majority with the left to become a political majority.
"Notre objectif, c'est que la majorité sociale d'ici cinq ans, et pour commencer d'ici 2020 aux élections municipales, redevienne une majorité politique" (le Point)
Amongst those present at the new movement's first public meeting were former Ministers Philippe Martin and  Dominique Bertinotti, Green politicians, Jannick Jadot and former Green party (ELEV)  leader, Cécile Duflot as well as representatives of the Communist Party (PCF)  Fabien Guillaud-Bataille  and (a former leading member of the  Trotskyist Ligue communiste révolutionnaire, at present a member of the PCF) Christian Picquet.
More Le Monde:  Benoît Hamon annonce qu'il quitte le Parti socialiste.
This report summarises the contributions of the meeting. All were agreed, despite their differences on the need for  "new structures for the left"  "reinventing" the and building anew the left. (tous, malgré leurs divergences, s'accordaient à dire que la gauche devait se « reconstruire », « se réinventer » et abandonner ses vieilles structures.) on the ruins of the PS which seems now to be like a Church without believers.
In a Tweet Hamon said to members of the PS that he did not say adieu but see you again
In his pre-Presidential book, Pour La Génération qui Vient (For the Coming Generation 2017), Hamon begins by describing his own generation (he is still in his forties), born after the post-War boom, a cohort that has known four decades of crisis. Yet today, he continues, politicians look backwards to an "imaginary" country, a land now 'besieged" and in "decline". The supporters of fear and nostalgia have to be faced up to, there is no "homme providential" (Man of Destiny) that can save us, no saviour, "Au culte assumé du chef, la gauche a toujours oppose la force d'un espoir collectif" (against the claims of the cult of the Leader, the left has always put forward the power of collective hope, Page 18).
We hope that Hamon can fulfill his objectives.
The new association, the Mouvement du 1er-Juillet, will be based on participative democracy and local committees.
 
Written by Andrew Coates
July 2, 2017 at 11:56 am