Macron's Government: Right wing and right-wing, while ex-Communist Leader Robert Hue Awaits the Call.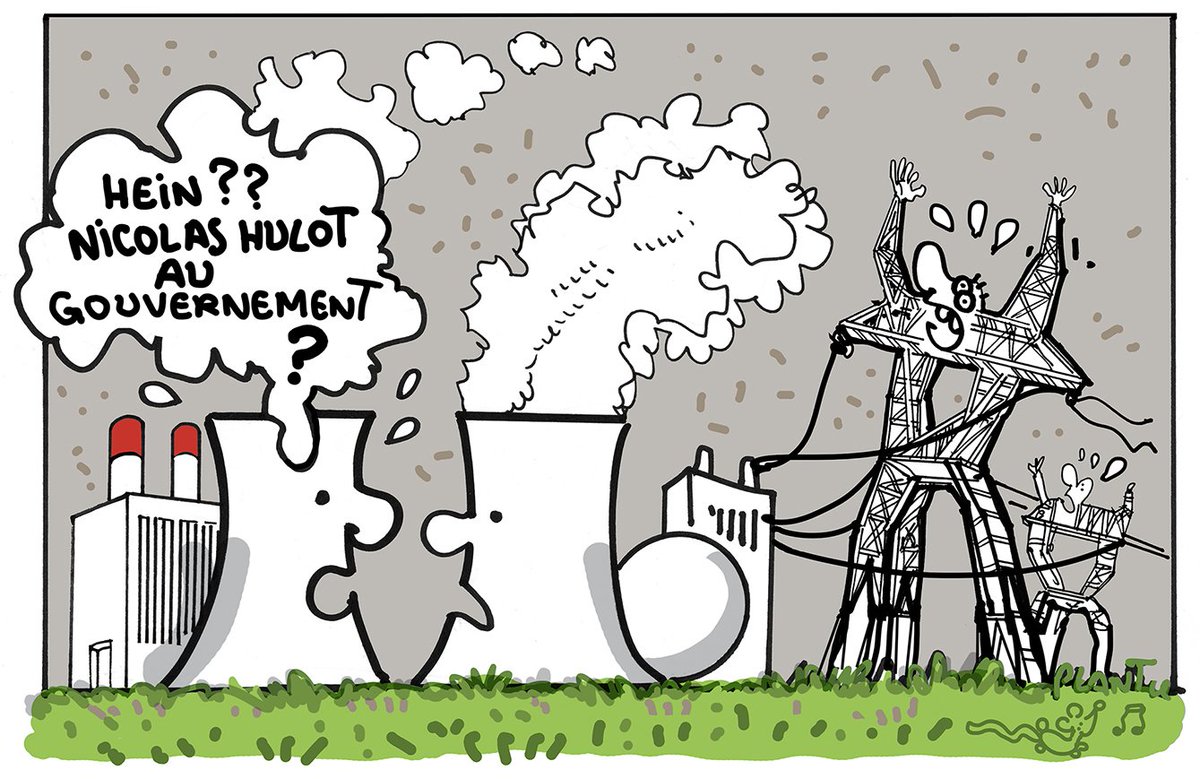 'Green' Minister in France had links with Nuclear Industry. 
Newly-elected French President Emmanuel Macron kept his pledge to form a government with both left- and right-wing politicians, unveiling a cabinet on Wednesday that threatens to throw the country's established parties into disarray.

The names of France's 18 newest ministers were read out loud from the steps of the Elysée Palace on Wednesday afternoon – an unorthodox mix that raised eyebrows and will force a few former political foes to gather under the same tent.

"Emmanuel Macron kept his promise, meaning a few ministers from the political left, a few from the right, a few from the centre, and a few non-politicians," said FRANCE 24's politics editor Roselyne Febre, also noting that France's new 39-year-old president had chosen to "hand the keys of the economy" to conservatives.

The most important government job was already delegated to the moderate conservative Edouard Philippe last week. The mayor of the western port city of Le Havre was not a prominent member of the main opposition Les Républicains party, but was shot to fame when Macron made him prime minister.

Fellow Les Républicains member Bruno Le Maire – who mounted an eventually unsuccessful bid for the party's presidential nomination last autumn – has now followed suit. A former junior minister for European affairs under former right-wing president Nicolas Sarkozy, Le Maire was tapped for the all-important Finance Ministry.
Note: all these figures are 'moderate' only in the sense that Theresa May is a 'moderate'. That is compared with Marine Le Pen.
In other words this is a right-wing government, " Un gouvernement qui penche dangereusement à droite. "
For example,
Le Maire is a conservative politician with right-wing Republicans party who was a candidate for the presidential election.

He served as minister of the economy and then agriculture between 2007 and 2012 in Francois Fillon's conservative (UMP at the time) government. Born in Neuilly-sur-Seine the 48-year-old is like Macron, a graduate of both Sciences Po and the prestigious École nationale d'administration (ENA).
There will also be plenty to say about this pair of socialist renegades  in the future….
Jean-Yves Le Drian, Socialist president François Hollande's defence chief for five years, was named France's foreign minister, while Lyon Mayor Gérard Collomb will take over the Interior Ministry.
For the present we note that both are allies of right-wing 'socialist' Manuel Valls who sabotaged his own party's election campaign. and both took an active part in ruining the chance of their own candidate Benoît Hamon.
The name François Bayrou comes up. Yug Yug and Yug…
The Plantu drawing above draws attention to Nicolas Hulot.
His is a so-called Green, of the modestly titled, La Fondation Nicolas-Hulot pour la nature et l'homme, who has accepted funds from large firms, like EDF, L'Oréal and Rhône-Poulenc)  is now Ministre de la Transition écologique et solidaire (1) Hulot is already  honoured as  an  "Officier de la Légion d'honneur, chevalier des Arts et Lettres"
Few top him for self-serving vanity. 
For trendy bandwagonnistas one cannot excel  Françoise Nyssen, who runs the  French publishing company Actes Sud (whose books I shall be removing from my front room  shelves in the coming days). She will take over as culture minister.
We  are saddened to hear that Robert Hue, former leader of the French Communist Party and candidate for President in 1995 ( 8,64 %) who backed Macron to the hilt has not received his due (Présidentielle 2017 : Robert Hue soutient Emmanuel Macron.)
He has *not* been honoured with a post of the new government. As "Président du Mouvement des progressistes" (sound familiar to the 'progressives' standing against Labour? ) one one only hope his efforts will be rewarded in the near future when his new best friend takes firmer hold of the reins of power.
*****
(1) "Un rapport parlementaire de 201162 épingle à son tour Nicolas Hulot et sa fondation, notant qu'« EDF est une entreprise de pointe dans le secteur nucléaire. Quant à L'Oréal, elle est classée parmi les groupes de cosmétiques dont les produits font l'objet de tests sur les animaux, au grand désarroi des opposants à la vivisection. Dès lors, comment interpréter, par exemple, la position très mesurée de Nicolas Hulot sur l'énergie nucléaire ? Quel poids donner à sa parole sur les activités principales de ses deux administrateurs ? » écrivent les députés, dont le rapport connaît un écho dans la presse et suscite des doutes sur l'opportunité d'une candidature de l'animateur / fondateur à l'élection présidentielle française de 2012.
More on Wikipedia.