Jean-Luc Mélenchon: Liberty, Equality and Fraternity Against Terrorist Violence.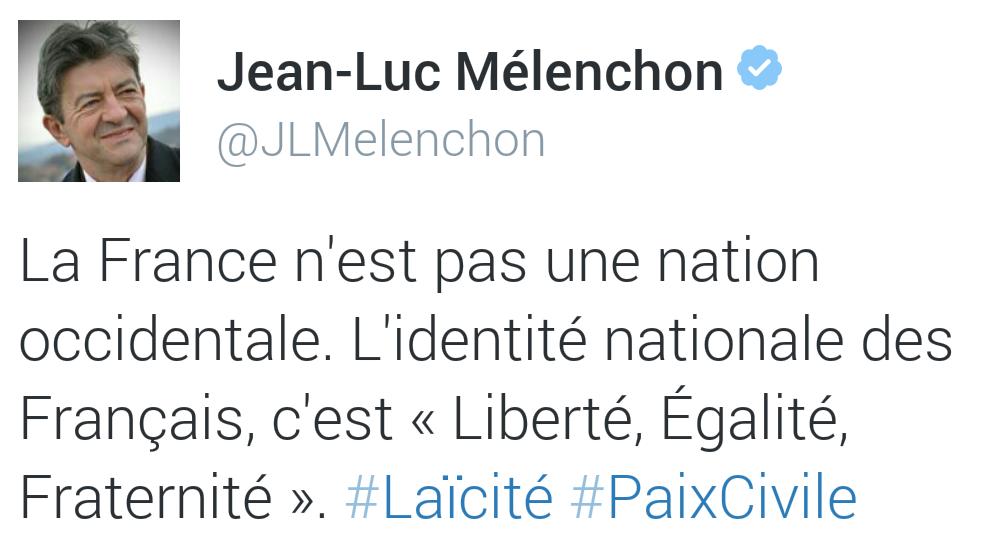 Universal Values: Liberty, Equality, Fraternity, Peace, and Secularism, Against Islamist Terror. 
After the indecent claim earlier in the week by the Front National leader Marine Le Pen that if she was in power there would have been no terrorist attacks ("LE FN AURAIT ÉVITÉ LES ATTENTATS" : MARINE LE PEN RECYCLE SON INTOX FAVORITE) , how did the candidates react to the killings on the Champs-Elysées?
The 11 candidates were appearing on a television program ahead of the first round of voting in the two-part election when the attack that left one officer dead happened Thursday night.

Conservative contender François Fillon said on France 2 television he was cancelling his planned campaign stops on Friday.

Far-right candidate Marine Le Pen took to Twitter to offer her sympathy for law enforcement officers "once again targeted."

Centrist candidate Emmanuel Macron offered his thoughts to the family of the dead officer.

Socialist Benoît Hamon tweeted his "full support" to police against terrorism.
Of particular interest is the reaction of Jean-Luc Mélenchon.
His policies on the root causes of terrorism include ending any alliance with the Gulf States, and engagement in destabilising wars. For French domestic legislation and practice he has promised to strengthen the fight against terrorism, under independent legal control to ensure that civil liberties are protected (ATTENTAT DES CHAMPS-ELYSÉES : COMMENT LES CANDIDATS COMPTENT LUTTER CONTRE LE TERRORISME).
Mélenchon also favours an international coalition under UN mandate, associated with Kurdish fighters, to eradicate the Islamic State and establish peace and stability in Iraq and Syria (Mettre en place une coalition universelle sous mandat de l'ONU pour éradiquer Daesh et établir la paix et la stabilité en Syrie et en Irak , associant les combattants kurdes. Mediapart).
The candidate of La France insoumise took a firm line after the attack on the  Champs-Elysées, evoking the Republic's device of Liberty, Equality and Fraternity.