Left Wingers Join Unite For Europe March.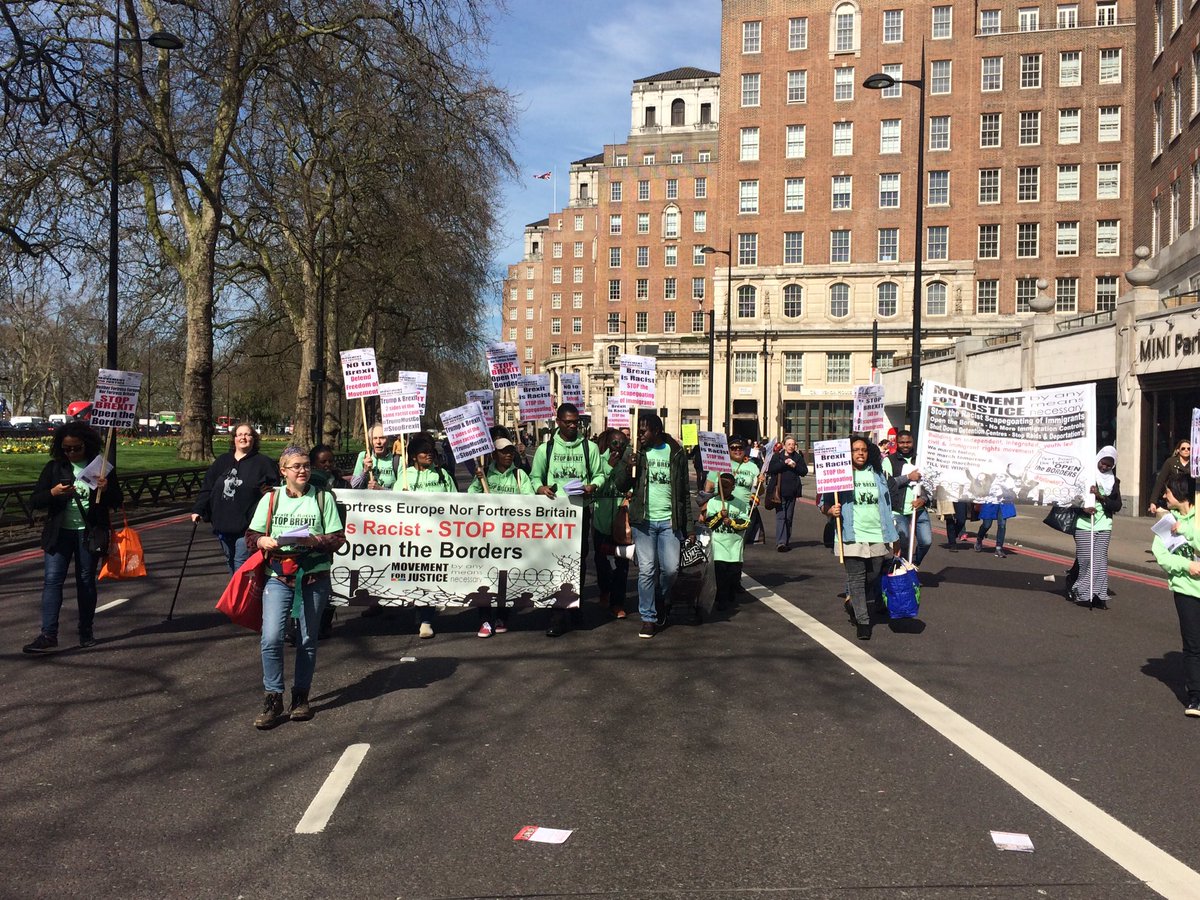 No Trump no Brexit no racist EU exit!
Why join the March?
Another Europe is Possible introduced the reasons:
Why we'll be on the Unite for Europe march
This Saturday, tens of thousands of people will march through London on the 'Unite for Europe' demonstration. We'll be there despite our criticisms – and here's why.
The triggering of Article 50 on March 29th will represent a defeat for democracy and a blow to the rights of ordinary people.
Theresa May has managed to get away with a smash and grab raid on the Brexit process; if the government gets its way, parliament and the people will have little or no say over what is negotiated on our behalf. Millions of European citizens have no guarantees about their right to remain in the UK. And our human rights, rights at work, free movement and environmental protections are under grave threat.
We are in this situation because the terms of the debate have been set entirely by the Tories, UKIP and the right wing press. The message is: Leave won, so now we can do whatever we want.
But the referendum result is not a mandate to attack migrants, destroy the environment or undermine workers' rights. The government has no mandate for the extreme, regressive form of Brexit that it is pursuing.
So we have to mobilise – to shift the debate and prevent the Brexit nightmare from becoming a reality. The 16 million people who voted for Remain are not our only allies in that task – there are many who voted Leave who do not agree with what Theresa May is doing, and many more who didn't vote at all.
Another Europe is Possible will be on the demonstration this Saturday – not to wave flags and not to defend the EU's policy or democracy as it currently exists. We were and are very critical of these.
We will be there because we all have a right to be heard – and a duty to fight against the tide.
Martin Thomas of the Alliance for Workers' Liberty argues:
Labour should fight Brexit all the way
Labour's deference on Brexit also undermines the work of rebuilding Labour support.

The Labour right wing's staged Shadow Cabinet resignations in June-July started the process which has given Theresa May a lead in the polls despite unpopular policies (continued benefit cuts, new schools cuts, grammar schools…) But the new line of deferring to a supposedly fixed Brexit majority has worsened it.

While the Lib-Dems – despite their so-recent record in government, despite the fact that one-third of their voters went for Brexit on 23 June, despite everything – have doubled their membership by making at least some show of fighting the Tories' Brexit, Labour's surge in membership has been paused or even slightly reversed.

We cannot beat the Tories by deferring to them. Labour should fight Brexit all the way!
The BBC reported,
Tens of thousands of people joined an anti-Brexit march to call for Britain to remain in the European Union.
The Unite for Europe march in London coincided with events to mark 60 years since the EU's founding agreement, the Treaty of Rome, was signed.
A minute's silence to remember the victims of the Westminster attack was held ahead of speeches at a rally in Parliament Square.
Comrade Bonnie Greer tweeted from the march.
Socialist Resistance have an excellent report,
Try and picture what a march of Brexit supporters would look like in central London, asks Andy Stowe. You immediately get images of portly men dressed in John Bull outfits, Farage gurning in front of the cameras, English and British flags, homemade placards with slogans about WW2 and not so subtle allusions to controlling borders. It would be a Glastonbury for racist English nationalism.

The Unite for Europe demonstration through central London on March 25th certainly had aspects that showed it wasn't organised by socialists. The organisers' homepage is decorated with two strips of European Union (EU) and British flags, the liberal way of showing that British people want o be part of the EU. Speakers at the closing rally included former Lib Dem leader and Tory glove puppet Nick Clegg, current Lib Dem leader Tim Farron, someone offering the ex-pat perspective (ex-pat being the correct term for a British person who's an economic migrant in another country) and Blarite Rottweiler Alistair Campbell.

Almost immediately after the Brexit referendum result was announced there was a large, young and angry demonstration against the result. Those people were largely absent on March 25th. Press estimates of the size range from 25-100 000 but they tended to be older and more affluent. The young Europeans who keep the service industries of London running didn't turn up. Supporters of Socialist Resistance who were distributing postcards advertising this year's Fourth International Youth Camp remarked that it sometimes took a few minutes to find someone young enough to hand one to.

However, the demonstration was unequivocally progressive. British flags were substantially outnumbered by that of the EU. The people carrying them were making a statement that they rejected reactionary British nationalism and wanted to identify themselves as citizens of Europe. The home made placards they carried spoke of freedom of movement and being able to work in any EU state. It was a partial rejection of national borders. Coming only three days after an attack by a reactionary terrorist who murdered three people and injured at least fifty, the march was, in an unassuming way, an assertion of the power of mass action by people who want to engage in politics.
Socialist Resistance rightly make a number of critical observations.
Most of the marchers gave the impression that they had no criticisms of the EU. I saw no condemnations of its shameful deal with Turkey to prevent the movement of migrants or the rejection of the will of the Greek people. This of course is not the view of Socialist Resistance and others on the radical left who opposed Brexit. We argued that it's a supra-national authority which has imposed austerity on the European working class and has reduced most Greeks to utter penury. Our reason for opposing Brexit was that we knew it could only be achieved by a massive xenophobic chauvinist campaign dominated completely by the right. The London demonstration was a rejection of that tidal wave of xenophobia and racism.

Politically the big winners on the day were they Liberal Democrats and they can expect to regain some lost ground by their stance on Brexit. Their membership turned out in strength distributing stickers, carrying placards and setting the tone for the day. A handful of Labour Party banners could be seen but the party had made the mistake of not mobilising for the event and there was no evidence of any organised trade union presence.

Brexit has shifted British politics to the right in a way we haven't seen since the election of the Thatcher government. The Tories are now pushing through UKIP's programme and the Labour Party's response has not appeared coherent to many of its supporters. The Lib Dems threw down a gauntlet to the radical left, the unions and the Labour Party that our side needs to be the one defending freedom of movement, resisting Tory inspired xenophobia and protecting migrants.

The Another Europe is possible conference in Manchester next weekend will be an Important place to discuss how best to meet that challenge.
5 Responses