French Presidential Hopeful Jean-Luc Mélenchon Leads "Citizens' Uprising" in Paris.
Tricolores , Marseillaise, l'Internationale, and Jean-Luc Mélenchon.
Far-left French presidential candidate Jean-Luc Melenchon gathered tens of thousands of supporters in Paris at a rally Saturday calling for deep reforms in the French constitution. France 24.
Melenchon, who wants to shorten France's 35-hour workweek, leave NATO, block free-trade deals and stop using nuclear energy, has pledged to summon a constituent assembly if he wins the election.

The 65-year-old former Socialist who previously served as minister for vocational training often depicts himself as the candidate of the people. He promises to get rid of what he calls the "presidential monarchy" and give more power to parliament.

The gathering Saturday between two iconic squares in the French capital – the Place de La Bastille and Place de la Republique – took place on the anniversary of the Paris Commune, an alliance between the middle and working classes who broke into revolt on the 18th of March 1871 in the wake of the collapse of Napoleon III's Second Empire.

Melenchon was greeted to chants of "President! President!" as he joined the cortege. He later claimed on his Twitter account that 130,000 people had attended.

Melenchon, who is supported by the Communist party, has so far struggled to make his campaign take off. Opinion polls suggest he has no chance of making it to the second round of France's presidential ballot on May 7.

Melenchon and his Socialist rival Benoit Hamon are running neck-and-neck in opinion polls, but well behind far-right National Front candidate Marine Le Pen, independent centrist Emmanuel Macron and conservative hopeful Francois Fillon.

Both Melenchon and Hamon have criticized Socialist President Francois Hollande's austerity politics but have failed to join forces in the presidential race.

The first round of the French presidential vote will be held on April 23, with the two top vote-getters there going into a presidential runoff ballot on May 7.
With becoming modesty Mélenchon called the rally a "Citizens' Uprising" and declared, "Voici notre maxime : quel que soit le problème, la solution est le peuple." Here's our motto: whatever the Problem, the People are the Solution.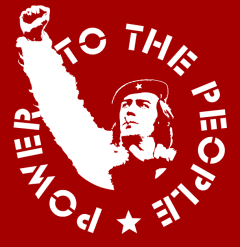 Organisers claimed over 130,000 attended.
Mélenchon : «Ceci est une manifestation politique, une insurrection citoyenne»
The figures given by Mélenchon's organisation are not universally accepted.
Le camp Mélenchon se moque des chiffres de la manifestation de Fillon mais… Huffington Post.
Difficile d'affirmer que la place de la République comptait quatre personnes au m2.
One Response