Morning Star Hails Alepo 'Liberation'.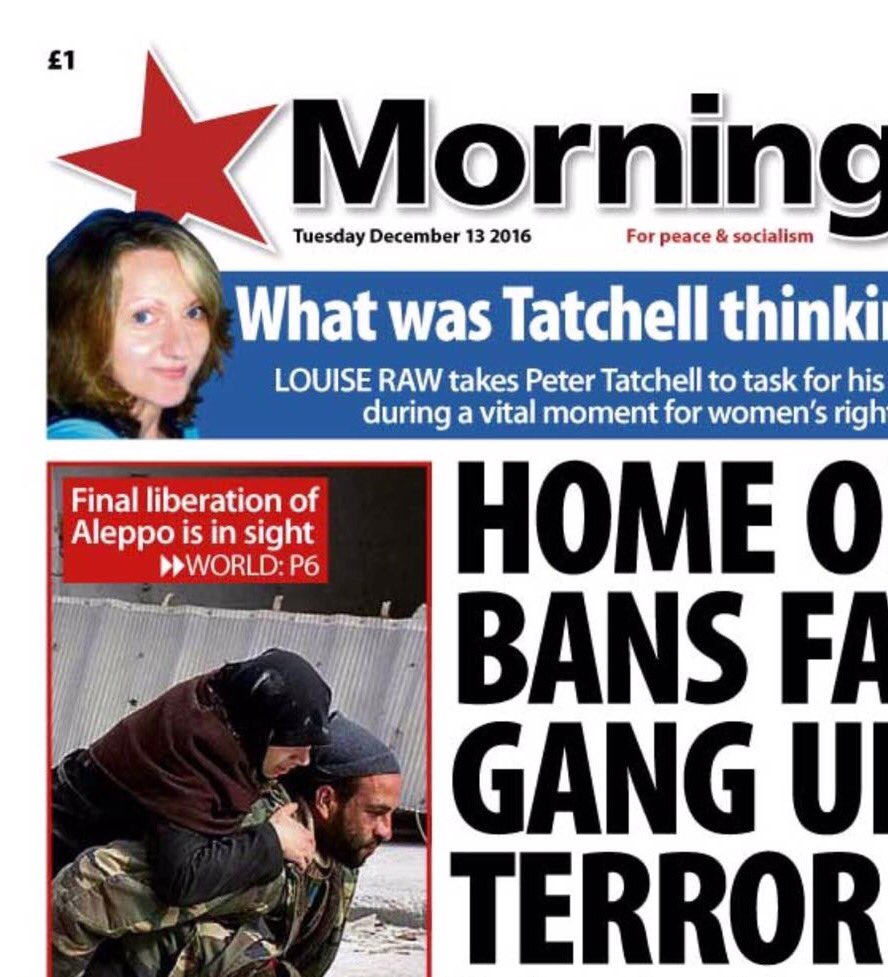 Galloway has added his own unique claim that ISIS was in Aleppo…..
This is  the latest, a careful and sober report of what's happening.
Asma Ajroudi. Al Jazeera.
As the Syrian government forces, backed by allies, inch closer to a decisive victory in the ravaged rebel stronghold of east Aleppo, t he impending fall of the city to regime forces would be the biggest setback for rebels since the conflict broke out in 2011.

It could also mark the start of a wider military shift that sets the course of the war in the Syrian regime's favour.

In less than a month, Syrian troops, with unfettered Russian air support, were able to recapture 90 percent of the eastern part of Aleppo. On Monday, the Syrian army claimed that 98 percent of east Aleppo was in the hands of regime forces.

Reports also indicate a massive exodus of people to either remaining rebel-held districts or government-controlled areas in the western part of Aleppo. The Russian Defence Ministry claimed that 13,346 civilians had left rebel-held areas in the past 24 hours, and 728 rebels laid down their arms and surrendered.

The United Nations human rights office had warned on Friday that hundreds of men have "gone missing" after crossing into regime-controlled areas of Aleppo as Russian and Syrian air strikes continue to pound the city.
The Independent reports,
UN chief warns of 'atrocities against large number of civilians' in Aleppo.

UN Secretary General Ban Ki-moon has raised alarm over "reports of atrocities against a large number of civilians, including women and children" in Aleppo, his spokesman said.

Syria's army, loyal to President Bashar al-Assad, are reportedly close to capturing all of east Aleppo which has been a rebel stronghold in the country's civil war.

Residents in the besieged areas of the city have described the situation as "doomsday", with many unable to flee the fighting.
Le Monde carries this as its lead-story:
Syrie : l'ONU alerte sur des exécutions sommaires commises dans Alep par des forces pro-Assad

Le commissariat de l'ONU aux droits de l'homme s'appuie sur plusieurs témoignages en provenance de la partie est d'Alep, qui subit une terrible offensive depuis quatre semaines.
It is extremely unwise to talk of 'liberation' in these conditions – to say the least.
The French left group Ensemble says, Solidarité avec le peuple syrien, avec son combat pour la paix, la justice et la liberté !
La chute d'Alep-Est est une lourde défaite pour le peuple syrien et sa révolution.
The Fall of East Aleppo is a heavy defeat for the Syrian people and their revolution.
They call for:
L'arrêt immédiat de tous les bombardements et la levée des sièges des villes. ( An immediate stop to bombing, and raising the siege of cities and towns).
Une mobilisation internationale pour apporter une aide humanitaire massive aux populations. (World-wide efforts to bring humanitarian aid to the Syrian people).
 Le départ de Syrie de toutes les armées et milices étrangères.(All foreign armies and militias should leave Syria.)
18 Responses