Galloway gets 'Glitter Bombed'.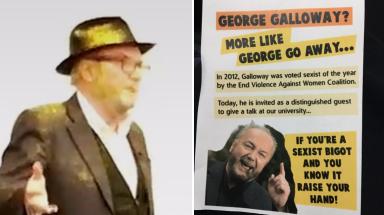 The Mirror reports,
George Galloway has been attacked with glitter by student protesters while speaking at a university.

The controversial politician was making a speech in Aberdeen when the group stormed the front of the room and a scuffle broke out.

 In exclusive video obtained by the Mirror the former

Celebrity Big Brother

contestant can be seen starting his speech before being covered in glitter during the attack.

A group of protesters holding placards hurled the substances over the politician before being removed from the room.

Mr Galloway said he had been left feeling "unwell" and that there was an "unknown substance" in his eyes and lungs.

He added that his wife had "leapt forward" to defend him during the attack.

Protesters had been planning to picket the speech after accusing the former Labour MP of "bigotry".

Dozens of activists joined a Facebook event urging: "Bring your pals, bring your placards."

Mr Galloway said that a group of five people led by an "anarchist" had attacked him but he continued speaking.
We defend the poor-old puffer's right to rave and cannot endorse the attempt to stop him addressing this meeting.
But
Galloway on Free speech for Charlie Hebdo (Huffington Post),
These are not cartoons, these are not depictions of the Prophet, these are pornographic, obscene insults to the Prophet and by extension, 1.7billion human beings on this earth and there are limits.

"There are limits. There are limits to free speech and free expression especially in France."

Galloway described the newspaper's purpose as "to further marginalize, further alienate and further endanger exactly those parts of the community who are already alienated, already endangered. It is a racist, Islamophobic, hypocritical rag."

"Je ne suis pas Charlie Hebdo," he declared.
7 Responses