Spain: Mass Demonstrations Today against Rajoy's 'Golpe' (Coup d'état).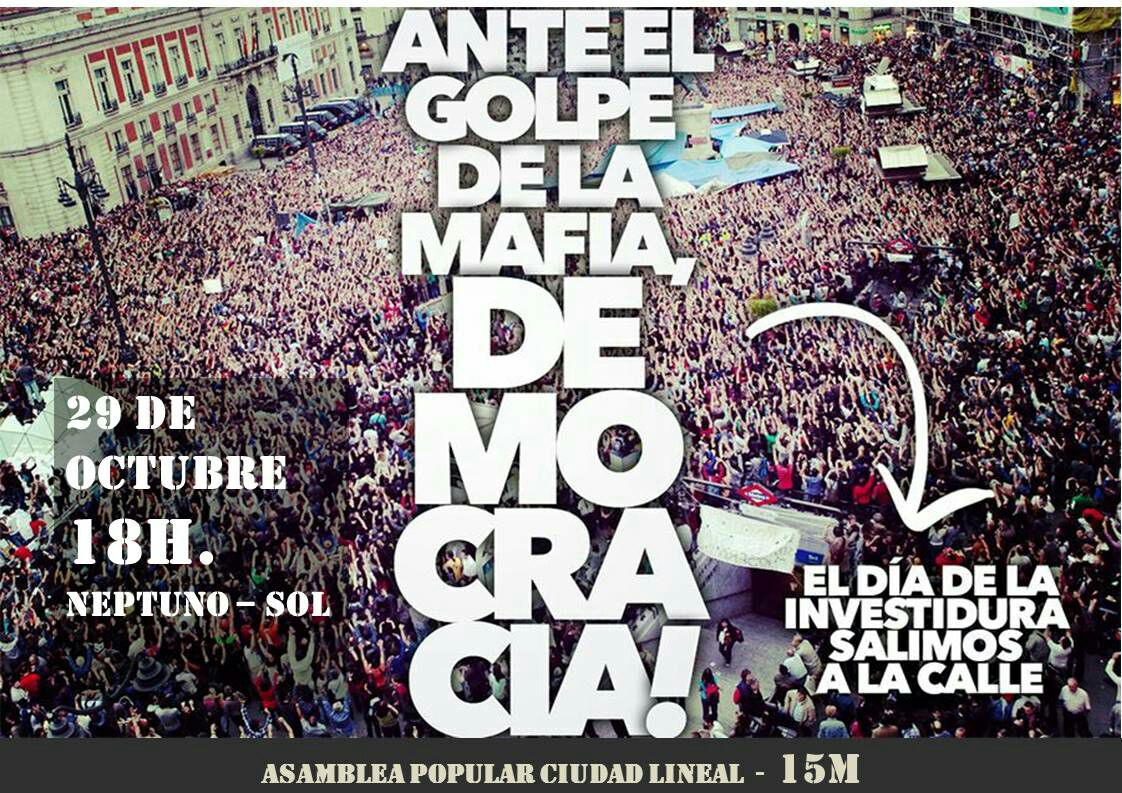 This weekend Spain will finally have a government, after inconclusive elections have led to months of failure to vote one in.
Spain's 10 months without a government should end on Saturday when parliament is set to grudgingly grant conservative Mariano Rajoy a second term as prime minister.

But political instability may persist as Rajoy's weak minority government struggles to build support to pass legislation in a hostile parliament.

After two inconclusive elections and months of fruitless attempts at coalition-building, a controversial decision by the opposition Socialists to abstain should allow Rajoy to be confirmed as prime minister in a parliamentary confidence vote set for 7.45 p.m. (1745 GMT) on Saturday.
El país says today, "Rajoy será elegido hoy presidente con la abstención y el desgarro del PSOE." Rajoy will be elected with the – painful – abstention of the POSE (Spain's Socialist Party). (1)
Called to protest at the 'coup d'état' this demonstration is backed by groups of the far left and left nationalists, "Alternativa Republicana,  Anticapitalistas, Asamblea Popular de la Elipa, Desborda Madrid, Distrito 14, Izquierda Castellana, Izquierda Unida, PAH Ciempozuelos, Partido Multicultural por la Justicia Social, PCE, Sindicato de Estudiantes, No Somos Delito, y Frente Cívico Somos Mayoría." The plan to "surround" the Parliament (Rodea el Congreso).
El País says it is backed by Unidos Podemos. The daily states that it questions the legitimacy of the democratic system, and the validity of the process which will led to Rajoy's investiture on Saturday in the lower chamber, of the country's Parliament  ("y a la que apoya Unidos Podemos—, cuestiona el régimen democrático y la legitimidad del presidente que saldrá investido en la cámara baja.) The centre-left paper describes material for the march. It talks of  the "system" uniting the leader of the Partito Popolare , the King, and the socialist PSOE , talks of them as a "mafia". It notes that it just at the limits of legal expression. It underlines that Spain underwent a real attempt at a coup in 1982.
Íñigo Errejón, official spokesperson for Podemos, has warned of the possibility of violent incidents.
This video, by the Izquierda Anticapitalista (a Tendency within Podemos, more Wikipedia, English), calling for the demonstration and for 'popular power' (Poder populaire) certainly has strong revolutionary echoes. This is not without precedent, the Anticapitalistas,  it is alleged, have compared the Podemos "circulos" (base groupings) to…..Soviets (Hay quienes ya asemejan los 'círculos' de Podemos a los 'soviets': Quién es quién en Izquierda Anticapitalista, el partido que mueve los hilos dentro de Podemos. Vozpopuli)
(1) PSOE leader Pedro Sánchez was ousted in an acrimonious uprising that has torn the party apart. Sánchez had dismissed pleas from parts of the PSOE to allow the PP back into government, insisting that the latter was too deeply mired in a series of corruption scandals to be allowed to retake office. He stood down as leader this month after losing a vote that would have allowed grassroots party members to back or sack him in a leadership contest. The PSOE's caretaker leadership has abandoned Sánchez's position and decided to abstain in Saturday's investiture vote, thereby allowing Rajoy to form a minority government. (Guardian)
One Response