Will the left hear the cries from Aleppo?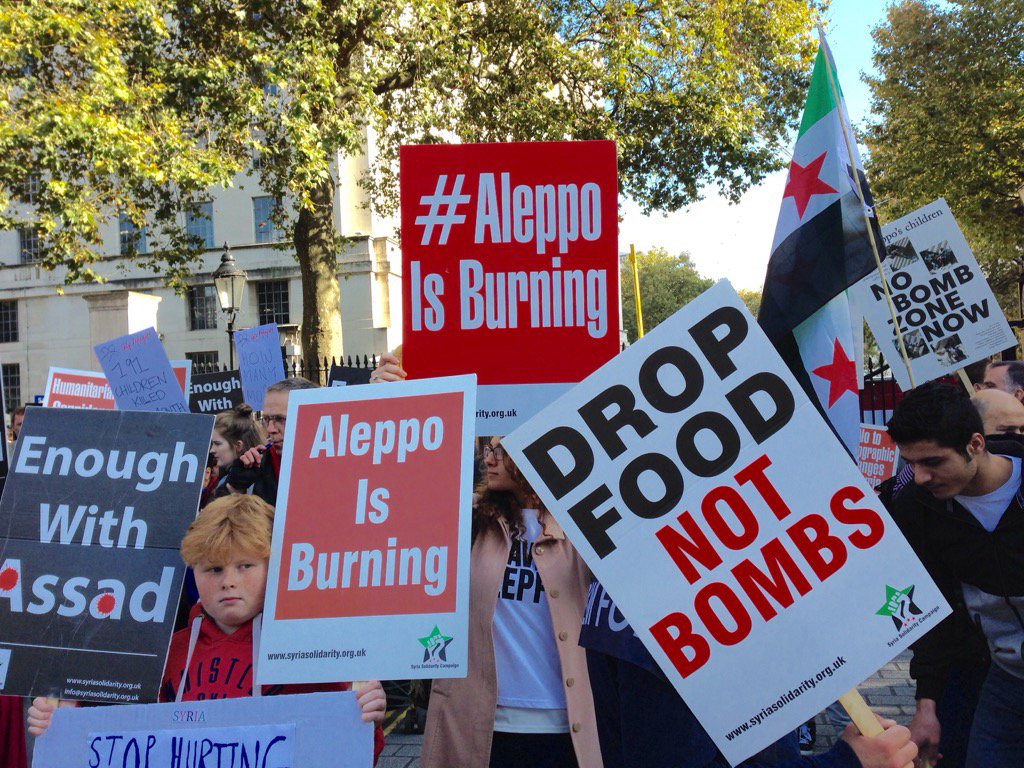 London, Saturday.
Will the left hear the cries from Aleppo?
Syrian solidarity activists should therefore go and make the case in defense of the original uprising against the Syrian regime and Russia at, for example, forums put on by the U.S. Peace Council, which is currently touring apologists for Assad. We can organize debates about Syria and Palestine at political conferences, and challenge the views put forward by Blumenthal and Khalek in left publications and websites.

This attitude of fighting to win the debate is important. We have to win the left to a genuine anti-imperialism that opposes not just the U.S. empire, but its rivals (and sometime collaborators) as well. As revolutionary socialist Eamonn McCann put it so well in a speech in the Legislative Assembly in Northern Ireland, we must protest American imperialism's crimes in Iraq, Yemen and beyond, while also challenging Russian imperialism in Syria.

Finally, and most importantly, we must stand in solidarity with genuine liberation struggles from below, regardless of which imperial camp they are challenging. Our slogan is neither Washington, nor Moscow, nor Beijing, nor Damascus, nor Tehran, nor Riyadh, but self-determination for oppressed nations and international socialism.
From Socialist Worker.
No, not the UK Socialist Worker of the SWP, but the US Socialist Worker of the International Socialist Organization.
This is only one contribution to a very serious debate taking place on the entire  US Left about these issues.
One could begin with one important and  latest contribution:  The numbers game in East Aleppo by Louis Proyect.
In the UK Socialist Resistance have published this: Syria – calling for an end to intervention is not nearly enough
The Alliance for Workers' Liberty republishes this: What's wrong with "Stop the War"?
5 Responses