British Left's Brilliant Strategies, from May to Eagle.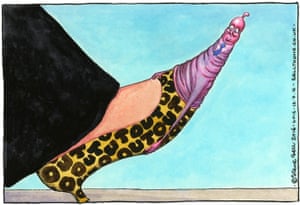 The British left is famous for its brilliant strategists.
First we had 'Lexiters' relishing the thought that  a Leave vote would divide the Tories.
A crisis for the Tories most definitely is equivalent to an opportunity for the left. It is possible to claim otherwise only by detaching the left from the basic wisdom of the working class movement upon which the left has claimed to base itself. That's fine for the Greens and those leftists whose conclusion from the defeat of the working class movement in the 1980s was precisely to pursue a déclassé progressivism.

Cameron's tactical purpose in calling the EU referendum was to undermine UKIP and to unite the Tory party on its hard Thatcherite course of class confrontation at home. He has succeeded only in dividing the Tory party from top to bottom….

Counterfire. Kevin Ovenden. 
Now we have Teresa May uniting the Conservative party.
Second we have, from the right of Labour,  Angela Eagle claiming that she is running a campaign against Jeremy Corbyn because she can "unite the party".
Labour leadership: Angela Eagle says she can unite the party.
Sure….
8 Responses