Brexit: as Carnival of Reaction spreads Labour in Crisis.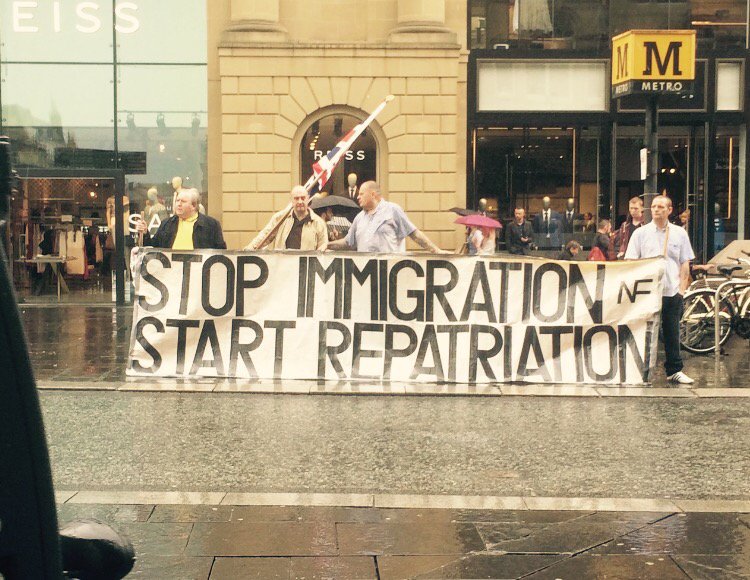 Carnival of Reaction: Newcastle over the weekend. 
This morning after delivering some  Sarriette (summer savory)   plants to my comrade Sarah I passed by Rope Walk.
A group of 3 tasty geezers were talking about the Referendum.
Overheard, "you couldn't  criticise 'them' till now. 'Slavery', 'Blacks" "now…"
The Independent has just posted this:
Brexit: Wave of hate crime and racial abuse reported after EU referendum
Purported responses to Brexit include signs saying 'Leave the EU, no more Polish vermin' being posted through letter boxes.

More than a hundred incidents of racial abuse and hate crime have been reported since the UK voted to leave the European Union.

Many of the alleged perpetrators cited the decision to leave the EU explicitly.

One video, purportedly filmed in Hackney on the morning after the referendum, shows a man arguing with someone in a car before yelling: "Go back to your country."
 The 'Lexit' gang predicted that there would be some kind of "opportunity" for the left in the event of a Brexit vote.
Well this how young leftists reacted.
Mass protest takes place as crowds gather on London Bridge to demonstrate against Brexit
HUNDREDS of people have protested in the capital as they demonstrated against Britain voting to Leave the EU.
This is what has happened in the Labour Party.
Jeremy Corbyn unveils new top team after resignations. reports the BBC.
Labour leader Jeremy Corbyn has announced a new cabinet following a wave of resignations in protest at his leadership and amid calls to resign.
Mr Corbyn lost 12 of his shadow cabinet on Sunday and five shadow ministers on Monday – with most criticising his performance in the EU referendum.
Mr Corbyn said he regretted the walkouts but pledged to stand in any new leadership election.
Labour MPs are due to discuss a no confidence motion against Mr Corbyn.

The shadow cabinet shake-up sees Emily Thornberry – who on Sunday gave her backing to Mr Corbyn – moved from shadow defence secretary to shadow foreign secretary, replacing Hilary Benn who was sacked at the weekend.

Meanwhile, Diane Abbott – an ally of the Labour leader – has been promoted from shadow international development secretary to shadow health secretary, a position vacated by Heidi Alexander's resignation.

The new appointments include:

Shadow foreign secretary – Emily Thornberry
Shadow health secretary – Diane Abbott
Shadow education secretary – Pat Glass
Shadow transport secretary – Andy McDonald
Shadow defence secretary – Clive Lewis
Shadow chief secretary to the Treasury – Rebecca Long-Bailey
Shadow international development secretary – Kate Osamor
Shadow environment food and rural affairs secretary – Rachel Maskell
Shadow voter engagement and youth affairs – Cat Smith
Shadow Northern Ireland secretary – Dave Anderson

The latest frontbench resignations came on Monday, by shadow foreign minister Diana Johnson, shadow civil society minister Anna Turley, shadow defence minister Toby Perkins, Wayne David, the shadow Cabinet Office, Scotland and justice minister and shadow consumer affairs and science minister Yvonne Fovargue.

Stephen Kinnock, a parliamentary aide to shadow business secretary Angela Eagle, has also quit, citing Jeremy Corbyn's "half-hearted and lacklustre role" in the EU campaign.
What an 'opportunity'.
13 Responses