Europe: a Bloc démocratique against the Bloc oligarchique and the Bloc of Sovereigntists? Review: Ce cauchemar qui n'en finit pas. Pierre Dardot and Christian Laval.
Ce cauchemar qui n'en finit pas. Comment le néolibéralisme défait la démocratie. (This nightmare without end. How neo-liberalism  is dismantling democracy) Pierre Dardot et Christian Laval, La Découverte, 2016.
Pierre Dardot and Christian Laval are important writers on the French radical left. Laval  is a specialist on Jeremy Bentham, utilitarianism, the economic, political and ideological grounds of neoliberalism, and, more recently, has written on Marx. Dardot and Laval run the "groupe d'études et de recherches « Question Marx » " and most of his publications have been joint ventures with Laval.
Both researchers and authors  have  a significant place within the 'altermondialiste' movement – the 'other' globalisation campaigns. Their joint La Nouvelle Raison du monde. Essai sur la société néolibérale, (2009) investigated classical political economy (Adam Smith, Ricardo), utilitarianism and  the 'courant ordolibéral', or 'social market' opposed by Hayek and Von Mises.  It is the totality of these doctrines, as social and economic practices, which is now known as "neo-liberalism" that they centre upon. The book is translated into English as The New Way of the World: On Neoliberal Society. Pierre Dardot and Christian Laval. It considers  this economic liberalism a " permanent governmental critique of sovereign power – through the market.
The alternative they offer   centres on the idea of a society founded on  the "common", a notion  elaborated by many parts of the alter-globalisation currents, chiefly concerned with its opposite, privatisation. The book  Commun –Essai sur la révolution du XXIème siècle ( 2014) is an important synthesis of these ideas and their own take on 'anti-utilitarian' economics.  (Le "commun" : un principe au cœur des mouvements sociaux 2014).
Their approach is significantly influenced by the ideas of the later Michel Foucault on "rationalité gouvernemental", and 'bio-power', how the liberal limitation of the 'state'  is also a form of intervention, to impose a "social discipline" dictated by this form of the market.
Critics have signaled scepticism about the picture of 'neoliberalism' and its institutional ground, particularly as it has developed in concrete forms, such as within the European Union in combination with the framework of the post-war 'social market' economy, or ' Rhineland model.' The use of Foucault to conceptualise a new "way of life" that reigns in neoliberal polities has also met serious reserves. It is hard to see exactly how Foucault's concept of governmentality and biopower meshes exactly with the economy, right down to accountancy and finance. Still less clear is the evidence that it has created a 'new kind of person'. Similarly  Foucault's residual 'resistance' to 'micro-powers' for all its descriptive force, is compatible with a realisable left project of taking power…..
Others have asked how exactly the principle of the 'common' can be translated into a political project. As this critic noted, citing Boltanski and Chiapello in  Le nouvel esprit du capitalisme. (1999, English translation, 2007), past creative ideas, critical of capitalism,  can be absorbed within the market society. (1).
That said this vision applied to direction of European construction is an influential one and chimes with a widespread perception that it is the ever-rightwards and pro-free-market. Neo-liberalism is, they have since asserted, apparently, less plural and more monolithic. Despite their earlier belief that rule is now dispersed and horizontal, it has become oligarchical and tending towards the centralised or at least coherent.
The issue of how to render the counter aspiration for the 'common' against this trend into anything resembling political and social reality is at the heart of their latest work, Ce cauchemar qui n'en finit pas.
The lucid study merits reading in its entirety.  It returns to the global character of neo-liberalism marked by a  hallucinating degree of inequality. The steady dismantling of democracy is, they argue, its trademark.
Two central areas in the present, well-written and exceptionally clear book, are  relevant for the debate on the left about British European Referendum.
The first is that Dardot and Laval begin with an account of the further spread of neo-liberalism, from the (Foucauldian) 'disciplining' of the masses, right down to the 'imaginary' entrepreneurial liberation of Uber,  share the pessimistic account of the European Union, portrayed with crusty bitterness by one-time pro-European and one-time New Leftists like Perry Anderson. In this picture the EU is dominated, shaped and founded within the terms set by an oligarchy – a veritable political and class " bloc oligarchique" –  which cannot be reformed. It is a form of polity in which the ' gouvernementale' – governing or capable of governing – European social democracy has become "social liberalism", with concerns for fashionable rights and equality of opportunity, , or straightforward market liberalism.
Dardot and Lavel spend some trying to justify this conceptualisation and vocabulary. Most obviously – which they do not consider – the  term Bloc, compact mass, partisans of the same strategy –  is singularly unconvincing. It covers, in their opinion, political rulers, finance, 'top management', the media and ideological apparatus (Not their phrase but essentially identical to Althusser's usage), media and education, universities included, all the 'few' who rule. Applied to the United Kingdom, where the bourgeoisie and 'oligarchy' contains important fractions, and the right-wing (Conservatives and UKIP), political expressions, of neoliberal agencies virulently opposed to the EU's present policies and long-term governmental strategies, this image of unity is plainly nonsense. The images of corruption inside the bloc also looks more like wallpaper paste rather than cement.
Is Democracy Ending?
Ce cauchemar qui n'en finit pas alleges that we   are at the threshold of a "sortie de la démocratie" – any form of popular control is being eliminated from the governance of the economy, and, behind that, the institutional framework  of the EU. The treatment of Greece and the Syriza government is proof of this development. In their vein the two claim, that is, assert, that Yanis Varoufakis and DiEM's project of democratising the existing structures is a no-runner. A more telling point, is that Syriza had no effective political allies that could counter the 'triumvirate's demand.
The second is that an alternative has to be built, across countries and across movements, a " bloc démocratique". Dardot and Laval have serious reserves about Podemos, noting that the causes of the radical Spanish left's progress are very specific to the country – something one can see with the limited impact of its homologue in France, Nuit Debout. But the prospect of an alternative trans-continental 'bloc', rather than national forces, leads back to the arena in which DiEM has been created.
It is clear that no such movement can be built on the basis of the 'Lexit' campaign. This is to retreat to an imaginary British national sovereignty which leaves the labour movement and left at the mercy of those intent on constructing a Hayekian 'order'. Those going that route, like nostalgic for Little Britain strategies of the 1970s UK left, are marginalised in the face of the relentless campaigns against migration and xenophobic attacks against 'Europe'.
The book concludes with a bold, some might say, irrelevant, 'non-negotiable' demand for the rotation of all public offices. Nevertheless, the optimist strand in Ce cauchemar qui n'en finit pas points in another direction: to outward movements and alliances within a trans-national democratic bloc, in the first instance in Europe itself. This would involve left parties, unions, campaigns, and a galaxy of progressive social movement groups. Whether we can create these links – Another Europe is Possible is a hopeful sign –  is up to us. We back this approach to voting Remain, critical support  – in debate and activity with comrades like  Dardot and Laval.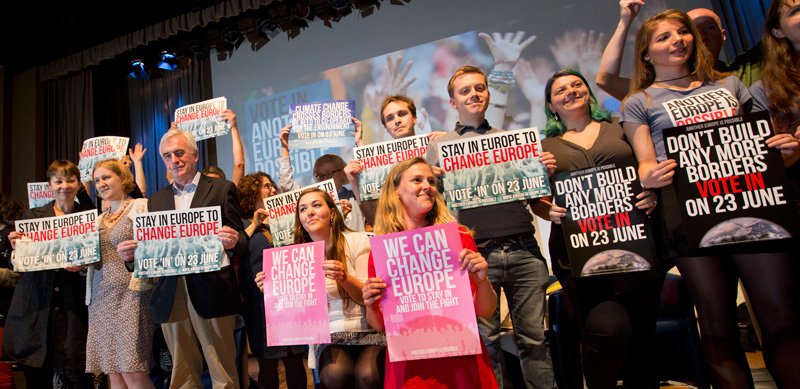 Another Europe is Possible Rallies the Left in London last weekend.
(1) Le Commun, ce qu'il n'est pas, et ce qu'il peut être. A propos de l'ouvrage « Commun : essai sur la révolution au XXIè siècle » de Pierre Dardot et Christian Laval.  Mathieu Cocq also signals potential problems in the authors' history and concept of "neclosure" of the common and attemnpts tpo create a new 'common'.
Review of Ce cauchemar qui n'en finit pas: Henri Wilmo (Nouveau Parti anticapitaliste).