Socialist Worker Joins TUSC and Socialist Party to Stand Councillors Against Corbyn's Labour.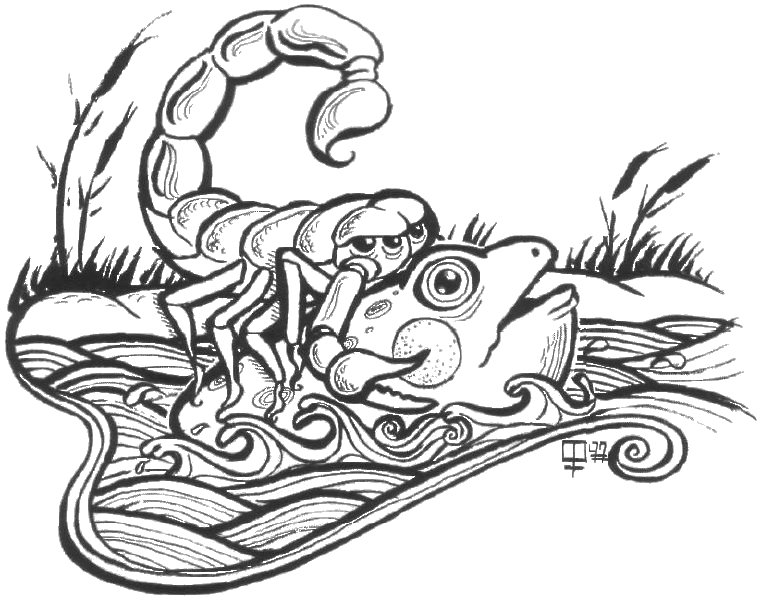 The Scorpion and the Frog: a Model Fable Taught in SWP Cadre schools.
Last September the SWP issued this statement,
The Socialist Workers Party congratulates Jeremy Corbyn on becoming Labour party leader.

His success is a clear sign of the feeling against austerity, racism and war. His victory is an utter rejection of the warmongering and veneration of big business that were the hallmarks of the Tony Blair eras.

We look forward to continuing to work with Jeremy Corbyn and his supporters against the disastrous Tory policies that threaten to destroy key public services, deepen poverty, whip up racism and plunge British armed forces into more imperialist wars.

SWP national secretary Charlie Kimber said, "Jeremy Corbyn's victory is a boost to everyone who hates austerity and racism. It comes as tens of thousands of people across Britain are marching to say 'Refugees are welcome'. Jeremy Corbyn's rallies have seen large and enthusiastic audiences come to cheer a socialist message. Those people must become a movement in the streets and the workplaces that can block and then remove this Tory government."
Careful observers will have noticed the sting in the tail, "we need a movement independent of Labour."
The SWP's Charlie Kimber' writes today in Socialist Worker on the faults of Jeremy Corbyn's Labour Party.
It he has not called on people to demonstrate—probably because he does not want to upset the pessimistic and timid steel unions.

A Corbyn-backed call for protests in Port Talbot and Scunthorpe could have put tens of thousands on the streets.

It could have given confidence to steel workers to launch militant resistance.

Corbyn and shadow chancellor John McDonnell have called for some sort of temporary steel nationalisation.

But their vision is to nurture the plants back to health and speedily hand them back to private firms—with all that means for jobs and pay.

Labour will not come out in support of the junior doctors' strikes.

John McDonnell does as an individual, and attended picket lines. But Labour's official position is just to criticise the Tories, regret the events that have led to strikes and demand proper negotiations.

Constrained by the opposition of Labour MPs, and anxious to preserve "party unity", Corbyn makes concessions to the right. Corbyn and McDonnell did not call for people to take to the streets last weekend when Cameron faced calls to resign.
Kimber sagely notes,
Our main task is to build resistance alongside Corbyn supporters, whether they're in the Labour Party or not. At the same time we have to debate how Labour won't be able to challenge austerity, racism and capitalism effectively.
To point out effectively the errors of their ways and to further build 'resistance' alongside Labour Party Corbyn  people and other members an important method is to stand candidates against the party in the May  local elections.
The left alternative to Labour is small. The Trade Unionist and Socialist Coalition (TUSC), which the Socialist Workers Party (SWP) supports, will be running some 300 candidates in the councils.
They will show up the faultlines in Labour' politics,

It wants to highlight the need to fight the Tory cuts and Labour's failure to do so..
The SWP will not stand against anybody who agrees with their  political line.
Care has been taken to avoid standing against any councillor who is pledged to vote against all cuts or supports Corbyn.
But they warn to be on guard against backsliding:
Of course, deciding not to stand against a candidate doesn't mean being responsible for what they do in the future.
There follows some kindly advice to Labour's mayoral candidate Sadiq Khan.
Oddly they do not back the SWP's former best friend, George Galloway. Instead they call for a vote for Khan.
8 Responses