Jean-Luc Mélenchon, Man of Destiny, Announces Presidential Bid to Lead France.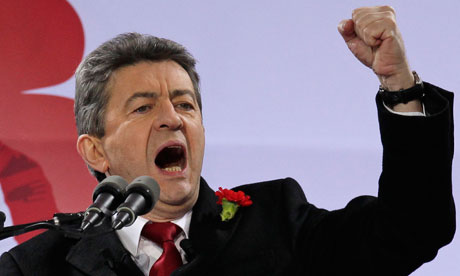 Mélenchon: Man of Destiny.
Jean-Luc Melenchon announces 2017 France presidency bid
Jean-Luc Mélenchon annonce sa candidature à l'élection présidentielle.
(Freely Translated)
Mélenchon intends to represent a "France proud of being rebellious."
Humanity's general interest has to be uppermost today. Climate change has started: this is the time to  transform our ways of producing, exchanging and consuming. "
To the question of who supported this surprise announcement Mr Mélenchon replied, addressing humanity in general, replied: "My convictions,   that's the most important, and perhaps the French people. They can do nothing at present about the conditions I've just described as long as they are tied to European Treaties."
Mélenchon's bid stand for humanity in next year's French Presidential election not been universally welcomed.
The Parti Communiste Français (PCF), partners in the left bloc, the Front de gauche(FdG), expressed surprise at the declaration. Their spokesperson Olivier Dartigolles noted that Mélenchon had not bothered to discuss his decision with the other parties inside the FdG.  He had only become aware of the decision through watching the television channel TF1.  Clémentine Autain, representative of the other main group in the FdG, Ensemble, has so far remained silent.
The PCF is involved in a campaign for a "primary" extending across the left to elect a common candidate for the Presidential elections.
More:  Jean-Luc Mélenchon, une présidentielle sans parti ni primaire. Rachid Laïreche
A man of destiny, addressing the French People, has little need for such carping at this historic moment.
In a fitting style Mélenchon has created his own movement for  "La France insoumise, le peuple souverain."
In the founding statement he notes that the coming eleciton, and his candidature, can be an opportunity for our people, to turn the page on a cruel and unjust order that reigns in our land and our continent" "The (French) Presidential Monarchy, and the present European Treaties, deprive our People of the means to settle our problems. These are the roots of our wretchedness; they must be swiftly chopped off."
Je vous propose ma candidature pour l'élection présidentielle de 2017. Cette élection peut-être une chance pour notre peuple. C'est l'occasion de tourner pacifiquement et démocratiquement la page de l'ordre injuste et cruel dans lequel s'enfonce notre pays et notre continent. 2017 sera une année décisive : un nouveau traité européen sera proposé et le projet de marché commun avec les États-Unis sera achevé. Il faut les refuser. C'est le moment d'agir. Soyons la France insoumise.

Le changement climatique a commencé. Il ne faut plus céder aux lobbys productivistes pour changer notre façon de produire et de consommer. Soyons le peuple souverain.

Ma proposition de candidature est donc un appel à l'engagement. Il s'adresse à qui a compris ce point essentiel : tant que dureront la monarchie présidentielle et les traités européens actuels, notre peuple sera privé de tout pouvoir pour régler ses problèmes. Là est la racine de toutes nos misères, celle qu'il faut trancher d'urgence.
Written by Andrew Coates
February 11, 2016 at 12:54 pm
Posted in Europe, European Left, French Left, French Politics, Front de Gauche, Human Rights, Parti Socialiste
Tagged with European Left, France, French Politics, French Politics. Front de Gauche, Jean-Luc Mélenchon