Protests at Crimes Against the Kurds as Turkish PM Ahmet Davutoğlu Visits London.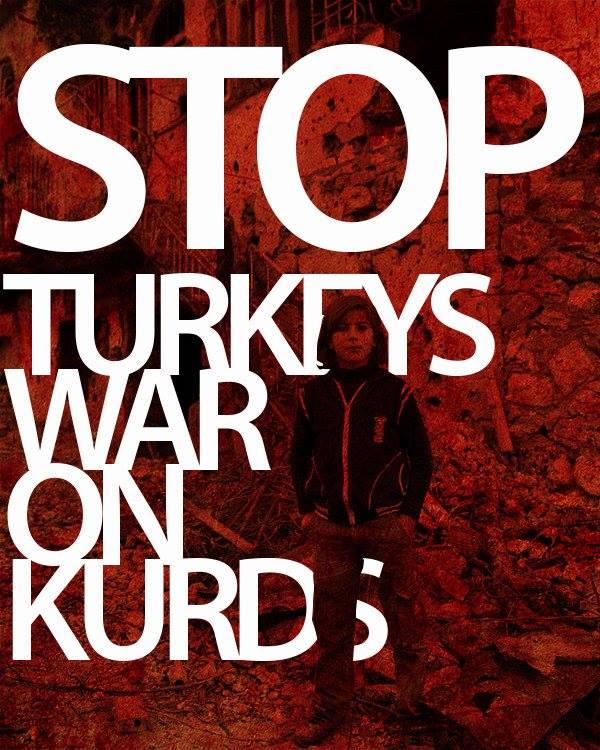 PM Davutoğlu flies off to London to promote Turkey's huge investment potential.
Prime Minister Ahmet Davutoğlu started his one-week "investment tour" on Sunday which will include visits to London, Davos and Berlin. The first visit will be to London, where Davutoğlu will meet with 350 leading investors, who collectively manage around $10 trillion. Davutoğlu will give the opening speech at the 16th Turkish Investment Conference organized by Bank of America Merrill Lynch, a leading investment bank, and will address various business circles as well as invite international investors to Turkey, at various events organized by Bloomberg, Goldman Sachs and the Foreign Economic Affairs Board. He will inform the investors regarding Turkey's legislative reforms as well as Turkey's plans for accession to the European Union and will give out the message that Turkey is worthy of investment and has an economic atmosphere which minimizes risks. Davutoğlu will announce the Middle-Term Economic Program and will explain Turkey's road map until 2018 to investors. Davutoğlu will also attend a lunch with CEOs and other executive managers of 18 of the most crucial global investment funds at Goldman Sach's European Headquarters. During the round-table meeting scheduled for Chatham House in London, Davutoğlu will be providing insight and express his views regarding regional and international events and developments.
The Turkish Prime Minister Ahmet Davutoglu is in London to meet UK PM David Cameron. The visit comes at a time when the Turkish state is killing innocent Kurdish civilians, imprisoning dozens of journalists, politicians, human rights activists and academics.
We condemn the Conservative government's collusion with the Turkish state and its silence in the face of Kurdish massacre.
• We demand that the UK government criticise and pressure Turkey to stop its human rights abuses against Kurds.
• We demand that the UK government impose sanctions on Turkey.
• We ask that you write to your local MP about this issue and pressure them to bring it up in Parliament.
• We request that you boycott Turkish tourism and products.
Support us in our struggle for the recognition, right to self-determination and freedom of Kurds!
Support us in our struggle for a democratic, secular and gender-equal society!
Support us in our struggle for a peaceful and political solution to the Kurdish question!
Protest at 14.30 today Downing Street.
Support for academics who demanded that the Turkish state stop its atrocities against the Kurdish people with the declaration, 'We will not be a party to this crime," is growing.
RELATED: More Than 1000 Academics Call For Peace Talks To Resume Between Turkey And PKK
565 academics, as of date, across UK universities and higher education institutions have signed an open letter supporting Turkish and non-Turkish academics who released the initial declaration calling for the Turkish state to stop violence against Kurds and resume peace talks.
The open letter, undersigned by 565 academics, to the Turkish government is below:
Open Letter of support for academics being victimised in Turkey
As scholars associated with universities and higher education institutions in the UK and internationally, we are extremely disturbed by Turkey's recent treatment of academics that have spoken out against atrocities being committed by the Turkish state against Kurds.
1,128 Turkish and Kurdish 'Academics for Peace' originally signed the statement "We will not be a party to this crime", calling on the Turkish government to cease hostilities against its Kurdish population. Since the publication of this statement, these academics have been subject to a sustained campaign of abuse and violence from both the Turkish state and its supporters.
In recent speeches, President Recep Tayyip Erdogan has publicly denounced these academics. Subsequently, prosecutors have begun proceedings to charge all 1,128 of the original signatories with "propagandising for a terrorist organization" and "overtly insulting the Turkish nation, the State of the Republic of Turkey, Grand National Assembly of Turkey, the Government of Republic of Turkey and the judicial organs of the state".
This has resulted in 22 academics having been taken into custody (at the time of writing).  If convicted of these charges they could face 1-5 years imprisonment. The legitimacy of arrests has already been questioned by prominent legal experts and described as "extra-legal" decisions. Signatories have also been publicly exposed in the press and social media by government supporters and nationalists, leading to fears of reprisals from fascists that have declared they will 'spill the blood' of the signatories. Many of the signatories also face disciplinary proceedings and possible sackings from their institutions.
These unjust acts are unfolding in a context of continuing state violence against Kurds- in December 2015 alone 100 Kurds were killed as a result of military operations conducted by the Turkish state. Since August 2015 there have been 52 open-ended and round-the-clock curfews imposed on over one million inhabitants in south east Turkey.  In such a context, the clamp down on academic freedom constitutes another moment in the deepening authoritarianism of the Turkish state. This includes not attacks on not only academics but also the continuing imprisonment and deaths of journalists, lawyers and activists.
We call on the Turkish government to withdraw its prosecutions, immediately release all those imprisoned and commit to the principles of academic freedom and free speech. We moreover reaffirm the Academics for Peace call on the Turkish government to cease their hostilities against Kurds.