Germans and refugees protest against sexism and racism after Cologne attacks
Germans and refugees protest against sexism and racism in wake of Cologne attacks
Germans, Syrians and others have protested in Cologne against the sexual assaults of New Year's Eve. As the backlash against refugees grows, some people with migrant backgrounds feel they're becoming public enemies.
Reports Deutsche Welle. 
Beneath a grey January sky, a handful of men gathered in front of the towering Cologne Cathedral carrying placards and waving German and Syrian flags. Then, as curious bystanders began to trickle over, the men unfurled a banner with a message scrawled in black and green.
"We're refugees from Syria," it read in German. "We're against racism, sexism and war."

It marked the beginning of the first of two demonstrations on Saturday meant to counter the increasingly negative image of refugees in the wake of the events in Cologne on New Year's Eve.

Since that night, in which more than 500 women reported being sexually harassed in front of the main train station by a mob of men, most of them from migrant backgrounds, male refugees from the Middle East feel they're suddenly the enemy in a country that only a short while ago had celebrated their arrival.

Jabbar Abdullah, a 28-year-old Syrian who organized the first, smaller demonstration, said he wanted to convey to the public that there was a distinction between the men who committed those crimes and ordinary refugees.
Slavoj Žižek wrote some words of sense at the end of last year (In these Times. November).
Another taboo we must address concerns norms and rules. It is a fact that most of the refugees come from a culture that is incompatible with Western European notions of human rights. Tolerance as a solution (mutual respect of each other's sensitivities) obviously doesn't work: fundamentalist Muslims find it impossible to bear our blasphemous images and reckless humour, which we consider a part of our freedoms. Western liberals, likewise, find it impossible to bear many practices of Muslim culture.
These comments are easy to extend.
It is the case, as everybody knows, that vicious sexual harassment is a particular problem in many Muslim cultures, in the Middle East and North Africa.
In liberal and tolerant Tunisia the issue has become extremely important. In June last year this (amongst scores of articles) appeared: SEXUAL HARASSMENT IS MAKING LIFE HELL FOR WOMEN IN TUNISIA By Hana Rekik.
One would have wished for  Žižek to show some awareness of this.
Unfortunately he  has reverted to form and this week has written appalling drivel on the topic in the New Statesman.
I will not dignify him by directly citing it.
Those who want to read it it's here:  The Cologne attacks were an obscene version of carnival.
I would also like to state  that in relation to the controversy about the Charlie Hebdo cartoon that those who have used this drawing for their own ends, to spread hatred of French leftist secularists are also beneath contempt.
This Cologne demonstration is dignified and moving.
There have been many other reactions to the sexual assaults.
It pains me to say this but amongst them the Riss cartoon in Charlie Hebdo is not worth the paper it's written on.
The hysterical anti-Charlie people who jumped like fleas on the drawing – some claiming that it shows proof that 'Israel' was reaping a reward for donating to the Weekly – are beneath contempt.
Some have tried to explain the meaning of the picture: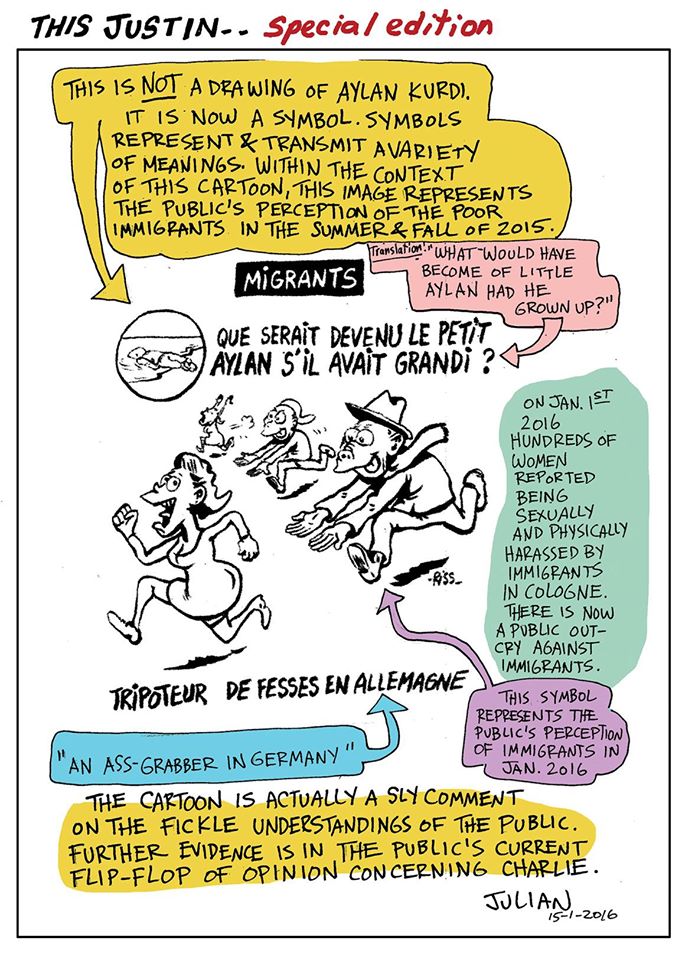 The fact remains that Riss is neither funny -nor exactly cutting against the grain.
The Tendance backs Charlie Hebdo to the hilt – not every cartoon in it.
This gives some reasons why the Tendance does not defend Riss's dessein, and yes, I do get the 'culture'.
The drawing did not especially disturb me. Nor did it make me laugh. It only brought to mind the spirit of Hara-Kiri [CH's anarchic 1960s forerunner], the spirit of its Choron-Cavanna-Reiser era, indiscriminately going after everything that moves — the cops AND the protestors, the generals AND the pacifists, the idiots, the government bureaucrats, the fascists, the academics. And so, why not, the migrants too, without giving all that much thought to whether we're talking about the migrants themselves, or the migrants as les fachos depict them. Throw it all in, it's all good for ink.

An Open Letter to Riss, Care of The Internet (by Daniel Schneidermann)
7 Responses