Bangladeshi Islamists Threaten our Sister and Brother Secularist Bloggers.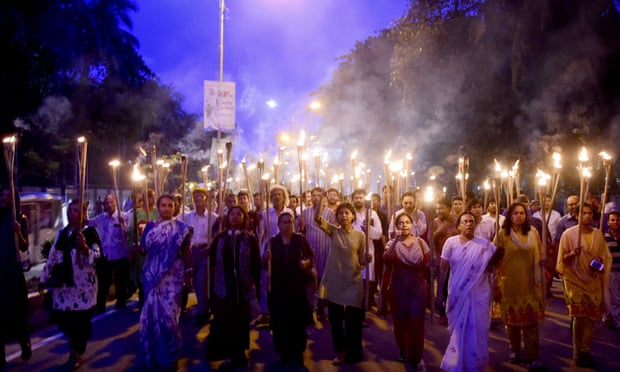 Stand by our Bangladeshi Sisters and Brothers.
Militant group publishes global hitlist of bloggers, activists and writers reports the Guardian.
Nine UK-based bloggers on list published by Bangladesh group Ansarullah Bangla Team, who have been blamed for a series of murders.

An Islamic militant group in Bangladesh has issued a hitlist of secular bloggers, writers and activists around the world, saying they will be killed if its demands are not met.

The list will raise fears that Islamic militant violence within the unstable south Asian country could take on an international dimension.

The targets in the list include nine bloggers based in the UK, seven in Germany, two in the US, one in Canada and one in Sweden. Some are Bangladeshi citizens living overseas. Others are dual nationals or citizens of the western nations.

The list was issued in a statement on the internet by the Ansarullah Bangla Team (ABT), a group that has been blamed for a series of murders of bloggers and activists in Bangladesh over the last 18 months. All those killed have been prominent critics of extremist religious doctrines, especially in Islam.

The acting leader of the ABT and two close associates were arrested earlier this month in Dhaka, the capital of Bangladesh, for their involvement in the murder of a secular blogger earlier this year.

..

British-based bloggers of Bangladeshi origin named on the list have approached police in London and elsewhere following its publication. They say authorities have have advised them to take precautions to minimise the risk of attack.
Advertisement

It is unclear if the ABT has the capability to carry out their threats, but its call for action may prompt individuals to mount "lone wolf" attacks.

Police have charged an ABT organiser and four supporters with the murder of a 27-year-old blogger, Washiqur Rahman, in Dhaka in March.

Rahman's death came just weeks after a Bangladesh-born American atheist blogger was murdered in Dhaka by machete-wielding attackers.

The murder in February of Bangladeshi-born US citizen Avijit Roy, a science writer and blog moderator, prompted outrage around the world. His US-based widow is among those named on the new list the group appear to have issued.
The IBT Times notes,
In August, Niloy Neel was murdered in Dhaka, and two people were taken into custody in relation to the attack. In May, Ananta Bijoy Das was hacked to death by masked assailants with machetes in the city of Sylhet, northeast of Dhaka. Das wrote blog posts for Mukto-Mona (Free-mind), a website founded by Roy. In March, Washiqur Rahman, a blogger who decried religious fundamentalism, was killed in a similar attack near his Dhaka home.
2 Responses