People's Democratic Party (HDP – Turkey) Calls for International Solidarity with the Martyrs of Suruç.
People Carry the Coffins of the Suruç Martyrs through Gaziantep.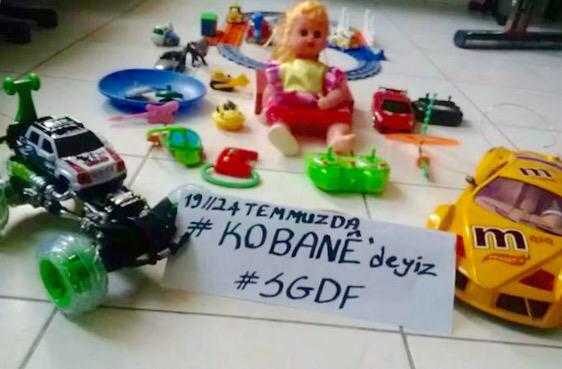 Our beloved comrades were bringing toys to give to Kobanê children.
Peoples' Democratic Party (HDP) Gaziantep deputy Celal Doğan, who attended the ceremony, said: "There was no violence; there were no guns [with this tragedy]. There were just a handful of idealists in Turkey, just 300 people who were at most 25 years old who aspired to go to the destroyed town of Kobani and rebuild it. They dreamed of building daycare centres, parks and projects such as hospitals." (Zaman)
The  Peoples' Democratic Party, Turkish: Halkların Demokratik Partisi (HDP), Kurdish: Partiya Demokratik a Gelan, has issued the following statement:
CALL FOR INTERNATIONAL SOLIDARITY
I'm writing this urgent letter to inform you regarding to the ISIL's bombing attack that caused death of 28 young people and nearly 100 injures in Suruç in Turkey where closest town to Kobani. All the victims were members of the Federation of Socialist Youth Associations which known as youth organization of ESP (Ezilenlerin Sosyalist Partisi or Socialist Party of the Oppressed).

We as HDP strongly condemn the massacre against the young people whose show their internationalist solidarity for Kobani and its resisting peoples against the ISIL.

The ISIL's activities in Turkey and AKP Government's tolerance for ISIL members caused many civil casualties in Turkey like Hatay/Reyhanlı Attack on 11 May 2013 and Diyarbakir Attack on 5 June 2015. It is clear that, Turkey and its borders has turned into logistical base and militia crossing gate for ISIL for 3 years. Additionally Turkish Intelligence's (MIT) hundreds of trucks which full of the arms and military equipments have been dissembled by the government and the divulgers (prosecutors and gendarmerie officers) have been arrested due to the preventing the arm transmitting operation to Syria.

Our party and peoples of Turkey are aware that AKP Government has big responsibility to encouraging the ISIL and rising civil casualties in Syria, Iraq and Turkey as well. We as HDP calls international public opinion to react for AKP Government's irrational approaches that causing civil casualties in the Middle East. In this regard, HDP call all the democratic and progressive parties and NGOs to show their solidarity for the young victims in Suruç.
Respectfully yours,

Nazmi GÜR
Vice Co-Chair of HDP in Charge of Foreign Affairs
The HDP  site already lists expression of solidarity by the following:
 European Armenian Federation for Justice and Democracy, Die Linke (Germany) and Syriza.
Syriza declares:
Statement by YIANNIS BOURNOUS, member of the Political Secretariat of SYRIZA,

Head Responsible for European Policy, International Relations, Foreign Policy & Defense, Greek diaspora

On the deadly terrorist attack in Suruc

We express our horror and unspeakable sorrow for today's barbaric bomb attack by fundamentalist islamists against dozens of members of the Federation of Socialist Youth Associations in Suruc, Turkey, which resulted in the loss of 28 lives and the injury of more than 100 people.

We mourn the loss of dozens of young militants who went to Suruc, in order to help as volunteers in rebuilding neighboring Kobane, a city-symbol of the struggle of the Kurdish people against the barbarity of islamofascism.

The AKP government is accountable for its underground and/or visible links and transactions with branches of the Islamic State. It must immediately stop providing any kind of direct or indirect support to the terrorists, starting from the exemplary punishment of those who orchestrated today's murderous attack.

SYRIZA expresses its deepest condolences to the families of the victims and stands on the side of the Turkish and Kurdish Left, which fights against darkness on behalf of humanity.
13 Responses