Labour MP Jeremy Corbyn launches bid for the Party Leadership on Anti-austerity Platform.
Jeremy Corbyn in Bid for Labour Leadership.
After the election John  McDonnell MP  made this analysis (LRC).
THIS IS THE DARKEST HOUR THAT SOCIALISTS IN BRITAIN HAVE FACED since the Attlee government fell in 1951. It isn't just the scale of the electoral defeat – but the overwhelming incorporation of so much of the Labour Party into the political and economic system that the Labour Party was founded to transform.

…..

There are three immediate tasks. First, we have to recognise – even more than before – that with a Tory majority government the main forms of effective resistance will be on the streets, in occupations and on picket lines. This is a time for intensive activism. This is not some form of displacement activity from other forms of political engagement, but an essential role that the left, especially the Labour left, must now grasp more enthusiastically and with more determination than ever. ….

Second, the Labour left may not have the resources in Parliament to secure a left candidate on the ballot paper for the Labour leadership election but we do have the intellectual resources to dominate the ideological and policy debate in this leadership election……

Third, the crisis our class now faces means that the left needs to get real and get together. This is no time for sectarian division. Anyone who divides us is aiding and abetting the Tories and other forces of reaction. I do not think the threat of UKIP has gone away.
It is the first and second points which make the most impact (because frankly there are divisions about, above all, the EU Referendum which are not due to 'sectarianism' but to very deep divisions over Europe which are not going to go away).
Now we hear.
Jeremy Corbyn runs for Labour leader: Veteran MP launches surprise bid declaring other contenders are too right-wing reports the Daily Mirror,
Labour MP Jeremy Corbyn tonight launches a surprise bid for the party leadership.

The left-winger revealed he wanted to give Labour members "a proper choice" when they elected a new chief.

He becomes the fifth MP to throw his hat into the ring, joining four already firmly-established contenders.

They are Shadow Health Secretary Andy Burnham, Shadow Home Secretary Yvette Coooper, Shadow Health Minister Liz Kendall and Shadow International Development Secretary Mary Creagh.

 Mr Corbyn believed the four declared candidates were too similar, saying: "They are not offering a clear enough alternative on the economic strategy and austerity, and our attitude to welfare expenditure.

"We think the left members of the party need to have a chance of a debate."
On his Blog site Jeremy Corbyn wrote after the election,
Voting Revealed A Disjointed Britain: Labour's Task Is To Unify And Equalise It.
The real issue is of course austerity. Ed Miliband made some brilliant points during the campaign about wages, working conditions, education opportunities and housing, and clearly was mobilising quite a lot of younger voters to support the party.

The problem was that while Chancellor George Osborne was claiming that austerity was working and thus ignoring the inequality and poverty created, Ed Balls was in essence saying that the only difference in Labour's policy was that his economic strategy would simply take longer to deal with the deficit.

He was not offering to restore the funding that the Tories have cut in local government particularly, or reverse cuts to benefits over the past five years.

The reality is that within a few months the Tories are going to be in disarray over Europe and many will rapidly realise the horror of what has happened when they see rising poverty and further attacks on working conditions. Surely the need for Labour is to examine the economic strategy needed to develop a more equal society with full employment, decent housing and a fully funded and public NHS, rather than taking the advice of Peter Mandelson and Lord Sugar that we weren't "appealing to big business." By September we will know who the new Labour leader is, and the rules require that 35 Labour MPs nominate an individual to be a candidate. I hope there are enough Labour MPs prepared to support an anti-austerity candidate in the leadership election so that party members and affiliated supporters have a real choice.
Owen Jones notes (just published on the Guardian website),
It is up to Labour MPs whether party members and trade unionists will have the opportunity to have a meaningful debate. Under Ed Miliband's leadership the threshold for how many nominations a leadership candidate must receive to appear on the ballot paper was raised to 15%. Unless 35 Labour MPs nominate Corbyn, this farce of a leadership contest will continue and the Labour party – and the country as a whole – will learn nothing from it.

Back in 2007, I worked for the prospective Labour leadership campaign of John McDonnell, a close ally of Corbyn. But after McDonnell outshone Gordon Brown in a single leadership hustings – with the soon-to-be-unopposed leader becoming evidently flustered during the course of the evening – the Brownite goons roared into action. They knew their man would win, but they feared an unexpectedly positive showing by McDonnell in both the debates and the final result. Arm-twisting and arm-breaking followed, and a coronation ensued. Brown never defined himself, and arguably fatally wounded his premiership from the outset.

……

Corbyn was an arch critic of New Labour, and ironically would be the sole real defender of New Labour's record in the contest. He would fight a rearguard offensive against the lie that Blair and Brown caused the crisis by spending too much money on schools and hospitals – spending backed, penny for penny, by the Tories until the end of 2008. He will be able to draw from the findings of Britain's leading pollster, John Curtice – who accurately predicted the outcome of the election; these findings dispute that Labour lost for being too leftwing, and underline that Labour lost Scotland partly for being too rightwing.

Corbyn could also draw on the conclusion of Peter Kellner, the YouGov pollster, that however Ed Miliband allowed himself to be portrayed, his policies were less radical than those of Tony Blair in 1997. He could nail why Labour lost: the implosion in Scotland, and the consequent anti-SNP hysteria; the lie of "overspending"; and the lack of any coherent alternative.

If Labour MPs deny the party and the country a genuine debate, it will reflect disastrously on them. It will do whoever emerges victorious no good, either. Labour has just suffered one of the worst defeats in its history. If the party doesn't have the good sense to have a meaningful debate now, you might wonder why it doesn't just pack up. So come on, Labour MPs. Put your future careers aside for party and national interest. Lend Corbyn a nomination, and let a real debate begin.
I agree with Owen Jones.
A Corbyn candidacy would allow us to have a real debate, on a range of issues.
Whether we agree with Corbyn on every stand he's ever taken is irrelevant.
He is the only one stand up against austerity.
That is the main issue.
Let's not forget that it's not only Labour members who will have a say in the end: it's us affiliated trade unionists.
Our unions have taken a stand against austerity.
We have campaigned with organisations like the People's Assembly against austerity.
Many of us also campaigned for the Labour Party.
We deserve a chance to back a candidate who expresses our views.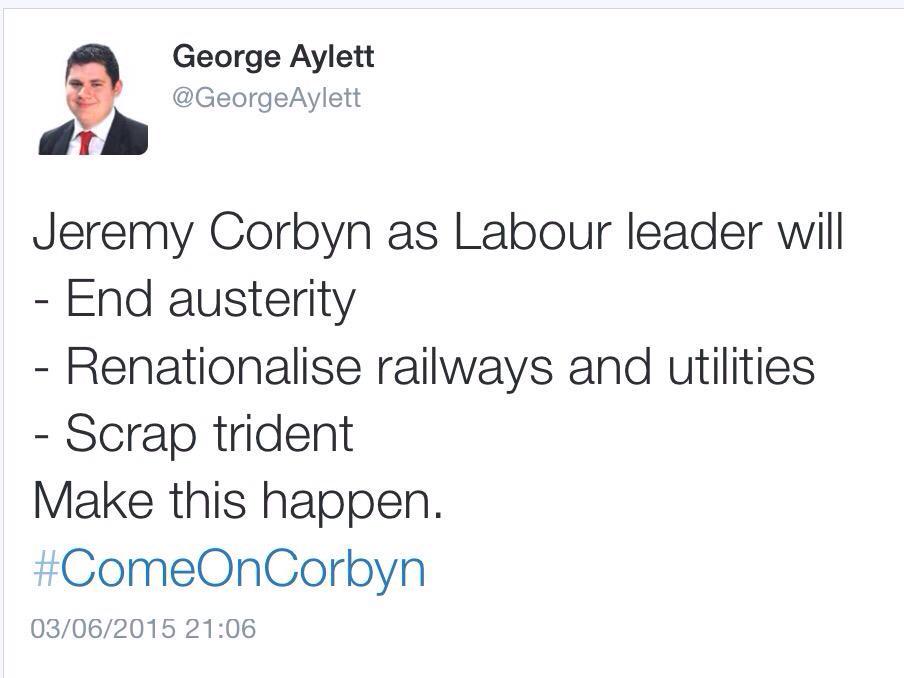 Facebook: https://www.facebook.com/JeremyCorbyn4Leader?hc_location=ufi
11 Responses