George Galloway: Religious Communalism in Action.
These are, apparently,  GALLOWAY'S 6 DEMANDS FOR BRADFORD WEST.
Look hard and you will not discover any distinctively socialist politics.
Tower Hamlets schools have been transformed by Blair-Brown and Cameron.
Pleading for government offices to be transferred to Bradford, well….
Car Insurance? Bride Price?
Of the 193 member states of the United Nations, 135 have reconsidered Palestine (something we too support) – and you can bet that not many are socialist either.
He also stands for this: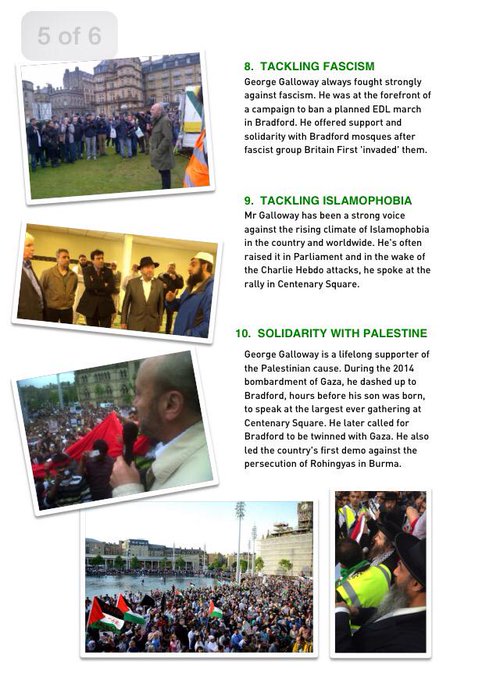 Ah yes, this was his speech about Charlie Hebdo at the infamous 'Rally of Hate':
we will not allow this Charlie Hebdo magazine to be described as a king of loveable, anarchic, fun book of cartoons.

"These are not cartoons, these are not depictions of the Prophet, these are pornographic, obscene insults to the Prophet and by extension, 1.7billion human beings on this earth and there are limits.

"There are limits. There limits to free speech and free expression especially in France."
Latest from Bradford (Independent)
..many confess to also being impressed by the Labour candidate's candour. Riza, a mother-of-two leaving a grocery store emblazoned with Respect posters, said: "I think she was brave to stand up like that. It can be difficult to be an Asian woman and I think it shows a strength of character. She's up against a lot of men – and I don't just mean the guy on those posters."

Mr Galloway suggests he is on track for victory with a potential tally of 15,000 votes, though the bookies say the result is likely to be close with the fedora-wearing Respect leader a narrow favourite ahead of Ms Shah.

In the event of defeat, Mr Galloway has hinted he may consider turning his sights on London and running as mayor. In the meantime, his fierce gaze remains firmly on Bradford West, where he has raised the issue of curbing the taxi app Uber as part of his pitch.
This the style, this is the man, beyond parody.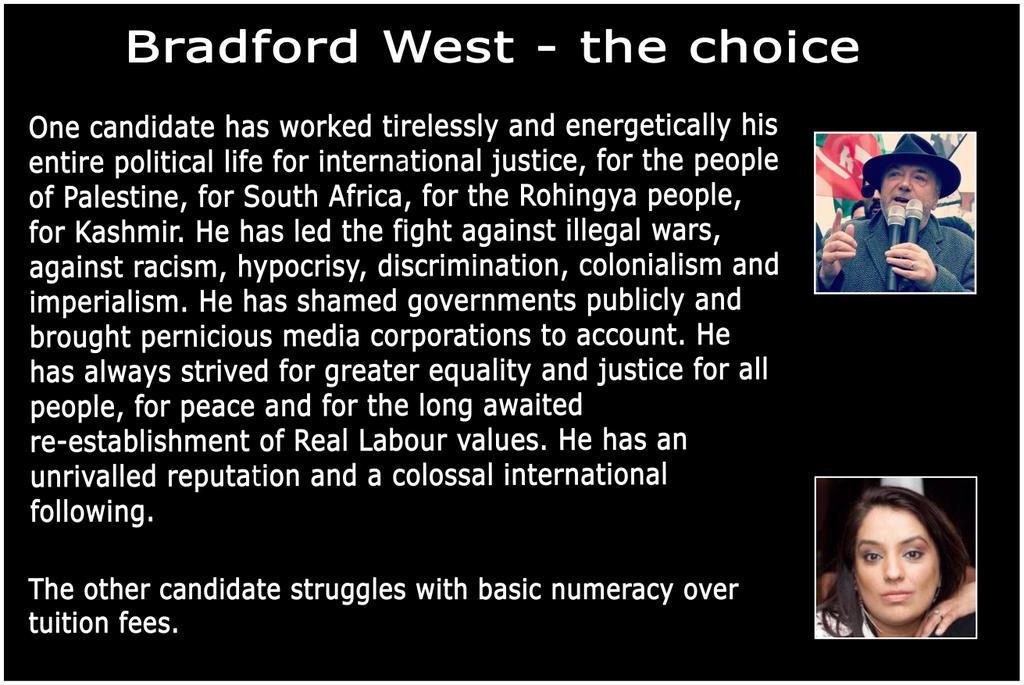 21 Responses