Belgium: National Trade Union Protests.
Belgium: Unions Protest Against Right-wing Government. 
Tens of thousands of people have responded to a united call from Belgium's trade unions ( FGTB, ACLVB/ACVCSC ,  ABVV/CGSLB – socialist, Christian democrats and liberals)
together and have gathered at the Gare du Nord in Brussels to express their opposition to the agreement of Michel government.Unions expected 100,000 people in the streets of Brussels. A goal that could be achieved if it is based on the number of special tickets sold by SNCB (National Railway service)  for the occasion: 80,000.
Marc Goblet, secretary general of the FGTB, confides: "We will probably be well over 120,000 people. And if this plan is not enough, we will hold another march in January "
Many of the protesters, from the Flemish speaking north and the French speaking south of the country, have assembled together. A degree of  tension prevailed at the location of the gathering. Some traffic lights were damaged. So far these are isolated incidents.  
The transport system (apart from trains carrying marchers) is severely affected by solidarity strikes Le Soir.
The country's public radio station, La Première reported this morning that support was strong in the Flemish north, with dockers from Antwerp joining in, and the Flemish Socialist Party directly  participating in the demonstration.
Many ordinary people, interviewed in Brussels, backed the march even if they themselves were unable to join in.
The four main reasons for the protest are the end of indexing salaries and welfare to keep up with inflation, later retirement age (67), enhanced flexibility and a lack of contribution of the very wealthy.
That is, put simply, budget cuts.
These policies are being introduced by the right-wing government Coalition of Flemish nationalists (N-VA), the Flemish Christian democrats (CD&V) and the liberal parties (Open Vld/MR) . Only one member party of the Coalition is Francophone – the liberal  Mouvement Réformateur (MR). 
Update: Violence at end of March (le Soir)
Incidents broke out in the afternoon. "Several hundred protesters – led by dockers from the port of Antwerp and Ghent, and engineering workers from Liege were joined by hundreds of left-wing youth. They faced the police. Paving stones were launched  and vehicles were torched. The police responded with tear gas and water cannons." There are reports of serious injuries.
More: Manifestation nationale: La police charge les derniers manifestants à la Porte de Hal. (Libre Belgique)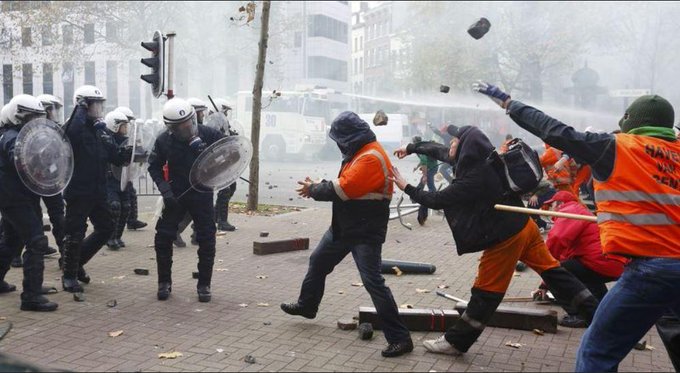 Au moins 100 000 personnes défilent contre les coupes budgétaires en Belgique (le Monde)
Mashable: Labour Protests Turn Violent.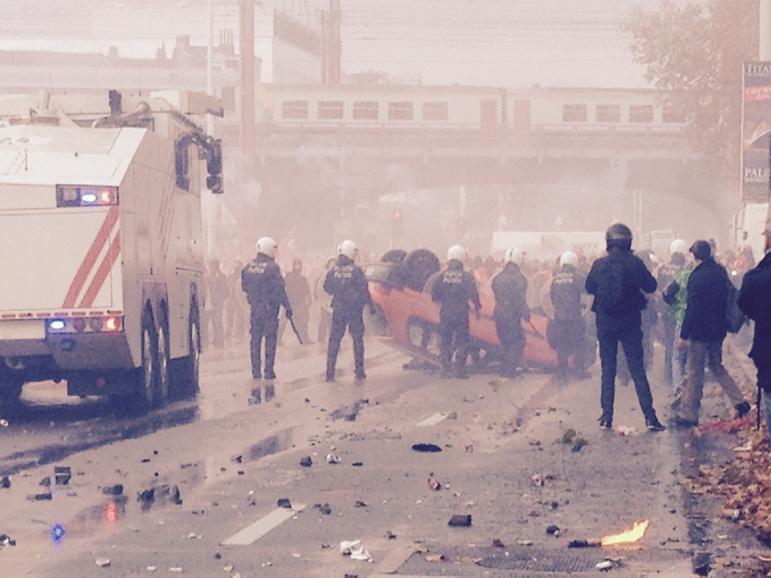 Written by Andrew Coates
November 6, 2014 at 12:17 pm