Solidarity with the Beloved People of Kobane!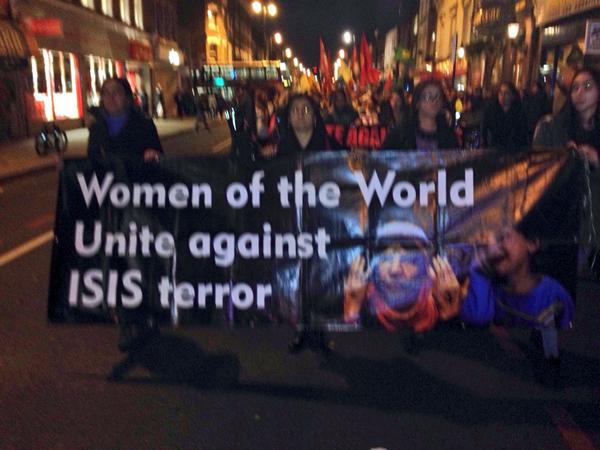 Support our Beloved Sisters and Brothers in Kobane! (ShenGal ROJAVA)
Kurdish protesters clashed with police in Turkey leaving at least 14 people dead and scores injured Tuesday as demonstrators in Brussels forced their way into the European Parliament, part of Europe-wide demonstrations against the Islamic State group's advance on a town on the Syrian-Turkish border.

Turkey's private Dogan news agency reported 8 dead in the eastern city of Diyarbakir and that the other victims died in cities in the east as police used water cannon and tear gas to disperse protesters who burned cars and damaged businesses.

The activists are demanding more help for the besieged Kurdish forces struggling to hold onto the Syrian town of Kobani. Some European countries are arming the Kurds, and the American-led coalition is carrying out airstrikes against the Islamic extremists, but protesters say it isn't enough.

A demonstrator in Cyprus urged the coalition to "hit the jihadists harder" so that Kurdish forces can hold the town.

Tensions are especially high in Turkey, where Kurds have fought a 3-decade-long battle for autonomy and where Syria's violence has taken an especially heavy toll.

Protests were reported in cities across Turkey on Tuesday, after Islamic State fighters backed by tanks and artillery engaged in heavy street battles with the town's Kurdish defenders.

Police used water cannons and tear gas to disperse demonstrators in Istanbul and in the desert town of Kucuk Kenderciler, near Kobani on the Turkish side of the border. One person in Istanbul was hospitalized after being hit in the head by a gas canister, Dogan reported.

Some protesters shouted "Murderer ISIS!" and accused Turkey's government of collaborating with the Islamic militants.

Protesters have returned to the streets of London as they rally in solidarity with Syrian Kurds in Kobani, the town Islamic State militants threaten to seize next. Earlier on Monday activists occupied one of the busiest Tube stations.

Hundreds of people march through London carrying banners which read: "Turkey stop supporting ISIS" and "Support Kurds resisting ISIS harassment in Kobani".

Other banners call to "unite against ISIS".

Armed police patrol at Heathrow Airport as Kurds protest against Isis

A terminal at Heathrow Airport has been occupied by Kurdish and Turkish anti-Islamic State protesters.

The campaigners have blocked ticket barriers in terminal two of the airport and have been occupying the airport since 12pm today.

A group of about 50 demonstrators are holding banners reading 'Stop fascist attacks in Kurdistan' and 'Kobane', following news the Islamic State flag was seen on the border of Turkey and Syria.

No flights have been affected and passengers are able to travel as normal through the airport.

A spokeswoman for Scotland Yard said: "We were called at 11.55am to reports of a demonstration at Heathrow Airport.

"Officers are at the scene and an appropriate policing plan is in place."

A spokeswoman for Heathrow Airport said: "There is currently a peaceful protest taking place in Terminal 2 in the departures area. Heathrow supports the right for peaceful protest. There is no impact on operations and passengers can travel as normal through the airport."

Passenger Adam Tuckwell said: "The protesters are in good voice but all seems peaceful."
The same group of pro-Kurdish campaigners blockaded Oxford Circus tube station yesterday afternoon.

Transport for London were forced to evacuate the station for an hour as the demonstration blocked passengers passing ticket barriers.
I may be wrong but I do not see a single Stop the War Coalition (StWC) poster in photos of the UK protests, or any sign of support for the Kurdish struggle against Isis on their Web site.
Perhaps this sheds some light on the thinking behind their failure to stand up when you need to be counted.
Counterfire (whose leadership has great influence in running the StWC)  carried an article (October 5th) stating.
The US-led bombing of Iraq and Syria will not save the Kurds. Western policy, its military and its arms are not there to save the Kurds.
Socialist Worker has wheeled out its tired old response to the tragedies now unfolding in Syria and Iraq,
The West wants to portray itself as supporting oppressed minorities such as the Yazidis or the Kurds.

But they will never support real struggles for self-determination. They just want to give a progressive gloss to the pursuit of their own imperialist interests

Islamic State grew out of the conditions created by the West's last war on Iraq. We must go all out to build a campaign to stop their new war.
In other words (and we cannot find anything to suggest the contrary) these groups will do precisely nothing to back the Kurds.
We can confidently predict that these groups are waiting for Kobane to fall.
Then they can  crow that it was all "imperialism's fault". 
This is a more productive way to look at the Kurdish fight, (Four Things the Left Should Learn from Kobane).
The article begins, perhaps, misleadingly, with some doubtful claims.
That is, to criticise those who've recoiled in horror at the cruelty of the Islamic State/Isis..
There are very good reasons why the 'West' and lots of others, have a "fixation" with the Isis/Islamic state. They have created a mobile totalitarian genocidal regime. They deserve to be looked at and analysed in their own right.They have a strong basis in the history of modern Islamism, for all their  "deviance" from the main trends and their origins in very specific chaos, the Syrian Civil War and Iraqi sectarian religious politics,
As a "discipline and punish" tyranny people  how could anybody not be horrified? 
The assertion that this is a simple "pretext" for Western intervention is therefore misleading. Not because it's wrong to think that this is how the policy may have been decided on. But because it distracts us from looking clearly at what the jihadists have created.
So saying "..it is becoming increasingly clear that ISIS is little more than a pretext for NATO to pursue other geopolitical aims – namely removing Assad and destroying Kurdish autonomy." diverts attention from this – the most important aspect of  Islamic State/Isis: it is a mass murdering machine.
As we have indicated, the tyranny exists on its own basis, regardless of the geopolitics of the region. That, at any rate, is the way the Tendance would look at Islamic State/Isis.
But having said this,  this, the rest of this thought-provoking post is a valuable reminder of the best way of looking at the present, Kurdish, issue.
Listen to Kurdish Voices

The Western left often suffers from a debilitating and orientalist tendency to overstate the agency of the US and relegate communities and societies affected by intervention to passive actors, not worthy of considered analysis. Indeed, it is striking the number of anti-imperialist commentaries that rely less on the experiences and dynamics of Kurdish communities and more on rehashed critiques of the logic of Great Power predation. On the one hand, this can cause the left to duplicate caricatures of 'ugly sectarianism' and 'Islamic fundamentalism' in ways that don't seem too far off the arguments of Cameron and Obama (for some useful correctives see here and here).

On the other hand, it offers little consideration of the voices of Kurdish communities under attack since their intentions and actions simply don't matter to opposing 'imperialism at home'. The resultant politics can often be deleterious. We might wonder, for example, what the people of Kobanê would make of calls for 'peaceful alternatives' to war. This is especially important, since in Western Kurdistan (Northern Syria) Kurds are defending what is arguably the best hope for left politics in the region. Even the most cursory glance at the constitutional make-up and political achievements of Kurdish cantons would put most Western organisations to shame. Yet this week, while hunger strike sand solidarity demonstrations from Kurdish people were taking place in the UK and beyond, anti-war groups organised an entirely separate and potentially conflicting protest. The sooner the Western left abandons its penchant for reducing class to geopolitics, the sooner it can offer authentic solidarity to groups and communities that deserve and need it.
The PYD/PYD deserves a great, a really great, amount of respect for its actions in the fight against Isis/Islamic State.
We should also pay attention to their political project, which is very significant, a democratic socialist and sectionalised programme.
In one area above all the author also states we should not
close off the possibility of any non-state and anti-capitalist alternatives based on the PYD/PKK project of Democratic Autonomy.
Read the rest (via above link), on The Disorder of Things.
This should also be considered.
As Kobane Makes Last Stand, Ocalan Gives Turkey Deadline for Peace Process
ANKARA, Turkey – Abdullah Ocalan, the jailed leader of the Kurdistan Workers' Party, warned that Turkey has until October 15 to act on peace with the Kurds, otherwise the process is dead.

Ocalan, whose comments came through his brother Mehmet, had earlier said that peace talks with Ankara would end if the Kurdish city of Kobane in Syria, across the border with Turkey, falls to the Islamic State (ISIS).  There were fresh air strikes by the US-led coalition on Tuesday as the city teetered on the verge of falling.

In his latest comments from his prison cell on Turkey's Imrali island, Ocalan told his brother on Monday that Ankara must act, or accept the end of peace talks.

"We can await a resolution till October 15, after which we can have nothing to do," his brother quoted him as saying. "They (Turkish authorities) are talking about resolution and negotiation but there exists no such thing. This is an artificial situation; we will not be able to continue anymore."

A peace process launched by Ocalan and Ankara in March 2012 has largely lagged, with the PKK accusing Turkish authorities of dragging their feet.

Commenting on Kobane,  Ocalan said: "Our people in Kobane are going to resist to the end. Resistance will be manifested everywhere and every single Kurdish-populated area where ISIS is present."

The PKK-affiliated People's Protection Units (YPG) have been the main protection force in Syrian Kurdistan (Rojava), joined by Turkish Kurds fighting to defend Kobane.

"No concessions will ever be made to ISIS that is an artificial organization and will also cause trouble to the states, governments and persons supporting it," Ocalan said.

"Whichever country is supporting ISIS will itself suffer damage. We will resist the ISIS to the end. Our people have to resist," he said.

Turkey has angered its large minority Kurds be closing the border to fighters going to fight in Kobane.  Ankara fears pro-PKK Kurdish citizens returning from fighting in Syria with combat skills, and has opposed any moves that would strengthen the Kurds in Syria.

Rudaw (Kurdish News Agency)
For the moment it is of the utmost importance to join with our comrades in the Middle East, people who are our kith and kin, in solidarity.
5 Responses