25,000 Demonstrate Peacefully for Gaza in Paris.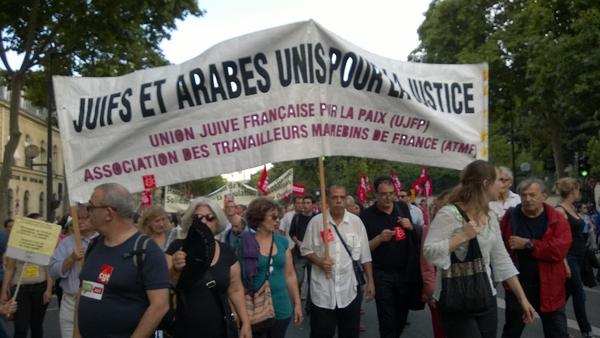 Picture from L'Humanité.
Pro-Palestinian protesters took to the streets of Paris once more on Wednesday to march against Israel's military assault on the Gaza Strip, the first authorised demonstration since a July 13 rally ended in clashes.
There had been fears of further violence ahead of the march, particularly after ugly scenes at two banned demonstrations over the weekend that saw protesters hurl rocks at police, who responded with volleys of teargas.
More than 1,000 undercover and uniformed officers were deployed along the march route, carrying riot gear and teargas in case trouble broke out.
But the march passed largely without incident, as the protesters made their way from southern Paris towards Invalides in the centre of the capital.
Police said around 14,500 people attended the rally, while organisers put the figure at 25,000.
There were hundreds of CGT stewards ('service d'ordre') present to prevent  trouble and any expression of anti-Semitic views. The stewarding  on the day was carried out by activists from the CGT, NPA, Parti de gauche and the PCF (up-date from PD – Paris).
Libération reported this comment,
A l'avant du cortège, des jeunes crient «Israël assassin, Hollande complice». Un membre de l'Association France-Palestine solidarité (AFPS), appelle à la mesure :«Nous sommes tous des enfants de Gaza. On ne doit pas instrumentaliser la cause palestinienne pour propager l'antisémitisme. On se bat contre une politique agressive. Pas contre un peuple tout entier.»

At the head of the march youths shouted, "Israel – Murderer, Hollande – Henchman". A member of the Association for France-Palestinian Solidarity called for moderation, "we are the children of Gaza. We must not use the Palestinian cause to spread anti-Semitism. We are fighting against aggressive policies. Not against a whole people."
The march was organised by the " Collectif National pour une Paix Juste et Durable entre Israéliens et Palestiniens."
This group demands:
Pour l'arrêt immédiat des bombardements sur Gaza – an Immediate end to the bombardment of Gaza.
 Pour l'arrêt de l'agression israélienne en Cisjordanie et à Jérusalem For an end to the Israel aggression in the West Bank  and in Jerusalem
 Pour la levée du blocus, illégal et criminel, de Gaza Lifting the illegal and criminal blockade of Gaza.
 Pour des sanctions immédiates contre Israël jusqu'au respect du droit international For immediate sanctions against Israel until it respects international law.
 Pour le soutien au peuple palestinien et au gouvernement d'entente nationale. Back the Palestinian people and for a national unity government.
La cause palestinienne n'a rien à voir avec l'extrême droite et n'accepte aucun soutien de leur part – the Palestinian cause has nothing to do with the far-right, and (we) will accept no support from that quarter.
Left groups, le NPA, le PCF, le Front de gauche, the Ligue des droits de l'homme, and the 'altermondialiste' Attac, backed the march. (1)
A decision whether to permit a planned demonstration on Saturday – organised by the same people who led the Barbès march marked by violent incidents the previous weekend – has yet to be reached (Libération).
(1) Full List: Agir Contre le Colonialisme Aujourd'hui (ACCA) – Alliance for Freedom and Dignity (AFD) – Alternative Libertaire (AL) – Américains contre la guerre (AAW) – Association des Travailleurs Maghrébins de France (ATMF) – Association des Tunisiens en France (ATF) – Association France Palestine Solidarité (AFPS) – Association Nationale des Elus Communistes et Républicains (ANECR) – Association pour la Taxation des Transactions financières et pour l'Action Citoyenne (ATTAC) – Association pour les Jumelages entre les camps de réfugiés Palestiniens et les villes Françaises (AJPF) – Association Républicaine des Anciens Combattants (ARAC) – Association Universitaire pour le Respect du Droit International en Palestine (AURDIP) – Campagne Civile Internationale pour la Protection du Peuple Palestinien (CCIPPP) – Cedetim / IPAM – Collectif des Musulmans de France (CMF) – Collectif Faty Koumba – Collectif interuniversitaire pour la coopération avec les Universités Palestiniennes (CICUP) – Collectif Judéo-Arabe et Citoyen pour la Palestine (CJACP) – Comité de Vigilance pour une Paix Réelle au Proche-Orient (CVPR PO) – Comité Justice et Paix en Palestine et au Proche-Orient du 5e arrt (CJPP5) Confédération Générale du Travail (CGT) – Confédération paysanne – Droit-Solidarité – Ensemble – Europe Ecologie les Verts (EELV) – Fédération des Tunisiens pour une Citoyenneté des deux Rives (FTCR) – Fédération Syndicale Unitaire (FSU) – Gauche Unitaire (GU) – Génération Palestine – La Courneuve-Palestine – le Mouvement de la Paix – les Alternatifs – les Femmes en noir – Ligue des Droits de l'Homme (LDH) – Ligue Internationale des Femmes pour la Paix et la Liberté, section française de la Women's International League for Peace and Freedom (WILPF) (LIFPL) – Mouvement contre le Racisme et pour l'Amitié entre les Peuples (MRAP) – Mouvement Jeunes Communistes de France (MJCF) – Organisation de Femmes Egalité – Nouveau Parti Anticapitaliste (NPA)) – Parti Communiste Français (PCF) – Parti de Gauche (PG) – Participation et Spiritualité Musulmanes (PSM) – Une Autre Voix Juive (UAVJ) – Union des Travailleurs Immigrés Tunisiens (UTIT) – Union Générale des Etudiants de Palestine (GUPS-France) – Union Nationale des Etudiants de France (UNEF) – Union syndicale Solidaires