Ukrainian Government Head Accuses Russia of Odessa Fire Killings.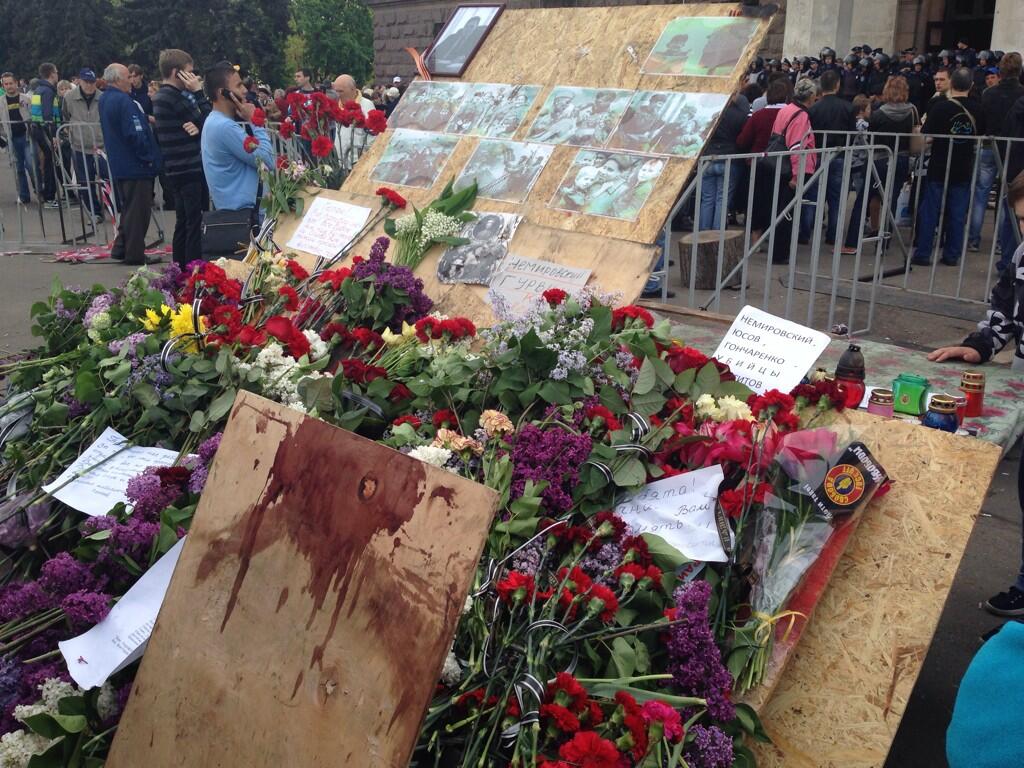 Russian Special Forces Provocation Says Kiev Leader.
According to le Monde the Ukrainian authorities have accused Russia of starting the Odessa fire in which 32 people perished.
"Kiev did not hesitate to accuse Moscow directly of being behind the fire, which could have been  the result of "a provocation ofthe Russian special  services for Russian in order divert attention from the operations of [the Ukranian army Ukrainian] "  underway in Sloviansk, according to Sergei Pachinski, the head of the Ukrainian presidential administration.
The claim is reproduced  on Yahoo News (French).
130 people have now been arrested in connection with Friday's events.
Russia Today comments on the Western media,
Despite clear evidence that the pro-Kiev radicals set Odessa's House of Trade Unions ablaze on Friday killing dozens, the mainstream media is being ambiguous about the causes of the tragedy.

On Friday, Ukraine's eastern town of Odessa saw brutal street battles between pro-autonomy activists and nationalist radicals which left 46 people dead. The majority of the victims died in the Trade Unions House that was set on fire by pro-Kiev radicals.

Very carefully worded commentary on the tragedy in Odessa came from the mainstream Western media, as if they were trying to avoid assigning the blame to those who actually set the building on fire. Their coverage of the event was heavily reliant on statements from Kiev that blamed the violence on pro-autonomy activists, as well as witness accounts given by the nationalist Right Sector members.

Based on their reports, it may seem that the House of Trade Unions just caught fire.
The Telegraph, says the carefully worded following,
We will probably never know whose petrol bomb began the fire that eventually spread throughout the building, but this inferno ended up killing 32 people.

Witnesses sympathetic to the pro-Maidan movement point out that video footage appears to show the fire beginning on the third floor, behind an intact window – and out of reach of the petrol bombs thrown by the crowd outside. Maybe, they say, a pro-Russian dropped a petrol bomb by accident.

This is a possible explanation. But there is also no doubt that petrol bombs were being hurled in both directions. Only a full investigation might discover where exactly the fire started. Even then, it will probably never be clear whether the carnage was pre-meditated or accidental.

Once the blaze took hold, Alexandra said that the pro-Maidan crowd tried to rescue the pro-Russians inside. "Some of the self-defence got hold of some scaffolding and used it to get access to the second floor window, where they got people out from," she said.

As people tried to escape from the burning building, however, some were set upon by pro-Maidan demonstrators. Others in the march formed a protective corridor to provide safe passage for the pro-Russian escapers to reach police vehicles.

But many of the friends and relatives of the dead are convinced that extreme elements in the crowd had murder on their minds from the beginning. "Those Nazis set themselves the task of herding people into this building and killing them," said one man, who asked not to be named. "They were peaceful protesters here. We have been here for months in these tents."

Moris Ibrahimov said: "The people who lived in the tents went into the building simply to avoid bloodshed. But those fascists had the task of killing the people who were here."
They add on the Telegraph site,
Ukraine crisis: we are now at war with pro-Russia rebels, states Kiev

After worst bloodshed since February Revolution, Kiev presses on with anti-terror operation
5 Responses