Posts Tagged 'Tunisia'
Tunisian Feminists Show Great Courage.
The FEMEN movement activist in Tunisia, Amina, was arrested on May 19 in Kairouan. Amina tagged the name of the "FEMEN" group on the wall of Uqba Ibn Nafaâ mosque.
This act earned him the resentment and anger of the inhabitants of the places which forced the police to make arrest.
According to a statement published on the FB page of the Ministry of the Interior, it announces the arrest of a woman who "would run contrary gesture of modesty" and that after consultation with the prosecutor.
This arrest is therefore due not an offence, but the intent to commit one, according to own statements of the Ministry of Interior.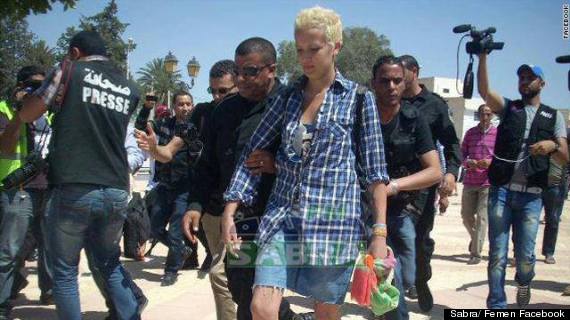 From here.
En Tunisie, même pas besoin de soulever son T-Shirt. Taguer "FEMEN" sur un mur semble déjà considéré comme un attentat à la pudeur ! … http://fb.me/uv01oCds 
In Tunisia you don;t even need to lift up your T-shirt: Tagging FEMEN on a wall seems already considered as an indecent assault.
The Minister of the Interior claims that Amina was about the carry out a "geste contraire à la pudeur" a gesture contrary to morals, the group Femen being known for their "topless" actions.
It is also claimed that this arrest was for her own protection. She was caught in Kairouan, where the Salafists intended to carry out their own actions (from Elle and see previous post here).
More from the French version of the Huffington Post.
The English version says this,
There are reports activist Amina Tyler has been arrested after daubing the word 'Femen' on a cemetery wall in Tunisia.

Tyler, who was threatened with death by stoning for baring her breasts online, was pictured being led away after police and Salafists clashed in Kairouan this weekend.

One protester was killed and 15 policemen were wounded after fighting erupted between hardline Islamists and security forces in response to the ban on Salafists from staging their annual congress.
I tell readers that you have to have a real lot of bottle to stand up to the Salafists in their heartland like that.
*********