Posts Tagged 'françois hollande'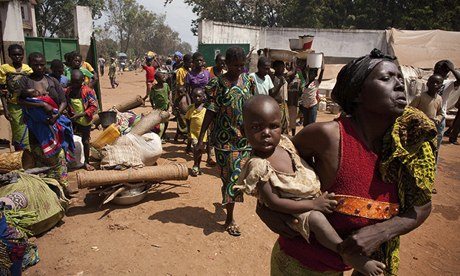 Fleeing families near the cathedral in Bossangoa.
The Nouveau Parti Anticapitaliste's reponse:
NO TO FRENCH MILITARY INTERVENTION IN THE CENTRAL AFRICAN REPUBLIC!
The French military intervention in the Central African Republic  has begun. The United Nations Security Council has given the international police operation an a 'legitimacy', on allegedly humanitarian  grounds. The goal of the intervention  is claimed to be  "restore constitutional order" and "prepare the ground for future elections" , and in the immediate present, to ensure the "disarmament, containment and dismantling of armed groups."
In fact, France is involved in this former colony, where it has a long history of  supporting dictators like grotesque Bokassa,  to defend its own interests. It was France which,  ten years ago,brought in  President Bozizé whose  hated and corrupt regime has collapsed.
No one can remain indifferent to the plight of the population. But a military  intervention sponsored by the major imperialist powers  will not solve anything. Indeed it will do the opposite. Its goal is not to end the abuses and looting carried out by Seleka. This action follows the same objective as that in Mali. As in the rest of Africa the real aim is is to maintain the position  of the great powers, while  the political system they have set up no longer has any power. For the Government of President Holland and prime Minister Ayrault, the objective is to preserve France's old colonial privileges, and those of the French multinational Areva, Bolloré and other Total.
Military intervention can only lead to further suffering for the population, and to new crises..
French Troops Out of Africa!
More on the NPA's views on France as the Imperialist Gendarme in Africa here.
They notably deny that there is a "pre-genocidal" situation in the Central African Republic  "The French government has talked about pre-genocidal situation, that is not the case. Genocide is the result of a deliberate policy of discrimination and hatred against a portion of the population accompanied by a specific ideology, as in Rwanda where for years a political stigma against Tutsi took place…they should know, as they (The French Foreign Ministry) participated in this." The NPA does admit however that, there "is a real risk that these cycles and inter-religious violence could worsen and spread.
Comment: There are so many reasons why this reaction of the NPA is wrong, absolutely wrong,  it is better simply to let a more factual account speak for itself.
Innocent victims: France sends in more troops to stop massacres in Central African Republic
By KRISTA LARSON Associated Press
Bangui, Central African Republic - France and the African Union on Saturday announced plans to deploy several thousand more troops into embattled Central African Republic, as thousands of Christians fearing reprisal attacks sought refuge from the Muslim former rebels who now control the country after days of violence left nearly 400 people dead – and possibly more.
French armoured personnel carriers and troops from an AU-backed peacekeeping mission roared at high speed down Bangui's major roads, as families carrying palm fronds pushed coffins in carts on the road's shoulder. In a sign of the mounting tensions, others walking briskly on the streets carried bow-and-arrows and machetes.
Concluding an aptly-timed and long-planned conference on African security in Paris, President Francois Hollande said France was raising its deployment to 1,600 on Saturday – 400 more than first announced. Later, after a meeting of regional nations about Central African Republic, his office said that African Union nations agreed to increase their total deployment to 6,000 – up from about 2,500 now, and nearly double the projected rollout of 3,600 by year-end.
One of the world's poorest countries, Central African Republic has been wracked for decades by coups and rebellions. In March, a Muslim rebel alliance known as Seleka overthrew the Christian president of a decade. At that time, religious ideology played little role in the power grab. The rebels soon installed Michel Djotodia as president, though he exerted little control over forces on the ground. He has since formally disbanded the Seleka coalition, but the former rebels now consider themselves the army.
Amid new massacres on Thursday, U.N. Security Council adopted a resolution that allows for a more muscular international effort to quell months or unrest in the country. Troops from France, the country's former colonial overseer, were patrolling roads in Bangui and fanning out into the troubled northwest on Saturday.
"This force is going to deploy as quickly as possible and everywhere there are risks for the population, with the African forces that are present – currently 2,500 soldiers," Hollande said, referring to the increased French presence. "In what I believe will be a very short period we will be able to stop all exactions and massacres."
In an interview with France-24 TV, Hollande said the AU reinforcements would arrive "in the coming days," without specifying. He said 1,600 French troops was "enough: There won't be more," and added that they would remain as planned for about six months – though a residual force of 500 to 600 might stay thereafter.
Word of the bigger deployments came as human rights groups continued the grisly business of counting and collecting bodies of those killed in recent massacres. The death toll in the capital from the recent fighting rose on Saturday to 394, said Antoine Mbao Bogo of the local Red Cross.
French Defence Minister Jean-Yves Le Drian, speaking on i-Tele TV, said France accelerated plans for the 1,600-strong deployment because of the "upsurge" in violence since Thursday. He said French forces would disarm any armed militias, and would use force if the fighters don't hand over their weapons peacefully.
He said French troops had been sent to Bossangoa, the home region of ousted President Francois Bozize and many of his perceived supporters.
Central African Republic President Michel Djotodia called on former rebels who are now integrated into the national army to stay off the streets now being patrolled by French and regional forces. Presidential spokesman Guy Simplice Kodegue said those who violated the order would be punished.
Now, sectarian strife has grown. On Saturday, aid workers returned to the streets to collect bloated bodies that had lay uncollected in the heat since Thursday, when Christian fighters known as the anti-balaka, who oppose Djotodia, descended on the capital in a coordinated attack on several mostly Muslim neighbourhoods. Residents of Christian neighbourhoods said Seleka have counter-attacked by going house-to-house in search of alleged combatants and firing at civilians who merely strayed into the wrong part of town.
Zumbeti Thierry Tresor, 23, was among those slain after he tried to cross through another neighborhood to visit family members in another part of Bangui. Seleka fighters shot him in the neck and stomach, his friends said. On Saturday, neighbors hiked the rocky path to his one-room home where his covered body lay on the floor underneath neatly hung music posters.
Outside the front door, his wife wailed hysterically, gripping their 3-year-old daughter in her lap as neighbors crowded around her. Alongside their house, a team of a dozen men with sticks and shovels dug Tresor's grave under the shade of a tree.
"We want the French army to come and protect us," said Tresor's friend, Francois Yayi. "We have no police to call. The Seleka will kill us all."
He and his friends begin counting on their fingers the number of neighbours slain amid the latest spasm of bloodshed. At least 10 they determine have died since Thursday.
As families mourned their dead, others fled by the thousands to the few known safe places in the capital – the airport guarded by French troops and the grounds of a Catholic center run by the Salesians of Don Bosco. About 3,000 people had fled to the complex on Thursday when the fighting began and that number swelled to 12,000 by Saturday.
"We have no water, no food, no medicine – we have nothing," said Pierre Claver Agbetiafan, looking around the center where he works.
As dusk fell, hundreds of people began lining up outside the mission's doors for a safe place to sleep, carting foam mattresses and plastic buckets of food on their heads. Some even toted wheeled luggage, not knowing when they could return. Every bit of ground near the tennis courts was crowded with families preparing for a night on damp ground under the open sky. The air filled with smoke as women tended small fires to prepare dinner.
Judith Lea, 47, came with a family of 20 including her 3-day-old grandson to escape violence in their neighborhood on the north side of the capital. As people settled in for the night, she and the other female relatives argued over what to name the little boy who has spent nearly his entire life in a displacement camp.
"When the Seleka rebels came to the house, they stole his blankets and all the little things we had bought for him," Lea said, stretched out on the ground to rest. "When this war is over, what will we do? He is cold and hasn't had his vaccines yet."
Most of the displaced in Bangui are Christian: ex-Seleka have not targeted Muslim neighbourhoods. But anger over the attacks has prompted vicious reprisals on Muslim civilians in other parts of the country. Nearly a dozen Muslim women and children were slain less than a week ago just outside the capital in an attack blamed on the Christian fighters.
Seleka are blamed for scores of atrocities since taking power, tying civilians together and throwing them off bridges to drown and burning entire villages to the ground. Anger over such abuses has fanned a backlash against Muslim civilians, who make up only about 15 percent of the population. The anti-balaka, the armed Christian movement that has arisen in response to the Seleka attacks, is widely believed to be supported by former army soldiers loyal to ousted President Francois Bozize.
Associated Press writer Sylvie Corbet in Paris contributed to this report.
The BBC reports give similar details.
An estimated 10% of CAR's 4.6 million people have fled their homes, while more than a million urgently need food aid, according to the UN.
The largely Muslim rebels controlling much of the country have been accused of atrocities against Christians, and fighting between Muslim and Christian militias has broken out in the capital, Bangui, and elsewhere. Read the rest of this entry »
May 68 in Reverse?
French religious and right-wing agitation against legislation for gay marriage ('le marriage pour tous') is reaching a new pitch as the law is due to be voted in.
Last night France's Parliament, l'Assemblée Nationale, nearly descended into violence.
The debate lasted all night, only finishing just before 8 o'clock this morning.
In a scene described on France-Inter today as worthy of the Russian Duma, right-wing deputies approached the government seats screaming and ready for a fight.
Libération reports this morning,
Scène surréaliste : l'hémicycle avait échappé de peu à une bagarre. Dans la confusion et sous le regard interloqué des journalistes en tribune de presse, des députés UMP, excédés par une mimique d'un collaborateur du ministre de la Justice - ils l'ont expliqué ensuite - se sont précipités au bas de l'hémicycle. Aux cris de «dehors, dehors», ils se sont approchés des bancs du gouvernement. Des huissiers et le ministre chargé des Relations avec le Parlement Alain Vidalies se sont interposés pendant plusieurs minutes.

A surrealist scene: the chamber nearly descended into fist fights. In a confused state, and journalists looking askance from the press box, UMP MPs, enraged by being made fun of by an associate of the Justice Minister, (that is, their version) – rushed to the lower half of the room. Shouting "Out, Out, Out!", they approached the Government benches. Ushers and Alain Vidalies, the Minister in Charge of Parliamentary procedures, stood in their way for some minutes.
According to the Libération report blows were exchanged.
Outside around 3,000 demonstrators, many from the extreme-right "Printemps français" vociferously voiced their opposition to gay rights.
This movement believes the time has come for a "May 68 in reverse" (see La jeunesse prête pour un Mai 68 à l'envers !).
French President Francois Hollande hit out at "homophobic" acts by opponents of a same-sex marriage bill following violent protests that included an attack on a gay bar.

The interior minister asked protest organisers to throw out members of far-right organisations who have been involved in the violence, as opposition intensifies ahead of the bill's expected final approval.

On Wednesday, a several-thousand-strong protest in the streets of Paris turned ugly with cars and public property vandalised and police officers and journalists attacked. Several people were detained for questioning.

In Lille, three employees of a gay bar were injured late Wednesday in an attack by four men who smashed the building's windows. The owner linked the incident to "tensions" over the parliament vote.
France Officially Backs Syrian Opposition.
France has become the first European country to recognise the National Coalition for Syrian Revolutionary and Opposition Forces (NCSROF) as the sole representative of the Syrian people.  (Here) President François Hollande has also announced that France is exploring the question of arming the anti-Assad forces as soon as a provisional government is formed. Six Gulf Arab states took a similar step on Monday.
The NCSROF  elected the cleric Mouaz Alkhatib as its leader.  Riad Seif and Suheir Atassi, both prominent democracy activists and the latter a secular feminist (according to Wikipedia), were elected vice presidents. The Coalition  has "restated its commitment to humanitarian and non-lethal assistance and commended Qatar for its role in the conference" that led to its formation.
It looks probable  that the NCSROF is being shaped up for a final confrontation with Assad. The present level of external support, from Turkey, the Gulf States and, more directly, the West, will rise to the point where it will become open.
Is this to be welcomed?
In May the leader of the Front de Gauche, Jean-Luc Mélenchon stated,
L'utilité d'une intervention militaire est une "illusion", a estimé aujourd'hui Jean-Luc Mélenchon, le leader du Front de gauche, interrogé sur les déclarations du président François Hollande évoquant l'éventualité d'une telle opération en Syrie.

The usefulness of a military intervention is an "illusion", Jean-Luc Mélenchon judged today. The leader of the Front de Gauche, replied when asked about the statements of President  François Hollande regarding the possibility of such an operation in Syria.
The Parti Communiste Français has stated that,
Le PCF réaffirme sa solidarité avec toutes les forces qui agissent pour la démocratie, la souveraineté et la dignité humaine en Syrie, pour la fin d'un régime de dictature incapable d'assurer un avenir à son propre pays.

The PCF reaffirms its solidarity with all the forces that are fighting for democracy, sovereignty and human dignity in Syria, and for the end of the dictatorial regime that is incapable of guaranteeing these for its own country.
In this vein the PCF recently participated (26th October)  in a "MEETING DE SOLIDARITE AVEC LE PEUPLE SYRIEN".
These positions appear  more reasonable than the blanket opposition to attempts to remove the Syrian regime held by some sections of  the British left.
But is what will effectively become a proxy armed intervention a move that favours democracy, let alone Syrian sovereignty?
The issue of 'humanitarian intervention' is a complex one.
It is clear, however, that France's decision relates to its interests as well as to democracy. At stake are  considerations of political stability and the creation of a regime that is not 'anti-Western', even if it is – 'moderate' – Islamist.
Qatar, the host for this new alliance,  is not, we note, a democracy itself.
There must be serious doubts about engaging one side in a bloody civil war.
The methods used by the armed opposition are not always examples of  standards of "human dignity". Their forays into sectarianism weigh heavily.
The outcome is far from certain.
Will their victory will result in a  regime that respects human rights?
Nothing is less sure.