Archive for the 'Trotskyism' Category
Thousands of people took part in a pro-Palestinian demonstration in Paris on Saturday despite a police ban on the rally. Scuffles broke out between a hardcore element throwing projectiles and police, who said they made around 50 arrests.
The demonstration got under way at around 3pm at Place de la République amid a tense and uncertain atmosphere after rioting erupted at a similar protest last week.
Despite a calm start to the demonstration, which had attracted upwards of 4,000 people, by 6pm police were using tear gas to disperse 200 to 300 hooded youths throwing projectiles at police. France 24
It is hard not to endorse the view of the Parti Communiste Français that the march should not have been banned.
But there remain concerns about the groups behind the demonstration.
The 'informal collective' is composed of (according to Le Monde) members of the  l'Union générale des étudiants de Palestine (GUPS), the Mouvement des jeunes Palestiniens (PYM France), de Génération Palestine, from the Union juive française pour la paix (UJFP), du Nouveau Parti anticapitaliste (NPA) and the Parti des indigènes de la République (PIR).
To this collective the struggle in Israel is " la lutte contre colonialisme", indeed the last fight against colonialism.
The NPA, according to the same article, is sometimes concerned by the religious slogans of some of the groups that associate with these protests, notably the pro-Hamas, Collectif du cheikh Yassine
But for the leading figure of the Collectif, , Omar Al-Soumi, ( Mouvement des jeunes Palestiniens) the essential is that,
« Cela ne nous dérange pas dans la mesure où nous soutenons toutes les résistances et la lutte armée. La diplomatie et la négociation n'ont jamais abouti. »

That does not upset us, in so far as we back all resistance and the armed struggle. Diplomacy and negotiation have never led to anything. 
There were a few incidents on the day (41 People arrested).
Libération reported,
 Un groupe de supporteurs du PSG de la tribune Auteuil scande des slogans de soutien à Gaza et reprend une parodie du Chant des partisans popularisée par Dieudonné («la sens-tu, qui se glisse dans ton cul»).

A group of PSG (football) supporters from the Auteil stand, shouted slogans backing Gaza, and sang  Dieudonné's parody of the Chant des partisans (do you feel 'it' (the cock) slipping up your arse-hole).

We're off to the rue des Rosiers (Jewish quarter in central Paris) to beat up the Jews (in 'verlan'), one heard.
We would not wish to exaggerate these – troubling –  incidents. Little happened apart from stone-throwing and a heavy-handed police response. One could add that there are also definite problems caused by the interventions of the far-right 'Ligue de défense juive' (Jewish Defence League). But the fact that the incidents represent something about the people behind the march is undeniable.
Le Parti des indigènes de la République (cited as one of the organising groups) this April  received favourable publicity from 'anti-racist' Richard Seymour (here)
Houria Bouteldja, a leading member of Le Parti des indigènes de la République is published saying, in explaining her attitude to Dieudonné, 
 Now, the trouble is that we are not integrationists. And integration through anti-semitism horrifies us just as much as integration though White universalism and national-chauvinism. We abhor anything that seeks to integrate us into whiteness; anti-semitism being a pure product of Europe and the West. As a decolonial movement, it is self-evident that we cannot support Dieudonné. Yet we could not condemn him in the manner of the white Left, because there is a certain dimension that has escaped the Left, but one that is clear to any indigène with a modicum of dignity.

At the same time, I feel ambivalent. I would start by saying that I love Dieudonné; that I love him as the indigènes love him; that I understand why the indigènes love him. I love him because he has done an important action in terms of dignity, of indigène pride, of Black pride: he refused to be a domestic negro. Even if he doesn't have the right political program in his head, his attitude is one of resistance." I now add that in the eyes of the indigènes, this is what they see in him first and foremost, rather than seeing the nature of his allies. A man standing upright. Too often were we forced to say "yes bouana, yes bouana." When Diedonné stands up, he heals an identitarian wound. The wound that racism left, and which harms the indigènes' personnality. Those who understand "Black is beautiful" cannot miss this dimension, and I emphasize, this particular dimension in Dieudonné.
Jacobonism replied,
As I've argued before, Left-wing apologetics for the far-Right frequently rest on an appreciation of complexities, ambiguities and nuance the rest of us apparently lack. Either Seymour has not understood what he has posted and endorsed or he has accepted the sophistry of Bouteldja's meaningless distinction between malevolent and virtuous anti-Semitism. Anti-Semitism is what it is: a hatred of Jews, and whether it appears in the pages of The Protocols of the Learned Elders of Zion, Mein Kampf, the Hamas Charter, or on Richard Seymour's Leninology blog, it is always justified in the name of the same thing: the struggle against domination, oppression and conspiratorial power.

If Seymour believes that Bouteldja's narrow disavowal of an anti-Semitism "that seeks to integrate us into whiteness" inoculates her against charges of racism, he has missed something even more sinister and obvious: that while she demonstrates a bottomless capacity for self-pity, her solipsistic contempt for the Holocaust and its victims demonstrates a complete absence of 'out-group' compassion. It is in the pitilessness of this kind of chauvinism that we find the germ of fascism.
The following reply holds for those who cooperate with the Indigènes de la République
Undeterred, Seymour has accepted the challenge presented in Bouteldja's opening four-point preamble. He has opened up his Eurocentric mind and deferred to her experience "as a colonial subject"; he has prostrated himself before the scorn she has heaped on the hypocrisies of the white, radical Western Left, of which he is a privileged representative; and he has looked her prejudices in the eye and he has not flinched. She has dared the white Left to join her on the far-Right and Richard Seymour – persuaded by her rhetoric that to do so would be an act of radical political courage – has obliged.

 I'm not entirely sure what he expects to get in return. If it's the respect of people like Houria Bouteldja, he can think again. She holds the politics of self-abasement to be beneath contempt. On this she could hardly be more clear. It is the virility of unapologetic fascists like Dieudonné M'bala M'bala that she values.
In the present context, it is undeniable (as Seymour's Blog cited on the 18th of July) that, "certain pro-Palestinian groups, some of which supporters(sic)  of Dieudonné and Alain Soral" – Holocaust deniers –  exist.
How far the involvement of the indigènes contributes to isolating them may be judged from the – small – incidents cited above.
But more significantly the ideological climate is moving away from the ideas of self-important, and self-appointed, defenders of the "indigènes" '('Natives'). 
Since this exchange Le Monde Diplomatique has published the important article by Vivek Chibber criticising "post-colonial studies", L'universalisme, une arme pour la gauche. (May 2014)
It was originally published in the Socialist Register 2014, Capitalism, class and universalism: Escaping the cul-de-sac of postcolonial theory (full text here).
Chibber criticises 'post-colonial' critiques of the left's 'universalism' and its rejection of Marxism. He points out that capitalism has become  globalised , so a universal interest in social rights, "for liberty, for dignity, for basic well being" has developed. Anti "Eurocentrism" has resurrected particularism, essentialism, and the denial of any universal politics. Against this Chibber argues for "affirming two universalisms – our common humanity and the threat it to it posed by a viously universalising capitalism." ( see also, Postcolonial Theory and the Specter of Capital by Vivek Chibber 2013)
The Le Parti des indigènes de la République could be said to be a politicised version of "post-colonial studies."
 It seems odd that a Marxist group from the Trotskyist tradition like the Nouveau Parti anticapitaliste should be so closely associated with them.
What does this imply for their engagement in the protests over Gaza?
They back the reactionary Hamas movement and other "resistance forces"  uncritically and  to the hilt.
No doubt informed by that special "appreciation of complexities, ambiguities and nuance the rest of us apparently lack."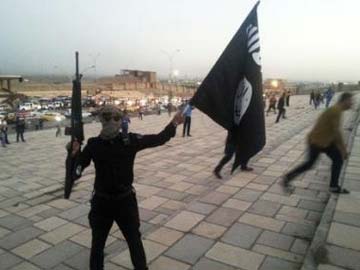 Islamists Force Christians to Leave Mosul. 
BAGHDAD (New York Times) — By 1 p.m. on Friday almost every Christian in Mosul had heard the Sunni militants' message — they had until noon Saturday to leave the city.

Men, women and children piled into neighbors' cars, some begged for rides to the city limits and hoped to get taxis to the nearest Christian villages. They took nothing more than the clothes on their backs, according to several who were reached late Friday.

The order from the Islamic State in Iraq and Syria came after Christians decided not to attend a meeting that ISIS had arranged for Thursday night to discuss their status.

"We were so afraid to go," said Duraid Hikmat, an expert on minorities who had done research for years in Mosul. He fled two weeks ago to Al Qosh, a largely Christian town barely an hour away, but his extended family left on Friday.
Islamic State Group Claims Baghdad Bombings  
By SAMEER N. YACOUB and RYAN LUCAS Associated Press. Baghdad.
Is there a left response?
 Socialist Worker (USA -no longer closely linked to SWP UK) published this on the 7th of July.
Several revolutionary Marxist and socialist organizations from the region–the Revolutionary Socialists (Egypt), Union of Iraqi Communists (Iraq), al-Munadhil-a (Morocco), Revolutionary Left Current (Syria), Leftist Workers League (Tunisia) and Socialist Forum (Lebanon)–issued a joint statement calling for revolutionary working-class unity against both sectarianism and imperialism. Here, we reprint their statement, which appeared originally at the al-Manshour website.
…….the most flagrant transgressions in the context of this campaign were the sectarian massacres committed by ISIS. There are stories about mass executions–with unparalleled brutality–of hundreds of prisoners, out of the thousands who had surrendered. This is in addition to all sorts of acts of repression, deportation and persecution for religious and ethnic reasons, not to mention the use of rape against women and girls or forcing them to marry fighters from the armed group.
- – – – – – – – – – – – – – – -
ISIS'S CONTROL culminated in the imposition of strict Sharia rules after the announcement of the "city paper" in Mosul–a 16-article document dictating the lives of citizens. One of the articles indicates that the Islamic State will be the sole authority in control of the city's resources, and that it will punish anyone who steals from public funds. On the other hand, ISIS seized the equivalent of hundreds of millions of U.S. dollars from banks, government facilities and municipalities, and it confiscated countless quantities of weapons left behind by fleeing soldiers and officers.
The document advises all men to participate in collective prayers and prohibits the sale and consumption of alcohol, drugs and tobacco, among other Sharia restrictions. It also bans all councils, assemblies and banners under any name, in addition to carrying weapons, considering these acts as divisive and deserving of the death sentence.
The document reveals the position adopted by ISIS concerning statues and shrines, which it threatens to demolish, in addition to destroying the graves of saints. It calls on women to remain at home except in emergency situations. In summary, ISIS's rule has left people fearful for their lives, including the armed militias "allied" to them (information indicates around 23 groups joined the campaign).
*******
1. All types of intervention in Iraqi affairs by the U.S., Iran, Saudi Arabia, Qatar, Turkey and others must be rejected, as they are not only completely incompatible with the interests of the people of Iraq, but also fuel the fire of a terrible sectarian war. We call on the UN General Assembly, in particular, to hold all countries accountable for their intervention in this situation and subject them to sanctions, according to the Uniting for Peace mechanism.
2. All political disputes in Iraq must be solved by appealing to the opinion, will and interests of Iraqis themselves. This should be through an advanced democratic process from outside the sectarian system, which ensures active political participation of all citizens, without any type of discrimination, whether in building their new state structure or through local government in all the cities and governorates.
3. The Iraqi people and liberationist factions must be at the forefront of confronting the bloody terrorism of ISIS and the counter-terrorism against it. This necessitates the self-organization of people in cities, slums and villages in armed popular committees and councils to counter the attacks of obscurantist terrorist organizations and all the opposing confessional militias. These groups should be incapacitated, defeated and their presence eliminated from Iraq.
However, this also contains an international task–a mobilization for the widest global campaign to support Iraqis in their efforts to confront the hostile forces and militias on the one hand, and the existing dictatorial sectarian capitalist regime on the other, aiming for its overthrow. This would advance the aspirations of Iraqis for a future based on justice, freedom and human dignity and prevent the disintegration of the country or its partition.
4. In the above context, the revolutionary left and democratic, feminist and progressive groups in the Arab region should work together to confront the sectarian and confessional approach and policies of Arab regimes, on the one hand, and obscurantist and reactionary right-wing groups, on the other. This is in order to defeat the sectarian/confessional threat, which is the main weapon used by the counter-revolution to attack the revolutionary space that could unite the peoples of the region.
5. Finally, there is an urgent need to provide the necessary aid to refugees and the displaced, through all sorts of international organizations, to reduce and control the impact of the current humanitarian crisis.
The regional and international conspiracy against the Iraqi people must be defeated.
Down with all imperialist interventions in Iraq.
Defeat the obscurantist assault by ISIS and its brethren.
Victory to the Iraqi people against their internal and external enemies.
For a democratic, secular, revolutionary, sovereign and independent Iraq.
Long live international people's solidarity.
Signatories:
Revolutionary Socialists (Egypt)
Union of Iraqi Communists (Iraq)
al-Munadhil-a (Morocco)
Revolutionary Left Current (Syria)
Leftist Workers League (Tunisia)
Socialist Forum (Lebanon)
June 28, 2014
This is the pitifully truncated account Socialist Worker (UK), 1st of July, gives of this stirring declaration,
Revolutionary socialist organisations in Egypt, Iraq, Lebanon, Tunisia, Syria and Morocco have issued a joint statement condemning the sectarianism ripping Iraq apart.

The revolutionaries blame the "interventions of regional and international powers" for the chaos.

In December 2012 a popular movement for justice erupted in Sunni majority areas. This movement was met with brutal violence from the Iraqi government.

The left appeal to "all the oppressed in Iraq" to make a revolution "against the entire system" that is breeding hate. This includes the US occupation, sectarian forces, Isis, the Iraqi government and others.
Note the absence of the words, " democratic" and  "secular"…..
Workers Liberty (the paper of the Alliance for Workers' Liberty) has just made a carefully weighed assessment of the horrendous Israeli attacks on Gaza.
Since the latest round of Israeli air bombardments of Gaza began on 8 July, around 200 Palestinians have died.

77% of have been civilians according to UN estimates. Many have been children

On 14 July, Israel ran a ground-troop operation in Gaza, and said it would expand its list of targets for bombing to include civilian institutions with suspected links to Hamas, the Islamist party which governs Gaza. Given that Hamas's political infrastructure is substantially enmeshed with the frail Gazan state, this could include almost any target Israel chooses. Also on 14 July, Israel began a leaflet-dropping campaign instructing residents of northern Gaza to evacuate as it was preparing to widen its bombing campaign. Hamas has instructed Gazans to stay put.

On Tuesday morning 15 July, Israel announced that it had accepted a ceasefire proposal from Egypt, but Hamas hesitated, and later that day Israel was bombing again.

Gaza's economy, always sore beset by Israeli restrictions, managed to grow nearly 15 per cent in 2011 and 7 per cent in 2012. Hamas was also boosted by the Palestinian "unity government" announced on 2 June this year, which allowed it to hope that public-sector workers in Gaza would be paid by the Palestinian Authority.

However, since a military-dominated government took over in Egypt in July 2013, ousting Muslim Brotherhood president Morsi, Egypt has shut down many of Gaza's routes to the outside world, and unemployment in Gaza has risen. The Palestinian Authority has stalled on paying wages: public sector workers in Gaza struck over that on 26 June.

Hamas wants to put pressure on Egypt and Israel to ease their grip on Gaza. Right-wing Israeli prime minister Netanyahu wants to keep Hamas off balance, and is under pressure from a growing far right in Israel.

The current conflict grew after three Israeli teenagers, Eyal Yifrach, Gilad Shaar, and Naftal Frenkel, went missing on 12 June in the West Bank. Israeli forces raided thousands of homes in the West Bank, arresting 570 Palestinians and killing several (5 by one report, 10 by another) in the process. The teenagers were found dead near the Palestinian town of Hebron on 30 June.

Far-right Jewish nationalists abducted and murdered 16-year-old Palestinian Mohammed Abu Khdeir on 2 July. Hamas began a barrage of rocket fire, and has now launched nearly 1,000 rockets at Israeli towns. It has also threatened to attack Ben Gurion International Airport in Tel Aviv. So far, no Israelis have been killed. Israel responded by bombing Gaza.

No state, Israeli nationalists claim, should tolerate rocket barrages, however poorly aimed and ineffective, against its civilian population. That is the rational kernel to the Israeli case. But Israel's actions go well beyond self-defence. Aerial bombardments of a densely-populated area, with an impoverished and essentially captive population, by one of the best-armed states in the world against are so disproportionate as to undermine the self-defence argument.

The Palestinians, too, have the right to defend themselves. Hamas rockets do not provide that defence.

Israel's bombardments cannot be abstracted from Israel's longstanding oppression of the Palestinians. Likewise, Hamas's rockets are aimed at civilians and must be considered in the context of the social and political project of Hamas. Hamas is a clerical-fascist political party, which, despite the recent concessions to bourgeois diplomacy of some of its leaders, states its hostility to the Israeli-Jewish people even existing in historic Palestine.

Israel's war on Hamas cannot possibly have a progressive outcome. While Israel continues settlement building in the West Bank; while it keeps the population of Gaza under semi-permanent siege; discriminates against Arabs within its own borders; and operates a regime of walls and checkpoints, it creates the conditions in which Hamas grows.

The only way out is peace. And, for peace, Israel holds all the cards. Ending the siege of Gaza, dismantling West Bank settlements, ensuring equality for Israeli-Arabs, and allowing the Palestinians their right to set up a genuinely independent state in contiguous territory alongside Israel would allow peace — and security for Israel's people.

The hope for the future of both the Israeli and Palestinian people lies in the political potential of the Palestinian labour, women's, and LGBT movements, and the potential of the labour movement and internationalist, anti-war left inside Israel. Those movements can provide an alternative politics for Israeli and Palestinians that cut across the nationalism and chauvinism of both sides.

That potential can be glimpsed in the demonstrations which have taken place in Israel, on 3 July and 13 July. On 3 July, thousands demonstrated in Tel Aviv demanding an end to the atmosphere of incitement and vengeance following the deaths of the Israeli teenagers. On 13 July, hundreds of anti-war activists, many from the Israeli political left, demanded an end to the bombing, and faced violent reprisals from far-right nationalists.

As Yacov Ben Efrat, wrote in the left-wing Israeli magazine Challenge following the Israeli assault on Gaza in 2010:

"Solidarity between Jewish and Arab workers is the only way to overcome the cycle of bloodshed. The supreme interest of the workers on both sides of the conflict is to build a political and social alternative, egalitarian and humane, against a right-wing Zionist chauvinism and an Islamic fundamentalism that are leading both peoples into catastrophe".
This editorial would seem to be the right framework for any serious left-wing discussion of the issues this catastrophe raises.
Update (hat-tip JV)
This is essential and very depressing reading,  With the Oslo dream shattered, Israel must do the creative thinking. (Haaratz)
The Palestinians do not recognize the Jews' right to a state, so Israel must take steps on its own to improve the atmosphere.