Archive for the 'Theory' Category
Alain Badiou: I was wrong, innit?
"The Greatest Philosopher since Plato and St Ignatius of Loyola", as Terry Eagleton calls him, Alain Badiou, a dapper gent, wears his 132 years well.
The Tendance interviewed  him in Les Deux Magots.
"Cher Maître, is it 'true' that your latest book includes a 300 page self-criticism of your Maoist years and your support for the Khmer Rouge?"
"Indeed! Let me sum up my truth procedure: Regretter et se repentir, on peut toujours le faire. C'est très facile! One can always regret and repent, it's always easy! As Spinoza said, it's always a bit too easy. "
The great man paused, slipping into the fluent English he learnt as a Dalston pot-boy.
"I was wrong, innit?"
Dipping a chip into a bowl of mayonnaise he continued,
"When Mao launched the Great Cultural Revolution, it was a Communist Invariant. But now only 40 years later we have to admit that there were some errors. Humiliating professors, for example and not performing any of my operas. I remain, however  fidèle to the Event. There have been dramas and heart-wrenching and doubts, but I have never again abandoned a love."
"And Pot Pot"
"He was a bit of a lad, hein?"
"But times move on. L'Organisation Politique is set in new directions. After taking absolution I plan to retire to a Trappist Monastery in Belgium to brew an excellent beer. Here try some".
………………….
Diagram of Badiou Truth Procedure. 
Stuart Hall: 3 February 1932 – 10 February 2014.
"One of Britain's leading intellectuals, the sociologist and cultural theorist Stuart Hall, has died age 82.
Known as the "godfather of multiculturalism", Hall had a huge influence on academic, political and cultural debates for over six decades." Guardian.
More Obituaries (from the left)  Here  and Robin Blackburn (with links and background) Here and commentary on Shiraz Socialist.
Stuart Hall's legacy is significant and enduring. In the field of cultural studies, he played a big role in creating, in work on race, gender, ideology, post-colonialist studies, and sub-cultures. The opening up the Anglophone academy to Continental theorists, such as Althusser, Gramsci and Foucault, owes a debt to the Centre for Contemporary Cultural Studies, which Hall directed from 1968 to 1979. More controversially his analysis of the Great Right Moving Right period and Thatcherism ended in Marxism Today's Manifesto for New Times (1989).
Stuart Hall, in 1956, was a founding figure in the 'First' British New Left. Formed in the wake of the Soviet invasion of Hungary and the Anglo-French  attack on Suez this was an attempt to create a democratic left opposed to both Stalinism and imperialism. It was determined not to repeat the dogmatic slogans of the post-war left. Hall's A Sense of Classlessness (1958) addressed the new "consumer society" and its effects on working class communities.
As Editor of the original New Left Review (1960 1962) Hall introduced cultural topics into the journal, "to meet people as they are." It challenged the traditional definitions of politics. The CCCS journal, Cultural Studies, described in the early 70s  a "major historical realignment in the 'fifties and 'sixties. In these conditions, cultural studies were based on the "recognition of cultural domination as a special area of politics."
Hall's work is perhaps best understood within this context. It was political and not limited to academic ambitions, still less was it an effort to import theoretical novelties in order to make an impression in the university world.
In this vein Hall and his colleagues paid special attention to Gramsci's work on hegemony, politics and Althusser's theory of ideology (On Ideology. Cultural Studies. 1977). Hall's Marxism, which he interpreted in an open-minded fashion, inspired by the analysis of shifting classes and parties in 19th century Europe, drew on the spirit of the method outlined 1857 Introduction to the Grundrisse and not every sentence in Capital.
This approach, which could be called "eclectic" (in the sense of taking the best from theories) was very different from the "pure" Althussarians of the short-lived Theoretical Practice. It was some perplexity that the CCCS reacted to the assault on Theory in general and Althusser in particular by Hall's comrade from the New Left, E.P. Thompson. Hall, like the author of the Making of the English Working Class had always underlined the importance of ordinary people's experience and resistance.
Many on the left initially greeted Hall and his colleagues' analysis of Thatcherism. It was considered, given his New Left background, and its focus on ideology, to be an attempt to break away from overly 'economistic' approaches to the rise of the New Right. As somebody at the CCCS during the period 1979-81 I personally found thee ideas extremely appealing. That they developed into the less accepted positions, of the magazine Marxism Today only gradually became apparent. When differences became clear there was a break up between those on the side of Marxism Today and those opposed. Some of the disagreements, on fundamentals about class, politics, and socialism, went deep. The debates were marked by strong feelings on both sides (see below).
Throughout Stuart Hall remained  greatly respected on the left, and more widely in Britain. Over the decades his reputation extended across the globe.
Those who knew him closely speak of his inspirational quality. We extend our condolences to all affected by his passing.
*********
Update: referencing to Stuart Hall's legacy  today there is an important article by Ross Wolfe on the broader aspects of some of the theories associated with his name,
In this essay, I intend to argue that Marxism does contain the analytical tools necessary to theorize and deepen our understanding of class, gender, and race. I intend critically to examine, from the standpoint of Marxist theory, the arguments for race, gender, and class studies offered by some of their main proponents, assessing their strengths and limitations and demonstrating, in the process, that Marxism is theoretically and politically necessary if the study of class, gender, and race is to achieve more than the endless documentation of variations in their relative salience and combined effects in very specific contexts and experiences.
His conclusion,
As long as the RGC perspective reduces class to just another form of oppression, and remains theoretically eclectic, so that intersectionality and interlockings are, in a way, "up for grabs," meaning open to any and all theoretical interpretations, the nature of those metaphors of division and connection will remain ambiguous and open to conflicting and even contradictory interpretations. Marxism is not the only macro level theory that the RGC perspective could link to in order to explore the "basic structures of domination" but it is, I would argue, the most suitable for RGC's emancipatory political objectives.
This was posted here in June last year published by the North Star.
Stuart Hall, Thatcherism, Marxism Today, Yesterday, and Tomorrow.
"What matters is some sense of continuity through transformation – of political allegiances which won't go away, of bedrock reference points – which does allow us to say something about the present conjuncture."
Stuart Hall. Out of Apathy. Voices of the New Left Thirty Years on. Oxford University Socialist Discussion Group. Verso. 1989.
Amongst all the debates that have come out of the latest splits on the British left perhaps some of the most important have been about looking again at the 1970s and 1980s left. Feminism and party forms have been to the fore. But more recently people, notably Jules Alford, Richard Seymour  and the International Socialist Network, have begun to think about the way the left responded to the rise, and consolidation, of Thatcherism, and economic liberalism, during the same period. Today we tend to think of free-market policies as the fixed agenda of nearly all governments across the world, and in Britain, they seem the horizon of both the liberal-Conservative Coalition and Ed Miliband's Labour leadership. But the 1980s saw heated debates about whether the Thatcher governments introduced something new into British politics, and if liberalism was a rational strategy for the country's economy. Read the rest of this entry »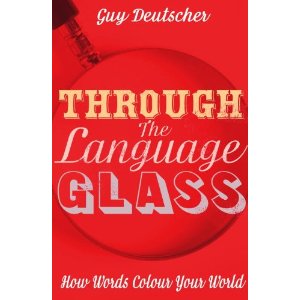 Breaking the chains of language.
Through the Language Glass. Guy Deutscher. William Heinemann. 2010.
In the 1970s the left became fascinated with the "linguistic turn" of structuralism and post-structuralism. At the bottom of the pile of ideas heaped up by Theory was the premise that Language (capitalised) could never directly grasp the Real. That just as the 'signifier' (words, symbols, icons) slipped for ever over the "signified" (meaning) there was never a point at which it could be "buttoned down" onto a stable reference in the world.
Realism, which from the late 1970s enjoyed a vogue amongst opponents of this 'turn' began modestly by Roy Enfield and Ted Benton, developed its own luxuriant and incomprehensible metaphysics of 'generative mechanisms' in the later writings of Roy Bhaskar. But many of us enjoyed the polemics between, say, Norman Geras and the half-forgotten Ernest Laclau and Chantal Mouffe, on the contrasting merits of a Marxist materialism based on the existence of external objects 'post-Marxist' discourse theory, which 'brackets' this.
This was harmless in itself. Nobody is ever going to settle for once and all the issue of the existence of the "real". Perhaps Kant was right on this all along. But the idea of linguistic relativity lived on in what was once known as 'post-Modernism' and enjoys an after life in what is "post" the post. It came to imply that language truly is the limit of the world. Different languages are so incommensurable that they refer to a different "real" (bracketed again, this time for good).
Some famous distinctions behind this, the "prison house of language" approach, are taken (legitimately or not) from the ideas of the Swiss linguist, Ferdinand Saussure (1857 – 1913). Language is considered as a system in itself, Langue operates through Parole (speech). As a system we can consider it "diachronically" (historically) or – as it is present – "synchronically" – as a chain of signs and meanings, moving, or "slipping", through difference, to make up Langue and our particular speech acts (Parole). Many non-linguists concluded from this abstract account, that at some point – though no follower of Saussure has ever provided the time and date – the elements of a language develop their own internal logic "outside" of history. Radical literary critics, post-structuralist philosophers, and social theorists, from the 1970s onwards, embraced Theory and littered their writings with Discourse.
Politics and Language.
It is important to consider the political uses these ideas have had. One conclusion was that language was the prime reality of social conflict. In The Culture of Complaint (1993) Robert Hughes poked fun at the postmodernist left. More seriously he observed that their relativism (reinforced by the 'linguistic turn') led to moral consequences. When Iran pronounced a Fatwa against Salman Rushdie "the more politically correct among them felt it was wrong to criticise a Muslim country, no matter what it did. At home in America, such folk knew it was the height of sexist impropriety to refer to a young female as a "girl" instead of a "woman" Abroad in Tehran, however, it was more or less OK for a cabal of regressive theocrats to insist on the chador, to cut off thieves' hands and put out the eyes of offenders on TV, and to murder novelists as State policy". (Page 99)
Stanley Fish's response to these issues, that there is "no such thing as free speech" – Rushdie's in the occurrence – outside of the social conventions governing language, illustrates moral bankruptcy that can result from linguistic relativism. Whatever the other merits, and faults of his approach, everything takes place within "discourse", including the 'silence' that surrounds speech.
The silence has to do with the shape of any discourse. As Hobbes brilliantly points out again and again in his Leviathan, thought of a sequential and rational kind can only proceed when some set of stipulated definitions has been put at the beginning and established. Unless you have definitions of your topic, of your subject, demarcations of the field that you are about to explore, you cannot proceed because you have no direction. Hobbes also points out that such stipulative definitions are necessarily exclusionary. They exclude other possibilities, other possible ways of defining the field from which you might then have proceeded; since speech and reasoning can only occur when something is already in place and since the something that is already in place will be in place of something else that could have been in place, that something else which isn't there is the silent background against which the discourse resounds.Here.
More recently we have seen supporters of Islam who want to have it both ways. Those defending the censorship of Jesus and Mo cartoons have also restored to Sausssure.
On the one hand an Islamist declared that language – synchronically – is indeed a system with great internal weight, in which contested meanings have social implications. Hence the need to ban offence against "oppressed" religions. On the other hand Muslim theology is ground on the idea that the classical Arabic of the Qur'an offers a privileged window onto reality. With echoes of Aristotle, they assert that these "signs" are genuine reflections of the order of the universe, bolstered by the unique, "divinely created", morphology of this Semitic language. Contrary to the axiom that all truth can be translated, it is claimed that its verities cannot be fully rendered into other languages. Read the rest of this entry »