Archive for the 'Stalinism' Category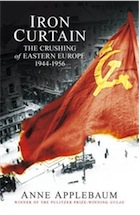 Die Partei, die Partei, die hat immer Recht!
Und, Genossen, es bleibe dabei;
Denn wer kämpft für das Recht,
Der hat immer recht.
Gegen Lüge und Ausbeuterei.
Wer das Leben beleidigt,
Ist dumm oder schlecht.
Wer die Menschheit verteidigt,
Hat immer recht.
So, aus Leninschem Geist,
Wächst, von Stalin geschweißt,
Die Partei – die Partei – die Partei.
Oh The Party, The Party is always right
And comrade, may it ever be so;
For who fights for the right
He is always right
Against lies and exploitation
[women] Whoever insults life
is stupid or bad
Whoever defends humanity
Is always right
Grown from the spirit of Lenin
Welded by Stalin
The party – the party – the party.
Das Lied der Partei.
Iron Curtain. The Crushing of Eastern Europe. 1944 – 1956. Anne Applebaum. Allen Lane 2012.
A Note on Totalitarianism.
Iron Curtain is an important and deeply researched study of Eastern European Communist states. It begins with their blood-stained birth, illustrates their brightest hopes, and deepest fears, it travels from the sweated labour that built Socialist Cities, to the spying and the stridency of everyday life. Anne Applebaum's book is equally an investigation into regimes that aspired  to "total control" and how they used their power to achieve this.
Anne Applebaum is, as Duncan Bowie observes (Chartist March/April 2013) highly "partisan". She is married to the centre-right Polish foreign Minister, Radek Sikorski. She  is, nobody will be surprised to hear,  far from  neutral about assessing the damage done in the name of Communism.
It would be derisory, and irrelevant,  to make her parti pris stand against the mass of historical detail, mastery of several of the countries' languages, and weighed judgements that Iron Curtain offers.
Why? The answer comes in the opening pages. The first chapters of Iron Curtain Applebaum overwhelm the reader with the terror brought in the wake of the Second World War. Axis atrocities are laid out in full and the Shoah is never far away from the narrative. Readers of Timothy Synders' Bloodlands will be acquainted with the terrible reality of destruction on the Eastern Frontiers. But it is other events that stay in the mind the undoubted heroism of the Red Army in fighting its way to Berlin and defeating Nazism, was accompanied by its own brutality against civilians and, in particular, mass rape. The Red Army re-opened camps at Auschwitz and Buchenwald almost as soon as they closed them, to house their own undesirables.
The cruelty, oppression, and ethnic cleansing (notably of those of German origin, or even, in Hungary's case, of those with Teutonic names of other ethnicities) that followed  in the first years after the war, principally, East Germany, Poland and Hungary are memorably described. Whole populations of Poles, Rutheniums, Hungarians, were summarily 're-allocated' to new territories.
During the late 1940s Communists consolidated their rule. At the pivot of the system – even before the countries were openly Communist-led – were the security services. Moscow trained local functionaries under the ultimate command of the Soviet NKVD quickly consolidated these. From the Interior Ministries they directed wholesale purges of real and suspected opponents. Executions, consigning people to local camps, even sending them to the Soviet Gulag, followed. The take-over of each state proceeded remorselessly, "first (by) the elimination of right-wing; or anti-communist parties, then the destruction of the non-communist left, then the elimination of opposition within the communist party itself."(xxxiv)
True Believers.
Yet at the same time the Communist parties were led by true believers. Their Central Committees initially allowed (relatively) free elections because they thought they could win. They thought their doctrine was true. They "really did think that sooner of later the working-class majority would acquire class consciousness, understand its historical destiny and vote for a communist regime."(P xxxiv)
Harsh policies were a reaction to defeat in elections, notably by the Small Holders' Party in Hungary, and (if electoral fraud had not obscured this) by the Social Democrats and others in East Germany, 'patriotic' parties in Poland, and elsewhere Even in Czechoslovakia and Bulgaria, barely covered in Iron Curtain) where the local Communist parties did have deeper bases (something Applebaum plays down) they were unable to reach a majority on their own.
Iron Curtain's principal thesis is that Communist rule under the period of High Stalinism (that is, from the late 1940s to 1956) saw an effort to eliminate any independent life for civil society. "The nascent totalitarian states could not tolerate any competition whatsoever for their citizens' passion, talents and free time."(Page 185) They took over youth groups, women's leagues, churches, trade unions, independent educational movements, and, above all, the mass media, beginning with the Radio. In doing so, "They managed, undermined and sometimes eliminated churches, newspapers, literary and educational societies, companies and retail shops, stock markets, banks, sports clubs and universities."(Page 496) Read the rest of this entry »
Yesterday in Le Monde on the occasion of the 60th anniversary of Stalin's death (5th March 1953) there was a supplement on the Great Terror.
See Géographie de la terreur stalinienne
The Supplement includes Identity photos of the victims. Unlike the well-known figures whose memory was effaced from the public record, many images remain of ordinary people. 
More details are in: La Grande Terreur en URSS, 1937-1938, de Tomasz Kizny, Nicolas Werth, Arseni Roguinski, Christian Caujolle. Avant-propos de Sylvie Kauffmann. Editions Noir sur blanc, 412 p., 40 €.
Vestiges invisibles de la Grande Terreur
Photos of the sites of mass executions and common graves, including these.
Boutovo, near Moscow, where people condemned to death were shot.
Tomsk, in the centre of Russia. It is estimated that there are 10,00 corpses in this ravine.
Medvejiegorsk and Povenets, near the border with Finland. At least  6 786 bodies have been identified of those who were killed and buried here.