Archive for the 'Sarkozy' Category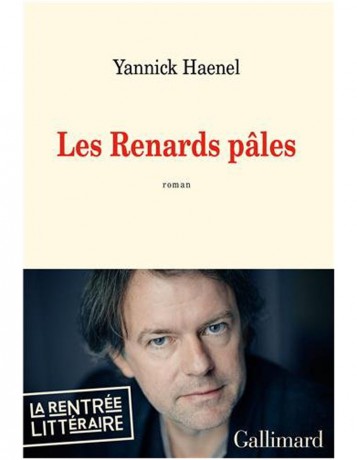 Les Renards Pâles. Yannick Haenel. 2013. Situationism Reborn?
"The memory of Guy Debord and the Situationist International went through me like the flash of a flaming comet: they were the last, in France, to give life to the word 'revolution', and to live that out as true freedom." (Page 26)
Jean Deichel, the narrator of Les Renards Pâles (the Pale Foxes), is 43 years old and unemployed. Rent unpaid, living in a kind of stupor, he leaves his flat and goes to live in his car, a Renault 11 Break, in one of the last streets in Paris where parking is not metered.
Turning the radio on Jean finds that a new French President has been elected – he had chosen not to cast his ballot. As he listens he keeps hearing the word "work". Work? It destroys people's lives. After having slogged his guts out in the Parisian suburbs, he has decided that he simply does not want a job. Jean imagines what would happen if everybody refused to be docile, to obey the "republican duty" to labour, a general strike against work…
A very different story to the man who loses his post and pretends to go out to the office every day follows. Jean roams Paris, guided by his 'I Ching', En attendant Godot, found in the glove compartment. He is unconcerned with current events, sensitive only to the changing "clouds and overgrown weeds that cover the last empty spaces of Paris."
Something of a psychogeographer and a cousin of Walter Benjamin's Flâneurs Jean does not linger in the modern Arcades, les Halles, or the luxury elsewhere but remains outside, often in the 19th and 20th Arrondissements. He sees the phantoms of the Commune rise, thinks, at Tourelles, of an Internment Camp for 'undesirables', refugees and resistance fighters, in 1941. Jean is aware of the hidden civil war that continues in France right till today. It was if the "blood of revolutionaries had never ceased flowing in France." (Page 95)
A Belleville encounter with an acquaintance, and his circle of rebellious "artists" (the inverted commas are Haenal's) rises into an intoxicating debate about confronting the "nouvel élu" (the President). Jean announces that he had voted for Max Stirner, the author of the Ego and His Own, (1844). Is this an affirmation of his "uniqueness"? One, Bison, is a veteran of the Genoa 2011 protests. He does not stop talking about the G8, that it crystallised the world split into the resistance and the repression. Corned about his own politics, Jean admits, to the disdain of his questioner, that he voted for nobody. He finishes by thinking that the phantoms of the state take a life of their own, "politics eats the body of those who have the weakness to believe in it." (Page 43)
Two of this group leave to join the Tarnac Group (L'inssurection qui vient). Yet Jean's own itinerary leads to perhaps a more radical end.
The Dogans and Les Renards Pâles
Fascinated by a wall slogan, La Société n'existe pas, Jean ponders the idea that there is no place for him, or us, in a society that talks of "re-educating" the unemployed through compulsory labour. He meets Malian migrants, working as dustmen, "picking up France's shit to feed Mali." A mysterious woman, nicknamed 'La Reine de Pologne' who visits the swimming pool he uses to keep clean, takes him to a Griot (Malian Sorcerer) who explains the story of the Renards Pâle, a creature of their cosmology, "cet animal anarchiste qui s'étatait rebellé contre la Création" (page 109) The cruelty of this anarchist animal, inspiring divination, could come to Paris and in an insurrection that could overturn our world.
The novel unfolds into that tumultuous uprising: "un spectre hante la France, c'est L'Afrique". Treated as slaves, massacred under colonial rule – as "brutes" in the Heart of Darkness – Africa has come to France as the 'sans papiers' ('illegals'). The deaths of two Malians, Issa and Kouré, set the wheels of rebellion in motion. An "Insurrection of masks", abolishing the very of countries, and…at the conclusion, masks and identity papers. "Cette nuit à travers les flames qui la consacraient, la place de la Concorde reprenait son ancien nom: elle était à nouveau la place de la Révolution." (Page 173) The old name, Revolution, is restored, and, in a world where nobody has identity papers any more, the conclusion left just beyond the tips of our tongues. That may well be a world without borders, and free from the "republican duty" to toil in misery.
André Breton spoke of. "convulsive" beauty. He would have been stunned by Les Renards Pâles. The novel's pages are studded with agitated movement (a frequent word is 'tituber'), and glimpses of the majestic beyond. The past weighs in both through nightmarish revenants, and reappears through more kindly Furies. Heanal has made a political and artistic intervention that breaks the boundaries of what appears possible – and impossible. In this sense it is truly in the line of all that was best in Situationism. That is not all. The prose and delivery of Les Renards Pâles stands muster with the best contemporary world literature.
Le Monde critic Jean Birnbaum is amongst many who have fallen for Haenel's "hypnotic charm" and "sublime voice" (le Monde des Livres. 23rd August 2013) This book is important: it must be read.
* The Tarnac group's ideas are clearly referenced by Haenel, ""S'organiser par-delà et contre le travail, deserter collectivement le régime de la mobilisation, manifester l'existence d'une vitalité et d'une discipline dans la démobilisation même est un crime qu'une civilization aux abois n'est pas près de nous pardoner; c'est en effet la seule façon de lui survivre"
L'insurrection qui vient. 2007.

Account in English here.
Boycott Greedy Gérard!
Gérard Depardieu, one of the best-paid French cinema actors, now lives in Belgium in the village of Néchin, near the French border.
This place, it is said, has all the charms and cultural attractions of a South Essex hamlet.
The Bourgmestre (Mayor), Daniel Senesael, openly admits the new resident is there for financial reasons.
That is, to avoid French taxes and benefit from a more favourable regime that the wealthy (and only them) enjoy in Belgium.
27% of the village's inhabitants are 'tax exiles'.
Earlier this year, when he was not pissing himself on planes, Depardieu,  gave his public backing to Nicolas Sarkozy.
At a public rally with the Presidential candidate at Villepinte he said,
"Since my friend Nicolas Sarkozy came to power, I only hear bad things about this man who does nothing but good,"
Libération reports, that the French left has taken a serious dislike to the man once proud of  his working class roots.
"Minister  Benoît Hamon has said that Depardieu has decided to avoid paying his due in a time of economic crisis. That is "anti-patriotic". "
The PCF has compared him to a miser.
"It's shameful" says Nathalie Arthaud, of Lutte Ouvrière. "It doesn't surprise me, when somebody gets millions every year to get tired of paying tax. Meanwhile workers, those on the minimum wage, the unemployed, they have to." She called for a crack down on tax evasion.
On France-Inter this morning there were strong suggestions that the French state will not take Depardieu's efforts to avoid giving something back for the money he makes from the country lightly.
They will be watching his every move for ways to get him to pay up.
Meanwhile we support this: Boycott every film Gérard makes!
What of Depardieu's future?
We imagine him, in his Néchin Mansion.
Dressed in a giant nappy, barely able to contain his girth,  he is  watching DVDs of his past triumphs.
Gérard is eating his tenth Horse steak and washing it down with a pail of wine from his Château de Tigné.
Next to him is  a bucket of chips swimming in mayonnaise.
Sometimes he breaks into lonely sobs.
Ridan sings "le Blues de banlieue".
"les chansons à textes entendues chez ses parents d'origine algérienne, celles de Léo Ferré, Jacques Brel ou Serge Reggiani, lui parlent davantage et prennent naturellement le relais. Face aux inégalités, au racisme ou face à l'hypocrisie de la société, il choisit les mots comme exutoire à sa révolte. Ceux qui parlent de notre quotidien, de nos désillusions, de la police, de racisme, d'injustice, avec une pertinence qui rappelle celle de Renaud à ses débuts. Ridan chante alors ce que Nadir écrit. L'écriture écorchée, réaliste, laisse transparaître le spleen de l'artiste." More – Here and Wikipedia (French) Here.
In the Presidential elections Ridan backed the Front de gauche (interview here)
He performed at theFdG  Bastille Rally on the 18th of March.
Ridan against Fascism here.