Archive for the 'Left' Category
Defying  the Ban on pro-Palestinian marches in France, on Saturday,
About 6,000 mostly peaceful protesters assembled in the Barbès area of northern Paris in defiance of a government ban. When the march was blocked by police lines after only 500 metres, a minority of young protesters started to hurl stones, bottles and sticks at the riot police.
There is a range of accounts of the responsibility for the incidents that took place, see L'Humanité, and Libération and an important direct reportage in the same paper, here.
A leader of the Nouveau Parti Anticapitaliste (NPA) said, "«La solidarité avec les Palestiniens doit pouvoir s'exprimer à Paris», a expliqué samedi à l'AFP Sandra Demarcq, membre de la direction du NPA, qui juge l'interdiction «illégitime et scandaleuse». We should be able to express solidarity with the Palestinians, explained to AFP Sandra Demarq, part of the leadership of the NPA, who judged the ban "illegitimate and scandalous". According to the reporter at around 15.40,
Soudain, des groupes extrêmement équipés et organisés ont commencé à fendre la foule pour monter au contact des CRS. Ils avançaient en ligne, le visage couvert. A l'évidence, ils n'avaient rien de militants venus défendre la cause palestinienne. Certains arboraient des tee-shirts du virage Auteuil, une tribune du Parc des Princes.

Suddenly, extremely well organised and kitted out groups pushed their way through the crowd towards the front row of the CRS (riot police).

They advanced en bloc, faces covered. From what could be gleaned they had nothing of the look of activists who'd come to defend the Palestinian cause. Some of them were wearing the colours of Auteuil, a supporters' group named after a football stand at the Parc des Princes.
In Sarcelles on Sunday however  events took a clearly and illegitimate  anti-Semitic  turn,
France's interior minister on Monday slammed "intolerable" acts of anti-Semitism after a rally against Israel's Gaza offensive descended into violence pitting an angry pro-Palestinian crowd against local Jewish businesses.

Sunday's demonstration in the north Paris suburb of Sarcelles was the third to deteriorate in a week, as shops were looted and riot police lobbed tear gas and rubber bullets at the crowd.

The rally had been banned amid concern the Jewish community would be targeted after protesters last weekend tried to storm two synagogues in Paris.

"When you head for the synagogue, when you burn a corner shop because it is Jewish-owned, you are committing an anti-Semitic act,"Bernard Cazeneuve told reporters outside the Sarcelles synagogue.

In the Paris suburb sometimes nicknamed "little Jerusalem" for its large community of Sephardic Jews, the rally descended into chaos when dozens of youth – some masked – set fire to bins and lit firecrackers and smoke bombs.

Eighteen people were arrested after looters wrecked shops, including a kosher foodstore and a funeral home as protesters shouted: "Fuck Israel!".
The Independent says,
Riot police held back a mob of youths who tried to attacks two synagogues in the town of Sarcelles in the northern Paris suburbs.

A pro-Gaza demonstration in a town with a large Jewish population began peacefully but degenerated into attacks on Jewish and Chaldean businesses and four hours of running battles between youths and police. Several cars were burned. Three shops, including a Kosher grocery (1), were burned and pillaged. A railway station was severely damaged.

The interior minister, Bernard Cazeneve said today: "When you menace synagogues and when you burn a grocery because it is  Jewish-owned, you are committing anti-semitic acts…  That is intolerable. Protest against Israel is legitimate. Nothing can justify such violence."

…..

Roger Cuikerman, head of the French umbrella groups of Jewish organisations, CRIF, said there was a growing anxiety amongst French jews.

Protest against Israeli government actions was one thing, he said. Attacks on Jews for being Jews were "deeply disturbing". "They are not screaming 'death to the Israelis' on the streets of Paris," he said. "They are screaming 'death to the Jews'. They are attacking synagogues which are places of prayer."
Bernard Cazeneuve, speaking at Sarcelles this morning, said (Le Monde),
Devant la presse, il a estimé qu'il était « légitime » de pouvoir exprimer une position sur les événements de Gaza, où au moins 502 Palestiniens ont été tuésdepuis le 8 juillet. En revanche, il a jugé « intolérable que l'on s'en prenne à des synagogues ou à des commerces parce qu'ils sont tenus par des juifs. Rien ne peut justifier de telles violence ». Dix-huit personnes ont été interpellées après les heurts, selon la police.

In front of the press he considered that it was "legitimate" to be able to express a position on the events in Gaza, where at least 502 Palestinians have been killed since the 8th of July. By contrast he judged that it is "intolerable that people attack synagogues and businesses because they are run by Jews. Nothing can justify such violence." According to the police 18 people have been asserted after the incidents.
(1) The shop had been already the subject of a grenade attack in September 2013 (see here).
In an important Editorial today Le Monde says that the government's ban on demonstrations is an admission of its impotence, "Manifestations interdites : l'aveu d'impuissance du gouvernement."
The statement  notes that President Hollande is right to be concerned about the "importation" of the Israel-Palestinian conflict into France.
But they note that the right to demonstrate, within reasonable limits, is part of the foundations of the Republic.
They cite the 1789 Declaration of the Rights of Man, " nul ne doit être inquiété pour ses opinions, même religieuses, pourvu que leur manifestation ne trouble pas l'ordre public établi par la loi ». 
Article 10, "No one shall be disquieted on account of his opinions, including his religious views, provided their manifestation does not disturb the public order established by law."
Le Monde then accuses the government, through its ban on demonstrations of solidarity with the Palestinians, of playing, "aux pompiers pyromanes." (firefighting arsonists, figurative, "fig., personne qui provoque volontairement les maux qu'elle est censée combattre.", somebody who creates the very problem they claim to be solving).
"Toute manifestation doit être déclarée à la Préfecture de police, en indiquant, au moins trois jours avant, sa date, son heure et son parcours. En d'autres termes, le droit de manifester fait partie des libertés publiques, mais il est légitimement encadré."
Every demonstration, its timings, and its route,  must be notified to the Police authorities, at least 3 days in advance. In other respects the right to demonstrate, within defined limits, is part of our public freedoms.
Le Monde is absolutely right.
Positions of left parties:
Parti de Gauche "L'interdiction de la manifestation de soutien à la population de Gaza contre l'agression décidée par le gouvernement israélien était bien une provocation et une manipulation." NPA, "La solidarité avec les Palestiniens est légitime et n'a rien à voir avec de l'antisémitisme !" Front de Gauche, ""Amplifier la solidarité avec le peuple palestinien, défendre le droit de manifester".
Update: Declaration today (Monday 12st July) against ban on demonstrations by the Ligue des Droits de l'Homme, GAZA CROULE SOUS LES BOMBES, ISRAËL S'ENFERRE DANS LA RÉPRESSION, LES INTERDICTIONS DE MANIFESTER DU GOUVERNEMENT FRANÇAIS ATTISENT LES TENSIONS
Demonstration  on Wednesday now  authorised, Le Monde.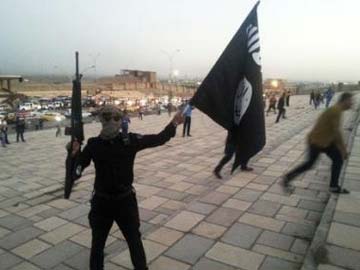 Islamists Force Christians to Leave Mosul. 
BAGHDAD (New York Times) — By 1 p.m. on Friday almost every Christian in Mosul had heard the Sunni militants' message — they had until noon Saturday to leave the city.

Men, women and children piled into neighbors' cars, some begged for rides to the city limits and hoped to get taxis to the nearest Christian villages. They took nothing more than the clothes on their backs, according to several who were reached late Friday.

The order from the Islamic State in Iraq and Syria came after Christians decided not to attend a meeting that ISIS had arranged for Thursday night to discuss their status.

"We were so afraid to go," said Duraid Hikmat, an expert on minorities who had done research for years in Mosul. He fled two weeks ago to Al Qosh, a largely Christian town barely an hour away, but his extended family left on Friday.
Islamic State Group Claims Baghdad Bombings  
By SAMEER N. YACOUB and RYAN LUCAS Associated Press. Baghdad.
Is there a left response?
 Socialist Worker (USA -no longer closely linked to SWP UK) published this on the 7th of July.
Several revolutionary Marxist and socialist organizations from the region–the Revolutionary Socialists (Egypt), Union of Iraqi Communists (Iraq), al-Munadhil-a (Morocco), Revolutionary Left Current (Syria), Leftist Workers League (Tunisia) and Socialist Forum (Lebanon)–issued a joint statement calling for revolutionary working-class unity against both sectarianism and imperialism. Here, we reprint their statement, which appeared originally at the al-Manshour website.
…….the most flagrant transgressions in the context of this campaign were the sectarian massacres committed by ISIS. There are stories about mass executions–with unparalleled brutality–of hundreds of prisoners, out of the thousands who had surrendered. This is in addition to all sorts of acts of repression, deportation and persecution for religious and ethnic reasons, not to mention the use of rape against women and girls or forcing them to marry fighters from the armed group.
- – - – - – - – - – - – - – - -
ISIS'S CONTROL culminated in the imposition of strict Sharia rules after the announcement of the "city paper" in Mosul–a 16-article document dictating the lives of citizens. One of the articles indicates that the Islamic State will be the sole authority in control of the city's resources, and that it will punish anyone who steals from public funds. On the other hand, ISIS seized the equivalent of hundreds of millions of U.S. dollars from banks, government facilities and municipalities, and it confiscated countless quantities of weapons left behind by fleeing soldiers and officers.
The document advises all men to participate in collective prayers and prohibits the sale and consumption of alcohol, drugs and tobacco, among other Sharia restrictions. It also bans all councils, assemblies and banners under any name, in addition to carrying weapons, considering these acts as divisive and deserving of the death sentence.
The document reveals the position adopted by ISIS concerning statues and shrines, which it threatens to demolish, in addition to destroying the graves of saints. It calls on women to remain at home except in emergency situations. In summary, ISIS's rule has left people fearful for their lives, including the armed militias "allied" to them (information indicates around 23 groups joined the campaign).
*******
1. All types of intervention in Iraqi affairs by the U.S., Iran, Saudi Arabia, Qatar, Turkey and others must be rejected, as they are not only completely incompatible with the interests of the people of Iraq, but also fuel the fire of a terrible sectarian war. We call on the UN General Assembly, in particular, to hold all countries accountable for their intervention in this situation and subject them to sanctions, according to the Uniting for Peace mechanism.
2. All political disputes in Iraq must be solved by appealing to the opinion, will and interests of Iraqis themselves. This should be through an advanced democratic process from outside the sectarian system, which ensures active political participation of all citizens, without any type of discrimination, whether in building their new state structure or through local government in all the cities and governorates.
3. The Iraqi people and liberationist factions must be at the forefront of confronting the bloody terrorism of ISIS and the counter-terrorism against it. This necessitates the self-organization of people in cities, slums and villages in armed popular committees and councils to counter the attacks of obscurantist terrorist organizations and all the opposing confessional militias. These groups should be incapacitated, defeated and their presence eliminated from Iraq.
However, this also contains an international task–a mobilization for the widest global campaign to support Iraqis in their efforts to confront the hostile forces and militias on the one hand, and the existing dictatorial sectarian capitalist regime on the other, aiming for its overthrow. This would advance the aspirations of Iraqis for a future based on justice, freedom and human dignity and prevent the disintegration of the country or its partition.
4. In the above context, the revolutionary left and democratic, feminist and progressive groups in the Arab region should work together to confront the sectarian and confessional approach and policies of Arab regimes, on the one hand, and obscurantist and reactionary right-wing groups, on the other. This is in order to defeat the sectarian/confessional threat, which is the main weapon used by the counter-revolution to attack the revolutionary space that could unite the peoples of the region.
5. Finally, there is an urgent need to provide the necessary aid to refugees and the displaced, through all sorts of international organizations, to reduce and control the impact of the current humanitarian crisis.
The regional and international conspiracy against the Iraqi people must be defeated.
Down with all imperialist interventions in Iraq.
Defeat the obscurantist assault by ISIS and its brethren.
Victory to the Iraqi people against their internal and external enemies.
For a democratic, secular, revolutionary, sovereign and independent Iraq.
Long live international people's solidarity.
Signatories:
Revolutionary Socialists (Egypt)
Union of Iraqi Communists (Iraq)
al-Munadhil-a (Morocco)
Revolutionary Left Current (Syria)
Leftist Workers League (Tunisia)
Socialist Forum (Lebanon)
June 28, 2014
This is the pitifully truncated account Socialist Worker (UK), 1st of July, gives of this stirring declaration,
Revolutionary socialist organisations in Egypt, Iraq, Lebanon, Tunisia, Syria and Morocco have issued a joint statement condemning the sectarianism ripping Iraq apart.

The revolutionaries blame the "interventions of regional and international powers" for the chaos.

In December 2012 a popular movement for justice erupted in Sunni majority areas. This movement was met with brutal violence from the Iraqi government.

The left appeal to "all the oppressed in Iraq" to make a revolution "against the entire system" that is breeding hate. This includes the US occupation, sectarian forces, Isis, the Iraqi government and others.
Note the absence of the words, " democratic" and  "secular"…..
Humanists Show the Way Forward.
Faith Schools Undercover: No Clapping in Class  (Monday 14th July at 8pm on Channel 4) revealed:
Exclusively that even before the so-called anonymous 'Trojan Horse' letter came to light the Prime Minister's office had been warned of what was going on
Claims by current and former members of staff at Park View – one of the schools implemented in the 'Trojan Horse' allegations – that male pupils were given worksheets saying women couldn't say no to sex with their husbands and also girls at the school were sent home from a sports event because only a male coach was present
The ultra-Orthodox Haredi Jewish schools in the London Borough of Hackney 'operating illegally and without the most basic health, safety and child welfare checks'. Channel 4 Dispatches has shocking evidence that Hackney Council, the Department for Education and Ofsted have all known about the schools for years
The programme began with concerns at  Oldknow Academy Birmingham. A parent had complained at Christmas not being celebrated and got short shrift. He wrote to the PM.
The most important item was on Park View school,
A former teacher said, on camera, but anonymously that,
"about 60 male pupils were given a worksheet saying women couldn't say no to sex with their husbands.
She says: "The work sheet categorically said that you know the wife has to obey the man. Well I think it makes the boys feel that they have got that power over girls. The east Birmingham area has one of the highest rates of domestic violence in the country."
This was flately, and not very convincingly, denied, by the school.
Local MP Khalid Mahmood  says: "I am not talking about here extremism in schools although ultimately it could lead to it, and that's my fear, is that when you are grooming young people into that sort of a mind-set then its very easy once they leave school is to go that extra additional step."
He also dismissed suggestions the controversy smacks of Islamophobia.
"Over 200 people complaining to the local authority about what's gone on and you can't really claim that it's a witch-hunt," said Mahmood, whose own actions have shown him sensitive to the difficulties raised by racist attacks on Birmingham Muslims.
There was a report on Olive Primary School in Blackburn.
During this there was evidence that  music in school was discouraged, that clapping was not encouraged, and that other "un-Islamic," practices were frowned on.
Olive Primary  is run by the Tauheedul Education Trust, with two other secondaries in Blackburn.
The Lancashire Telegraph draws attention to one feature of the Trust's activities,
The programme revealed trust schools hosted lectures by three extremist preachers, including Mufti Ismail Menk banned from six UK universities for preaching same-sex acts were 'filthy'.

It showed him saying of gay people: "With all due respect to the animals, they are worse than animals."
In Hackney illegal Jewish religious schools (for the ultra-orthodox) exist,
Channel 4 Dispatches discovered that more than 1,000 boys aged 13 to 16 have disappeared from registered schools in the London borough of Hackney.

Instead they are being sent by their parents to be educated in yeshivas – fee-paying schools where the curriculum is solely religious.

We have identified more than ten unregistered, illegal, schools.

And what's really shocking is that Hackney Council, the Department for Education and Ofsted have all known about these schools for years.

We've seen internal government briefing documents that reveal as early as 2008 the Department for Education was aware of the issue. One document states the Department knows a number of schools are 'operating illegally and without the most basic health, safety and child welfare checks'.

In 2012 the Department acknowledged those running the schools were breaking the law, but said they preferred to work cooperatively with the community.
There were shots of a school, including a room where Hasidic instruction and disputation was taking place. Students went in an out till late in the day.
The conclusion of this section was very unsettling.
Dispatches contacted the schools featured but have received no response.

Hackney Council, Ofsted and the Department for Education told Dispatches their concerns date back many years and they are aware of all the schools on our list.

They say they've been working to get them registered.

The Department for Education, who Ofsted and Hackney say have the power to take action against the schools, told Dispatches that 'where applications for registration are still not forthcoming we will press for a prosecution as it is a criminal offence to operate an unregistered illegal schools.'
The programme seemed to suggest that the Council, out of concern for religious and cultural feeling, was unwilling to act.
Andrew Gilligam reports,
Government documents obtained by Channel 4's Dispatches and the Jewish Chronicle newspaper say that many of the schools are "operating illegally and without the most basic health, safety and child welfare checks".

Many boys in the Orthodox Jewish community in Stamford Hill, London, "will stop secular studies at the age of 13 or 14 and start attending 'yeshivas' where the curriculum is solely religious," the documents say.

Between 800 and 1000 boys aged between 13 and 16 are "missing" from the school system in the borough of Hackney alone, the papers add.

Undercover filming by Dispatches in and around the schools shows the boys packed more than 50 to a classroom in dirty, run-down buildings, some converted houses. More than a hundred boys were filmed going in to an illegal school in Lynmouth Road, Stamford Hill, arriving from 7.30 in the morning and leaving late at night. The establishment is believed to be one of twelve illegal schools in the neighbourhood.
In 2011, about one third of the 20,000 state funded schools in England were faith schools, approximately 7,000 in total, of which 68% were Church of England schools and 30% were Roman Catholic . There were 42 Jewish, 12 Muslim, 3 Sikh and 1 Hindu  faith schools.
The British Humanist Association says,
"Around a third of all state-funded schools are schools 'with a religious character' – the legal term for 'faith' schools. This number has grown in recent years as successive governments have increased the influence of religious groups in the state-funded education system."
That is, with the introduction of Academies and Free Schools, this percentage is believed to have risen.
Faith Schools Undercover noted their role in encouraging  ethnic and cultural segregation.
The idea that parents have the right to run, publicly funded, education that promotes their religion, is fundamentally wrong.
Some liberals seem unable to respond to the issues raised.
There are those who claim to be on the left who find excuses for these arrangements.
They claim that criticisms of, notably, the Birmingham schools, are an 'Islamophobic' conspiracy.
This completely fails to look at the problems religiously-run schools create – as indicated by the Channel Four Dispatches documentary.
It indicated that concerns had a solid basis.
The National Secular Society sets out a much better position that those wishing to sweep the subject of Faith education under the carpet.,
Rather than facilitating the segregation of pupils along religious lines, we would like to see steps taken to ensure children of all faiths and none are educated together in a respectful but religiously neutral environment.

As long as faith schools are publicly funded, we campaign for an end to exemptions from equality legislation that allow them to select pupils on the basis of the religion, or religious activities, of the child's parents.

We are concerned that the Government's desire for greater proportion of academies and free schools, which are independent and self-governing, will see more and more control of state funded education handed to religious organisations.
Dispatches showed more than enough reasons to back this stand.
The author of many of the pro-religious education policies, Michael Gove, is now Chief Whip.
He has been replaced by even more faith-influenced minister, Nicky Morgan, a Tory MP who voted against same-sex marriage, as  education secretary. She "continues as minister for women and equalities".