Archive for the 'Front de Gauche' Category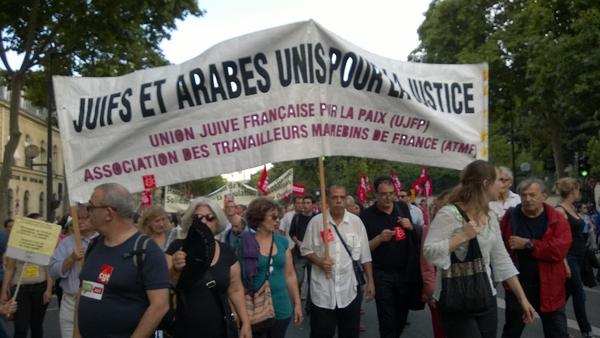 Picture from L'Humanité.
Pro-Palestinian protesters took to the streets of Paris once more on Wednesday to march against Israel's military assault on the Gaza Strip, the first authorised demonstration since a July 13 rally ended in clashes.
There had been fears of further violence ahead of the march, particularly after ugly scenes at two banned demonstrations over the weekend that saw protesters hurl rocks at police, who responded with volleys of teargas.
More than 1,000 undercover and uniformed officers were deployed along the march route, carrying riot gear and teargas in case trouble broke out.
But the march passed largely without incident, as the protesters made their way from southern Paris towards Invalides in the centre of the capital.
Police said around 14,500 people attended the rally, while organisers put the figure at 25,000.
There were hundreds of CGT stewards ('service d'ordre') present to prevent  trouble and any expression of anti-Semitic views. The stewarding  on the day was carried out by activists from the CGT, NPA, Parti de gauche and the PCF (up-date from PD – Paris).
Libération reported this comment,
A l'avant du cortège, des jeunes crient «Israël assassin, Hollande complice». Un membre de l'Association France-Palestine solidarité (AFPS), appelle à la mesure :«Nous sommes tous des enfants de Gaza. On ne doit pas instrumentaliser la cause palestinienne pour propager l'antisémitisme. On se bat contre une politique agressive. Pas contre un peuple tout entier.»

At the head of the march youths shouted, "Israel – Murderer, Hollande – Henchman". A member of the Association for France-Palestinian Solidarity called for moderation, "we are the children of Gaza. We must not use the Palestinian cause to spread anti-Semitism. We are fighting against aggressive policies. Not against a whole people."
The march was organised by the " Collectif National pour une Paix Juste et Durable entre Israéliens et Palestiniens."
This group demands:
Pour l'arrêt immédiat des bombardements sur Gaza – an Immediate end to the bombardment of Gaza.
 Pour l'arrêt de l'agression israélienne en Cisjordanie et à Jérusalem For an end to the Israel aggression in the West Bank  and in Jerusalem
 Pour la levée du blocus, illégal et criminel, de Gaza Lifting the illegal and criminal blockade of Gaza.
 Pour des sanctions immédiates contre Israël jusqu'au respect du droit international For immediate sanctions against Israel until it respects international law.
 Pour le soutien au peuple palestinien et au gouvernement d'entente nationale. Back the Palestinian people and for a national unity government.
La cause palestinienne n'a rien à voir avec l'extrême droite et n'accepte aucun soutien de leur part – the Palestinian cause has nothing to do with the far-right, and (we) will accept no support from that quarter.
Left groups, le NPA, le PCF, le Front de gauche, the Ligue des droits de l'homme, and the 'altermondialiste' Attac, backed the march. (1)
A decision whether to permit a planned demonstration on Saturday – organised by the same people who led the Barbès march marked by violent incidents the previous weekend – has yet to be reached (Libération).
(1) Full List: Agir Contre le Colonialisme Aujourd'hui (ACCA) – Alliance for Freedom and Dignity (AFD) – Alternative Libertaire (AL) – Américains contre la guerre (AAW) – Association des Travailleurs Maghrébins de France (ATMF) – Association des Tunisiens en France (ATF) – Association France Palestine Solidarité (AFPS) – Association Nationale des Elus Communistes et Républicains (ANECR) – Association pour la Taxation des Transactions financières et pour l'Action Citoyenne (ATTAC) – Association pour les Jumelages entre les camps de réfugiés Palestiniens et les villes Françaises (AJPF) – Association Républicaine des Anciens Combattants (ARAC) – Association Universitaire pour le Respect du Droit International en Palestine (AURDIP) – Campagne Civile Internationale pour la Protection du Peuple Palestinien (CCIPPP) – Cedetim / IPAM – Collectif des Musulmans de France (CMF) – Collectif Faty Koumba – Collectif interuniversitaire pour la coopération avec les Universités Palestiniennes (CICUP) – Collectif Judéo-Arabe et Citoyen pour la Palestine (CJACP) – Comité de Vigilance pour une Paix Réelle au Proche-Orient (CVPR PO) – Comité Justice et Paix en Palestine et au Proche-Orient du 5e arrt (CJPP5) Confédération Générale du Travail (CGT) – Confédération paysanne – Droit-Solidarité – Ensemble – Europe Ecologie les Verts (EELV) – Fédération des Tunisiens pour une Citoyenneté des deux Rives (FTCR) – Fédération Syndicale Unitaire (FSU) – Gauche Unitaire (GU) – Génération Palestine – La Courneuve-Palestine – le Mouvement de la Paix – les Alternatifs – les Femmes en noir – Ligue des Droits de l'Homme (LDH) – Ligue Internationale des Femmes pour la Paix et la Liberté, section française de la Women's International League for Peace and Freedom (WILPF) (LIFPL) – Mouvement contre le Racisme et pour l'Amitié entre les Peuples (MRAP) – Mouvement Jeunes Communistes de France (MJCF) – Organisation de Femmes Egalité – Nouveau Parti Anticapitaliste (NPA)) – Parti Communiste Français (PCF) – Parti de Gauche (PG) – Participation et Spiritualité Musulmanes (PSM) – Une Autre Voix Juive (UAVJ) – Union des Travailleurs Immigrés Tunisiens (UTIT) – Union Générale des Etudiants de Palestine (GUPS-France) – Union Nationale des Etudiants de France (UNEF) – Union syndicale Solidaires
Defying  the Ban on pro-Palestinian marches in France, on Saturday,
About 6,000 mostly peaceful protesters assembled in the Barbès area of northern Paris in defiance of a government ban. When the march was blocked by police lines after only 500 metres, a minority of young protesters started to hurl stones, bottles and sticks at the riot police.
There is a range of accounts of the responsibility for the incidents that took place, see L'Humanité, and Libération and an important direct reportage in the same paper, here.
A leader of the Nouveau Parti Anticapitaliste (NPA) said, "«La solidarité avec les Palestiniens doit pouvoir s'exprimer à Paris», a expliqué samedi à l'AFP Sandra Demarcq, membre de la direction du NPA, qui juge l'interdiction «illégitime et scandaleuse». We should be able to express solidarity with the Palestinians, explained to AFP Sandra Demarq, part of the leadership of the NPA, who judged the ban "illegitimate and scandalous". According to the reporter at around 15.40,
Soudain, des groupes extrêmement équipés et organisés ont commencé à fendre la foule pour monter au contact des CRS. Ils avançaient en ligne, le visage couvert. A l'évidence, ils n'avaient rien de militants venus défendre la cause palestinienne. Certains arboraient des tee-shirts du virage Auteuil, une tribune du Parc des Princes.

Suddenly, extremely well organised and kitted out groups pushed their way through the crowd towards the front row of the CRS (riot police).

They advanced en bloc, faces covered. From what could be gleaned they had nothing of the look of activists who'd come to defend the Palestinian cause. Some of them were wearing the colours of Auteuil, a supporters' group named after a football stand at the Parc des Princes.
In Sarcelles on Sunday however  events took a clearly and illegitimate  anti-Semitic  turn,
France's interior minister on Monday slammed "intolerable" acts of anti-Semitism after a rally against Israel's Gaza offensive descended into violence pitting an angry pro-Palestinian crowd against local Jewish businesses.

Sunday's demonstration in the north Paris suburb of Sarcelles was the third to deteriorate in a week, as shops were looted and riot police lobbed tear gas and rubber bullets at the crowd.

The rally had been banned amid concern the Jewish community would be targeted after protesters last weekend tried to storm two synagogues in Paris.

"When you head for the synagogue, when you burn a corner shop because it is Jewish-owned, you are committing an anti-Semitic act,"Bernard Cazeneuve told reporters outside the Sarcelles synagogue.

In the Paris suburb sometimes nicknamed "little Jerusalem" for its large community of Sephardic Jews, the rally descended into chaos when dozens of youth – some masked – set fire to bins and lit firecrackers and smoke bombs.

Eighteen people were arrested after looters wrecked shops, including a kosher foodstore and a funeral home as protesters shouted: "Fuck Israel!".
The Independent says,
Riot police held back a mob of youths who tried to attacks two synagogues in the town of Sarcelles in the northern Paris suburbs.

A pro-Gaza demonstration in a town with a large Jewish population began peacefully but degenerated into attacks on Jewish and Chaldean businesses and four hours of running battles between youths and police. Several cars were burned. Three shops, including a Kosher grocery (1), were burned and pillaged. A railway station was severely damaged.

The interior minister, Bernard Cazeneve said today: "When you menace synagogues and when you burn a grocery because it is  Jewish-owned, you are committing anti-semitic acts…  That is intolerable. Protest against Israel is legitimate. Nothing can justify such violence."

…..

Roger Cuikerman, head of the French umbrella groups of Jewish organisations, CRIF, said there was a growing anxiety amongst French jews.

Protest against Israeli government actions was one thing, he said. Attacks on Jews for being Jews were "deeply disturbing". "They are not screaming 'death to the Israelis' on the streets of Paris," he said. "They are screaming 'death to the Jews'. They are attacking synagogues which are places of prayer."
Bernard Cazeneuve, speaking at Sarcelles this morning, said (Le Monde),
Devant la presse, il a estimé qu'il était « légitime » de pouvoir exprimer une position sur les événements de Gaza, où au moins 502 Palestiniens ont été tuésdepuis le 8 juillet. En revanche, il a jugé « intolérable que l'on s'en prenne à des synagogues ou à des commerces parce qu'ils sont tenus par des juifs. Rien ne peut justifier de telles violence ». Dix-huit personnes ont été interpellées après les heurts, selon la police.

In front of the press he considered that it was "legitimate" to be able to express a position on the events in Gaza, where at least 502 Palestinians have been killed since the 8th of July. By contrast he judged that it is "intolerable that people attack synagogues and businesses because they are run by Jews. Nothing can justify such violence." According to the police 18 people have been asserted after the incidents.
(1) The shop had been already the subject of a grenade attack in September 2013 (see here).
In an important Editorial today Le Monde says that the government's ban on demonstrations is an admission of its impotence, "Manifestations interdites : l'aveu d'impuissance du gouvernement."
The statement  notes that President Hollande is right to be concerned about the "importation" of the Israel-Palestinian conflict into France.
But they note that the right to demonstrate, within reasonable limits, is part of the foundations of the Republic.
They cite the 1789 Declaration of the Rights of Man, " nul ne doit être inquiété pour ses opinions, même religieuses, pourvu que leur manifestation ne trouble pas l'ordre public établi par la loi ». 
Article 10, "No one shall be disquieted on account of his opinions, including his religious views, provided their manifestation does not disturb the public order established by law."
Le Monde then accuses the government, through its ban on demonstrations of solidarity with the Palestinians, of playing, "aux pompiers pyromanes." (firefighting arsonists, figurative, "fig., personne qui provoque volontairement les maux qu'elle est censée combattre.", somebody who creates the very problem they claim to be solving).
"Toute manifestation doit être déclarée à la Préfecture de police, en indiquant, au moins trois jours avant, sa date, son heure et son parcours. En d'autres termes, le droit de manifester fait partie des libertés publiques, mais il est légitimement encadré."
Every demonstration, its timings, and its route,  must be notified to the Police authorities, at least 3 days in advance. In other respects the right to demonstrate, within defined limits, is part of our public freedoms.
Le Monde is absolutely right.
Positions of left parties:
Parti de Gauche "L'interdiction de la manifestation de soutien à la population de Gaza contre l'agression décidée par le gouvernement israélien était bien une provocation et une manipulation." NPA, "La solidarité avec les Palestiniens est légitime et n'a rien à voir avec de l'antisémitisme !" Front de Gauche, ""Amplifier la solidarité avec le peuple palestinien, défendre le droit de manifester".
Update: Declaration today (Monday 12st July) against ban on demonstrations by the Ligue des Droits de l'Homme, GAZA CROULE SOUS LES BOMBES, ISRAËL S'ENFERRE DANS LA RÉPRESSION, LES INTERDICTIONS DE MANIFESTER DU GOUVERNEMENT FRANÇAIS ATTISENT LES TENSIONS
Demonstration  on Wednesday now  authorised, Le Monde. 
C'est la revanche de Vichy!

Marine Le Pen's confidence vindicated by Front National election triumph
FN leader claims 'the people have spoken', as far-right party polls an historic 25% of votes in the European elections
ABSTENTION : 57,0 %
13 sièges

13.98 %

PS – PRG

3 sièges

6.34 %

Front de Gauche

3.82 %

Debout la République