Archive for the 'Conservative Party' Category
10,000 – 15,000 people  marched on Monday the 15th of December  through the eastern German city of Dresden in an anti-Islamisation demonstration.
The march was the largest yet for the far-right populist PEGIDA movement.
This demonstration and its background were given great prominence in le Monde yesterday (En Allemagne, le discours raciste se banalise). Le Monde emphasised how the numbers attending weekly marches have grown and grown.

The media had not brought up the eternal 'German neo-Nazism' hook but the result of the emergence of a growing anti-immigrant/migrant movement in the Germany, a country that has hitherto been immune to the appeal of UKIP/Front National politics. In other words xenophobia knows no European political borders.
The first signs of these developments was in the rise of  Alternative für Deutschland.
"Alternative for Germany received 4.7% of the vote in the September 2013 federal election, narrowly failing the 5% threshold for representation.The party won 7 of Germany's 96 seats for the European Parliament in the 2014 European election, and joined the European Conservatives and Reformists group in June 2014. The party exceeded forecasts in gaining its first representation in state parliament elections in Saxony, Brandenburg and Thuringia during 2014."
The party is anti-Euro and against any transfer of sovereignty to the European Union. Its anti-immigration policies, and its 'socially conservative' (that is, reactionary) social stand, marks it even more firmly on the hard right.
Commentators (including Le Monde) observe an "overlap" between the AfD and PEGIDA,
 Der Speigel is one of many media outlets to cover the story  including those in the UK (Guardian)
15,000 march in anti-Islamisation PEGIDA (Patriotische Europäer Gegen die Islamisierung des Abendlandes) demonstrations in Dresden.
A record number of demonstrators turned out on Monday to march in support of the far-right populist PEGIDA group. The name loosely translates to "Patriotic Europeans Against the Islamisation of the West."

"The people are with us!," the group's founder Lutz Bachmann shouted at the crowd. Monday's turnout was 50 percent greater than that of a week ago. The rallies started in October in response to clashes between Kurds and Sunni Muslims over the West's intervention in Syria.

But the nationalist group has largely been protesting over the immigration system in Germany, which has become Europe's number one destination for asylum seekers – whose lands of origin include Syria, Iraq, Afghanistan, as well as several African and Balkan nations.

The emergence of the movement has stunned politicians, one of whom – Ralf Jäger, the Social Democratic (SPD) interior minister for North Rhine Westphalia state – described PEGIDA's members as "neo-Nazis in pinstripes." While some neo-Nazis have been seen among the crowds, those gathered have mostly been disenchanted citizens.

More than 1,200 police kept a close watch on the non-violent crowds. Nearby, about 6,000 counter-protesters – made up of civic, political and church groups – marched under the banners "Dresden Nazi-free" and "Dresden for All."

Chancellor Angela Merkel condemned the wave of PEGIDA marches and cautioned Germans against falling prey to xenophobic "rabble rousing."

An associated right-wing BOGIDA protest took place in the western city of Bonn on Monday. While approximately 300 of the group's supporters turned up, they were met by 2,000 counter demonstrators who called for peace and tolerance.
Taz carries more details about Pegida's opponents whose counter-demo moblised 5.500.
Reaktionäre Verrohung Europas!
The report by Michael Bartsch says that in response one marcher said that the threat was not the Islamisation of the West, but that of a reactionary and barbaric continent ( "Es droht nicht eine Islamisierung des Abendlandes, sondern eine reaktionäre Verrohung Europas!") He notes however that this alliance against Pegida is "fragile" – it is composed of many very diverse groups, from the 'anti-dogmatic' far left, migrant and asylum groups, human rights organisations, religious bodies, to the established parties. The first group, prominent over years of anti-fascist activism, cannot easily co-operate with the later, particularly the governing CDU one of whose representatives, Martin Gillo, turned up at the end of their march.
British Conservatives.
This (from Wikipedia) relating to  the way the Tories have reacted to the rise of AfD is interesting:
During David Cameron's prime ministerial visit to Germany in April 2013, the British Conservative Party is reported to have contacted both Alternative for Germany and the Free Voters to discuss the possibility of cooperation, which was supported by the European Conservatives and Reformists group of the European Parliament.

In June 2013, Bernd Lucke gave a well attended question and answer session organised by the Conservative allied Bruges Group think tank in Portcullis House, London.

ConservativeHome, a British political website, viewed the AfD's policies as, "wholly unremarkable," in response to the AfD's more cautious reception among the German public. The website also voiced the opinion that the party shouldn't be compared to the UK Independence Party which calls for a British exit from the EU. According to the conservative grassroots site the AfD's policies are much closer to those of the British Conservatives, who also reject the euro and wish to implement reform of the EU.

The Conservative MEP Daniel Hannan was speculated to have been advocating for the British Conservatives and AfD to link following the 2014 EU elections via the Alliance of European Conservatives and Reformists with possible membership in the EU parliament grouping European Conservatives and Reformists, which was formed after the Conservatives withdrew from the European Democrats sub group of the European People's Party, to which Angela Merkel's CDU belong.

Some British Conservatives such as Timothy Kirkhope were more reluctant to be seen as too openly courting the AfD, should it damage relations with Angela Merkel's CDU, which they speculated could hinder attempts by the Conservative Party to renegotiate treaties before a proposed referendum on British EU membership in 2017. Hans-Olaf Henkel stated that the AfD had heard rumours that Angela Merkel had told David Cameron to keep his distance from the party during the run-up to the 2014 European Election.

Response from the political journalist Andrew Gimson writing at ConservativeHome was broadly positive about the possibility of the Conservatives working with AfD. Paul Goodman, editor of ConservativeHome has also been welcoming towards cooperation with AfD, playing down the risks that cooperation would affect the relationship between David Cameron and Angela Merkel.

Before the European Election Bernd Lucke had been in talks with the Czech and Polish parties of ECR, but acknowledged the concerns the British Conservatives had about the admission of the AfD into the group.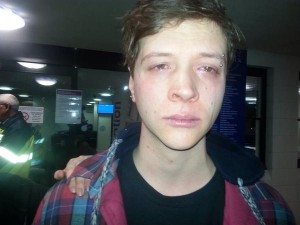 How they Deal with Protesters for Free Education.
I am a former Warwick University student.
Warwick is notorious for the incidents in 1971 outlined in Warwick University Ltd (1)
During my time (1976 – 1979) we held numerous protests on campus – although I personally was more involved in anti-fascist campaigns and supporting trade union fights, like the dispute at Grunwick.
We sat in overnight in the Senate building only a short time after I began – and they didn't even try to evict us.
Nothing like the following happened, although my closest friends, who ran the students' union just after I'd finished faced injunctions for their occupations.
Shocking video: Police CS spray protesting Warwick University students
Three people have been arrested after ugly scenes broke out

during a protest at Warwick University.

A video has also emerged which appears to capture the moment protesters, from campaign group Warwick for Free Education, were CS sprayed by police.The group had been staging a 'sit-in' protest against student fees

at the university's Senate House building

as part of a national day of action when three police vehicles arrived and officers began to wrestle with protesters in an apparent attempt to clear the building.
Three people have been arrested and police officers accused of using excessive force after a Taser was pulled on students amid violent scenes at a sit-in for a free education on Wednesday.

Students at the University of Warwick say they were sitting down discussing tuition fees after a national student protest when the police arrived.

Helena Dunnett-Orridge said she had been attacked by police: "There had been a demo for a free education, then people went into Senate House, sat in reception and had a discussion about the protest. Police came in and we all linked arms. They started pushing and attacking people, completely unprovoked. We couldn't say anything because we were being pushed.

"They pushed people to the ground and grabbed a girl by the throat using her scarf. They also used CS spray in my friend's face and had Tasers. They started physically pushing and carrying people out. They dragged me out with them."

Police said they had been called to the site after a member of university staff complained that they had been assaulted. Although they confirmed that a Taser had been taken out, they said it had not been used. A tweet from the West Midlands police account said a Taser "was drawn but not deployed. The sound is a warning sound".
Now we hear:
Police are investigating claims officers used "disproportionate force" during a protest at the University of Warwick.

Three people were arrested on Wednesday as about 25 students demonstrated against rising tuition fees.

Video on YouTube showed police using CS spray and threatening protesters at the Coventry campus with a Taser.

West Midlands Police said the videos would be examined and it expected the highest standards from all officers.

Security staff at the university said they had faced a "shocking and totally unprovoked act of violence" from protesters, prompting them to call police.

One person was arrested on suspicion of assault, another two on suspicion of obstruction. All three have since been released on police bail.

'Unnecessarily harmed'

A statement on the Warwick Free Education website said demonstrators were "punched, pushed on to the floor, dragged, grabbed by the throat and rammed into a wall and kneed in the face".

Warwick Students Union said that based on video footage online "we absolutely believe that disproportionate force was used against protesters".

As a result, it said some students were "unnecessarily harmed".

Some video clips have since been removed from YouTube.

Coventry Police Commander Ch Supt Claire Bell said: "Police officers are highly trained in dealing with all public order situations and using appropriate levels of force.

"We are aware of videos of the protest being circulated on social media sites, which will be examined.

"We expect the highest standards from all officers, and if any officer is found to have fallen below these standards in any way, they will be thoroughly investigated."

West Midlands Police said a Taser was drawn as a warning, but was not fired, while CS spray was used when it was felt a group was advancing on officers.
Love and Solidarity to the protesting Warwick students!
Student Assembly Against Austerity.
(1) There is a new edition of this book. Warwick University Limited Spokesman 2014 which Chartist has asked me review.
In February 1970, students occupying the Registry at Warwick University uncovered evidence of secret political surveillance of staff and students. There followed not only fierce debates within the university on issues of governance and democracy, but also a legal battle as the administration tried to stop the press from publishing the documentary evidence, and wider public debate on the purpose and values of university education. Warwick University Ltd will be of great interest to today's activists, because the conflict at Warwick clearly prefigures current struggles over the subordination of higher education to commercial goals, as well as political surveillance, policing, the use of legal injunctions, press freedom and business corruption. This edition includes a new introduction prepared by some of the original contributors, highlighting the links between then and now.