Galloway Exposes Anti-Iran Trotskyist-Zionist-US Terror Centre.
Maziar Bahari, held and tortured in Iran after last June's protests, tells Channel 4 News he has referred Iran's Press TV to Ofcom after it sent a journalist to cover his interrogation.
(Here ) More from Today's Indy here.
Prominent Press TV Reporter, former MP George Galloway, is said to be preparing a "thundering response".
George Galloway has just launched a new career (here) "The former Labour and Respect MP, whose 23 year tenure in the House of Commons ended last week, intends to launch a new career in Hollywood as a presenter of documentary films.He plans to emulate Michael Moore, the American left-wing film-maker."
Insiders report his first project is underway.
Provisionally entitled, "The Anti-Iran Trotskyist-US  Zionist Centre" it will lift the lid on recent events in the country's so-called "unrest". Extensive historical research by Galloway reveals a continuous link between the right-blockists, anti-people spy centres and the Iranian 'opposition' (more on his model  here) And "Evidence of Leon Trotsky's Collaboration with Germany and Japan.  Grover Furr"  here. (Hat-tip Roger).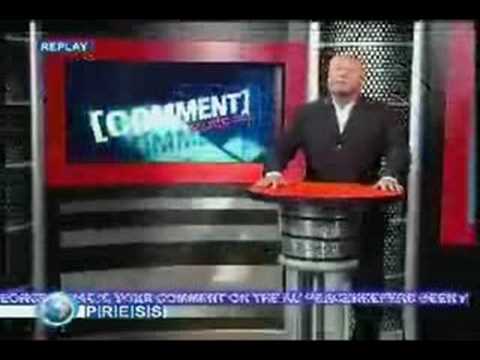 Galloway on Press TV.
Sarcasm aside this is a major bloody disgrace.
Shame on you Galloway, Ridley and other collaborators with the Iranian torturers.
Shame, Shame, Shame!
Back the Iranian Democrats to the Hilt! (More here)
5 Responses